We recently caught wind of a story burning through the Southern California phone lines about a talented group of boys that were performing better than ever before on the lacrosse field.  This team had finished the regular season at 16-2, top of their conference, ready to show CA what they were really made of, but here's the kicker… they didn't even make the playoffs.
Ranked #11 in California Southern Section CIF, Laguna Hills is sitting at 16-2 on the season and #1 in their conference, but somehow they were left out of the 15-team playoff during the selection process.
And at first this non-selection seems like a cut and dry snub.  So was the decision political? Did Laguna Hills do something wrong? Or is there more to this than meets the eye? 
16-2 and #1 in your conference certainly deserves a play-off bid in my book, at least at first glance. We contacted the Coach to find out more about this situation and he had this to say:
The 16-2 Sea View League Champion Laguna Hills Hawks, with a ranking of #11 in CA southern section CIF, were omitted out of the playoffs. Who took their place? 15 other teams with worse records, a team with a losing record and several teams that did not win their conference. A selection committee was in charge of seeding the teams. There is something wrong with this picture and this needs to be brought to light so it doesn't happen to another team in the future. I hope you can share this story with your friends and family within the lacrosse community.
I'd like to share with you what my father, a Bear Clan Chief of the Shawnee Nation Blue Creek Band sent to certain individuals within the lacrosse community…
Sirs,
This weekend, I learned with surprise of Laguna Hills High School's Men's Varsity Lacrosse Team's omission from the subject playoffs. My son, Teddy Hicks is the coach of the team and I have been an interested observer of their progress over the last two years. It has been inspirational to watch the players grow and develop during this period. Their outstanding record of 16 – 2 in 2012 gives mute testament to what the team has accomplished and they are certainly deserving of recognition for their performance.
It is important to understand that I am a full-blooded Native American . . . a proud member of the Shawnee Nation. As such, lacrosse is more than a game to me and my people. It is a sacred remnant of our cultural heritage and way of life. Baggataway (the original Native name of the game), or "Little Brother of War," was a spiritual event, played across miles of terrain, that was designed to prepare our braves for war and inculcate in them the integrity, courage, character, and grace under fire that is expected of a warrior. It is an honor to play the game!
I witnessed those characteristics develop in the young men of the Laguna Hills Team during this season. They have done my people's game great credit and we look on them with pride.
It is unfortunate, that the selection committee for the subject playoffs has not demonstrated the same traits in determining which teams have "earned" the right to play for the championship. Other communications have certainly emphasized the dramatically superior record of Laguna Hills over the teams that have been politically selected by the committee in charge of the process.
I am saddened that a group of men who have been positioned to oversee the conduct of such a revered game has seen fit to blatantly disregard achievement and focus on satisfying personal favoritism and, in so doing, disrespect the honor of the game. In war, as in Baggataway, winners are determined by who walks off the field victorious, not who is selected in a closed-door meeting.
Gentlemen, you have unfairly dashed the hopes of a group of young men who have played the game honorably and earned their right to compete with their peers. You dishonor the game and should be ashamed of yourselves.
Whoever ends up as the "champion" following your selection process will never truly be a champion until all of the teams that have earned the right to compete are included in the process.
Dr. Stormy T.W. Hicks, Ph.D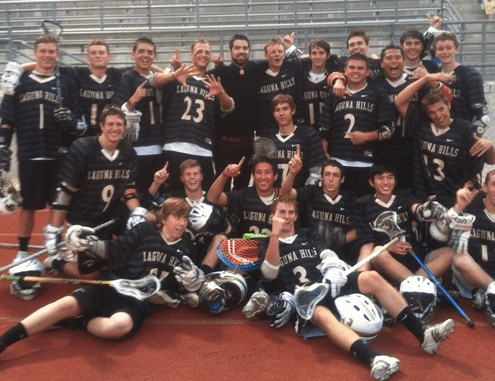 It's clear emotions will run high in a case like this, but the argument for inclusion has been made eloquently.  In order to find balance and the other side, I've been contacting people in charge around the CIF to find out more about the selection process and Dan Perry, one of people who apply for the sanctioning of the tournament, had this to say about the selection process and Laguna Hills' situation:
Below is the letter that goes out to the seeding committee which outlines the criteria upon which we select the teams to be seeded into the playoffs. As you can see, we take this responsibility very seriously and this year's committee had over 200+ years of lacrosse experience, so we are very familiar about the game along with its history and traditions.
We use LaxPower as a reference tool for determining the Top 25 or so teams that we need to have discussions about. We also have a pretty good understanding how the statistics behind LaxPower work, so with this in mind we are able to see through wins and losses for what they are and how they were accomplished. As you can see below – we place a heavy emphasis on the strength of schedule of all the teams being considered which is why a team can have a great W and L record but not make the playoffs, or move up and down a number of positions than where they thought they should have been seeded.
Unfortunately it happened to Beckman HS last year and has happened to other teams in the past. By now teams should realize that playing an easy schedule does not help them at the end of the season in regards to seedings for playoffs. I've been involved in the process since the beginning, 6 years ago, and I believe we have a system that works. I annually get what can perceived as "hate" mail from the one team's parents/coaches which did not get in, but this year's attacks were a bit more vicious and cruel… but that's ok.
Specifically in regards to Laguna Hills, although they had a great Win and loss record, their strength of schedule was 3rd weakest of any team in the south, with one of teams below them being a 1st year varsity program. Also if you look at it the way the NCAA calculates the RPI rating– they were 59th out of 67 for all the Southern Section lacrosse schools and of the 8 schools below them – only 2 of them actually played a full schedule. In regards to the league champion question, we recognize the Coast View Conference as one conference/league so that we are consistent with the CIF blue book classification.
On a positive note, I commend the Laguna Hills administration and particularly CK Green, Vice Principle of Business and Athletics, for sending me an apology on behalf of the school for the ugly and disparaging emails I received from the coaches and parents. He understood that there is a process in determining the playoffs and respects it. Is it perfect? Probably not, but we will look at it again next year to see if we can do a better job and maybe prevent what happened this year, or the schools will have to start scheduling a tougher schedule thus having everything fall into place.
This is the letter that went out to the seeding committee members:
"Hi,
You have been selected participate on the seeding committee for US Lacrosse SS Championships – Southern Division Boys. You have been selected because we feel that you can provide valuable insight on the teams in Orange County and you can be objective, fair and unbiased in your opinions and decisions.
The meeting will take place on Sat, April 28th @ 6:00pm at MVHS Room 320. Please let me know asap if you can make it.
This year we'll be selecting 16 teams with 1 Division so we have a lot of work ahead of us. The seeding of teams that we come up with will be examined with a microscope so it's important that we do our homework before we attend the meeting. I would suggest looking at LaxPower as the source of information when at looking out how teams did. Print out and bring to the meeting the standings, Strength of schedule standings, team schedules and scores, league standings etc. of any team you think has a chance of making the Top 20. We don't rely solely on the LaxPower standings because we have found out over the years that the system favors teams with weak schedules that run up victories over 10 goals. This year I expect that the TOP 6-7 positions as well as 10 through 16 will be heavily discussed, especially the TOP 4, please examine carefully the head to head matches for these top teams.
As in the past – the winners of the respective leagues get an automatic seed although it may be anywhere from 1 to 16 (with the exception of the Coast View Conference – the best team of the north and south will get an automatic bid)
Objectives:
1)      Select the best 16 Teams into the playoffs
2)      Seed teams 1 through 16 based on the committees best judgment
3)      Determine final locations, times for the 1st and 2nd rounds
Tie Breaking Criteria for the At large bid selections and seeding purposes:
1)      Head to Head Competition wins/losses
2)      Head to Head Goal differential (if games are split)
3)      Goal Differential vs. common opponents
4)      If in same league: Goals against in league Play
5)      Goals against vs. common opponents
6)      Goals against overall
7)      Coin Flip
Note: Leagues determine their own league champions and is not a function of this committee."
Okay, now we've got really solid arguments and perspectives from both ends. This really reminds me of a BCS-type situation. Records, poll, and AQ's all count, in both the BCS and with the CIF, but in the end, a group of people use their knowledge and experience to decide who the best teams are in the League.
So should teams be selected purely by math and wins and losses?  Or should some of the decisions be left up to a "selection committee" to decide who gets to play and whose season is done? 
What do YOU think?