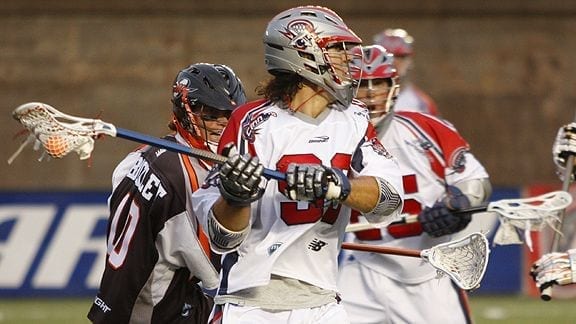 Paul Rabil is a professional lacrosse player for the Boston Cannons. But you already knew that. What you may not know yet, however, is that Paul Rabil is a stand-up guy who's trying to give back to the game day-in and day-out. He's a LeBron James fan, a hard worker, an unyielding competitor, and a camp counselor that every kid wants to learn how to shoot from.
A 2x NCAA Champion and 4x All-American selection at Johns Hopkins University, Paul Rabil entered the professional lacrosse circuit as the 1st overall pick in the MLL draft and 2nd pick in the NLL, drafted by the Washington Stealth. Today, in his first year as a professional lacrosse player, he is arguably the best midfielder in the world. We sat down with him to get an inside look at what life has been like in his rookie season, what he misses about college, and what he cherishes most about the game of lacrosse.
LAS: First off, how was All Star weekend? Did you enjoy Denver?
PAUL RABIL: All-Star weekend was phenomenal. I love these kind of events where there is no pressure, a bunch of talent, and time to relax from the season. I put a lot of pressure on myself during the season to succeed. Very rarely are there games where I'm not nervous or over-thinking game situations pre-game…this is one! The guys on both teams were great, and the events and competitions were a lot of fun.
I hear you shot a fastball. 111 wasn't it? How long have you been able to shoot that fast?
PAUL RABIL: I've been throwing the ball 111mph for about a year now. In college I could shoot the ball a couple pennies over a dollar, but nowhere near towards the 110mph threshold…Weird thing is, I technically don't "practice" as much lacrosse as we did in college (and I think it's impossible to for that matter), but I do get in some serious shooting every day or so, and stuff like lifting and yoga has helped me with power and torque.
Funny, you also had 111 career goals at Hopkins. Coincidence or did you plan this?
Planned it.
If the 111 stat had to be for another sport, which would you pick: 111 tackles in a season, 111 hoops points (career-high), or 111 stolen bases?
PAUL RABIL: 111 tackles, for several reasons…111 basketball points in a season would be horrible, but maybe I'd choose that if it were in one game. And 111 stolen bases means nothing to me as I hardly watch baseball…and I'd rather hit homers and avoid bases in general.
Did you check out our post about the All Star party? I'm pretty sure I saw you in the video somewhere. Okay, real question: What was your take on the girl hosting the video? I wouldn't be surprised every guy wanted to interview with her.
PAUL RABIL: Well, Lax All Stars, I'd like to think that every guy was "acting like they've been there before", so if they were hounding her for an interview, I imagine it had little to do with her looks and more to do with her personality…
How did you get into lacrosse? I assume you were born with a stick in your hand, but there's still got to be pretty good story behind that. Who taught you?
PAUL RABIL: Well, truth is I didn't begin playing until Spring of sixth grade…I grew up playing the real futbol, and all of my neighbors played lacrosse. I didn't really think much of it, nor did I really know what it was, but I can officially say that Bruce Nechanicky (NAVY) got me into it.
What was your major at Johns Hopkins? Fraternity? Toughest class?
PAUL RABIL: No Frat…I majored in Political Science with a Biz minor…toughest class? 19th century American Art (101 class too!)
What do you miss most about college?
PAUL RABIL: Hanging with 40 of your best friends for 4 or so hours every single day.
From my understanding, lacrosse is now your full-time job. Has the adjustment from college-life to this full time "job" been hard or is it everything you dreamed of?
PAUL RABIL: Well, you see I get this question a lot. And this will be a pretty simple answer, especially since you used the "job"…haha. Basically, my passion is lacrosse. I play in the MLL and NLL, which goes for about 8 months of the year, I work with Under Armour, Maverik Lacrosse and Marc Mesh, I started my own Camp and Clinic business this Summer and I'm currently putting every ounce of energy I have into Team USA (what I believe is the highest honor in any sport). So in the end –  I'm confident in saying that lacrosse is my career.
From Twitter it sounds like you're leading a pretty busy/hectic life this summer bouncing from camps to events to games. Do you ever get tired? Do you have time to pursue any other interests outside of lacrosse?
PAUL RABIL: Travel can always be tiring, and it can definitely be a bit draining, but I have a LOT of fun doing it. This past week I was finally alloted a little time to go to the beach with my family to shut it down, refuel, and pop the car back in neutral.
At a camp I coached at, we played this little game called lacrosse dodgeball. I recall some counselors taking it pretty seriously, which makes me wonder what would happen if you started socking 13 year olds with tennis balls using your 111 mph cannon… That brings me to this question: What is your favorite part of working at camps?
PAUL RABIL: That's a little absurd, and kids can get hurt doing that, ha. For me, by far the best part about camps is when you teach a kid the proper way to shoot or throw a check, and they apply that in a session…nothing like it.
Most of the kids I know who are big fans of you started playing lacrosse in junior high or high school – and they're still in high school. You're their MJ, their LT, their Ichiro. Okay, maybe not Ichiro. But you get the point… You're idolized by these kids and there's really not that much of an age difference. Do you ever feel pressure?

PAUL RABIL: I don't think I feel much pressure from what others think of me. Don't get me wrong, I think it's great there's a market out there that publicizes lacrosse to younger kids. But while I play, the last thing I think about is what so and so may think of my last shot that I missed. When I play, I want to be the best player on the field…and if I'm not (which mind you, happens a lot) then I'll beat myself up over it during the next week preparing myself so that it doesn't happen again.
LeBron got dunked on. Did you see the footage? In your mind, was it worth trying to hide?

PAUL RABIL: Lebron is the man…I don't think there was much of anyone being "dunked on" in that footage. If anything, it shows how much of a beast LJ23 is by showing a little help out D in a game of backyard hoops…
What has been your greatest personal moment in lacrosse so far? What is something you'll absolutely never forget?
PAUL RABIL: Fortunately, I've had two of those…In 2005 and 2007 I was a part of the Johns Hopkins National Championship teams. I've got two pieces of thick ring to commemorate it, and I'll never forget those two moments with my best friends.
Flow… How important is it? Who should have it? That ain't a wig is it?
1. Important
2. Everyone
3. All Natural
Special thanks to Paul Rabil for interviewing. Great guy with nothing but positives coming his way. We look forward to following his career and hopefully getting him on a podcast sometime soon. Stay tuned!