Oh boy, LAS Readers, do we have a treat in store for you over the next 7 days! Connor already filled you in a bit, but… me, him and 7 others are traveling overseas to Bangkok, Thailand this week to play in the first ever "Grow The Game Invitational." The brain child of TLA President Payu Nerngchamnong, the GTG Invitational is intended to shine a bright light on the sport of lacrosse in Southeast Asia. We're thrilled to be a part of this, and we're extremely honored to have the LAS name connected to the event.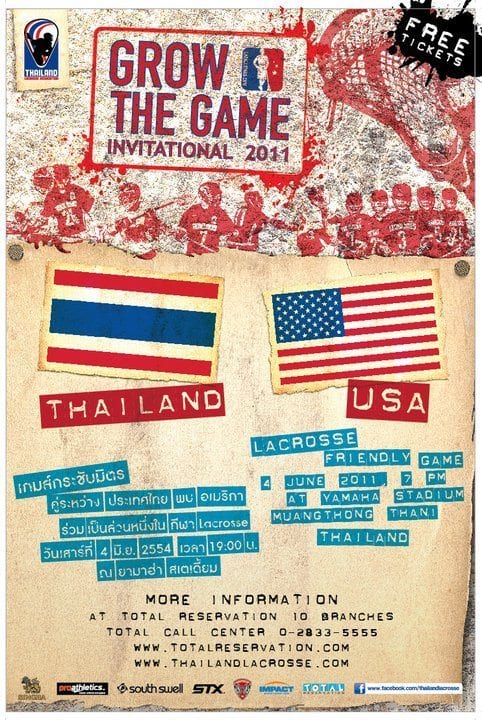 It seems like it was just yesterday when Payu reached out to Connor and I about establishing a relationship with the Thailand Lacrosse Association. We became quick friends thanks to calls on Skype and countless emails, and up sprouted the Thailand Lacrosse Blog. Payu is a man on a mission to grow the game, so the connection here is undeniable!
The GTG Invitational will take place on Saturday, June 4th at Yamaha Stadium, Thailand Lacrosse's official venue and the home of Muangthong United professional soccer team. It will feature 10 American players, 2 Australian, 4 Japanese players and 22 Thai national players, all playing in a friendly match in front of thousands of current and future Thai lacrosse fans.
Connor and I carefully selected a handful of players to invite on this trip, each of whom we believe represent the "Grow The Game" mentality to the absolute fullest and will convey a pure message about the sport to new fans in Thailand.
– Dan Willson (United States, Alabama high school coach, LAS computer wiz)
– Vincent Ricasio (United States, the artist behind The Art of Lax)
– Rory Baldini (United States, Woozle, Bates College alum)
– Dan Helfrich (United States, Univ. of Indiana team president, captain and chief blogger)
– David Ogle (United States, Woozle, Whitman College alum, Idaho lacrosse player)
– Phil Niddrie (United States, 'Godfather' of Louisiana lacrosse)
– Glenn Morley (Australia, Bayswater LC team organizer)
These guys are 'Certified Game Growers' in our book, and we're thankful to have them on board for this once in a lifetime experience!
Over the next several days we'll be delivering fresh, often times unedited, content to you showcasing our Thailand experience. Blog entries, reflection pieces, photos and raw footage – get ready for unique lacrosse coverage you've never seen anything like before! Growing the game starts NOW!
Day 1 – TRAVELING INTO THE FUTURE
Depart Boise, ID to Los Angeles, CA @ 10:52AM, May 30th
Arrive in Los Angeles, CA @ 12:05PM (2 hours)
Depart Los Angeles, CA to Tokyo Narita, Japan @ 12:45PM
Arrive in Tokyo Narita, Japan @ 4:45PM (11 hours, 50 minutes), May 31st
Depart Tokyo Narita, Japan @ 6:45PM
Arrive in Bangkok, Thailand @ 11:05PM, May 31 (6 hours, 30 mintues)
Right now it's 3:13PM where I'm from, but that doesn't mean a whole lot when you're flying halfway around the globe. There's a 14 hour time difference between Bangkok and Boise, Idaho. So when I arrive in Bangkok after 23 hours of travel it'll be as if I've traveled into the future. Just one hour away from June 1st in Thailand.
Flight 837 just took off for Tokyo from LA. Boeing 777… this has to be the biggest plane I've ever been on. I'm flying solo, but will hopefully run into another member of our group, Phil Niddrie, on my connection flight from Tokyo to Bangkok, Thailand.
Three members of our group (Dave Ogle, Glenn Morley, Rory Baldini) have already touched down in Bangkok, where Payu flagged them down at the airport and most likely filled their stomachs with Singha Beer. It's a good thing Payu met them at the airport, otherwise Dave may have been accused of being an American t-shirt smuggler.
If you think Ogle's bags are full, you should see mine. Forty sets of uniforms, LAS promotional goods, my gear, the personal necessities, plus enough Grow The Game t-shirts to last me a whole week.
6:49PM PT – Six hours remaining on my flight from LA to Tokyo. So far, they've served drinks 4 times, 1 snack and lunch. I've watched a couple of episodes of Episodes… not a bad show… and I just finished up watching The Adjustment Bureau with Matt Damon. Damon could've been a good FOGO.
4:45PM in Tokyo – Just landed. Glad to be off that plane and in serious need of a Sapporo. Got lost in the airport. Found my gate. Met Phil Niddrie in the boarding line for the Bangkok flight.
6:35-11:05PM – Fell asleep before we took off. Woke up as we were landing. That's one way to enjoy a 6 hour flight!
11:10PM – Finally met Payu in person!
12:30AM – Arrived at Payu's house for the night and a pretty unexpected surprise!
1:00-3:00AM – Catching up on emails, watching TV and hanging out with Payu and Phil. Tough to sleep when your body is still dialed in to US time!
3:30AM – Off to bed, finally.
Connor leaves NYC on Tuesday, May 31st along with the rest of the guys in our group. We'll have the whole group together by 11:05PM on June 1st… which is actually 11:05AM in NYC… which is actually 9:05AM where I'm from… which is already beginning to massively confuse me. I suppose I should just sit back, relax and let jet lag take its swing at me!
Stay tuned for more from me, Connor and the rest of our GTG crew. This journey is just beginning!!!