Last week, we finished up days 8, 9, and 10 of Maximum Lacrosse Camps in New York City.  The vibe was great throughout the camp, but the last couple days of camp were something special.  As more and more kids took off for Summer camp and other activities, only the laxiest die-hards remained.  By Friday, our numbers were down to about 25 campers so we decided to just let them play, and we coached them as they went.
As a bonus, the best caption for the photo below that is left in the comments wins a free pair of Adrenaline Rasta Socks! Have at it!  And remember to keep it appropriate as we have kids here!  Otherwise, you shall be moderated!
(Edtior's Note: Oh, and the WINNERS from the last Adrenaline Perf of the Week are Michal and Cdadwg2!  Congrats!  Email us at info@lacrosseallstars.com to claim your prizes!!!!!)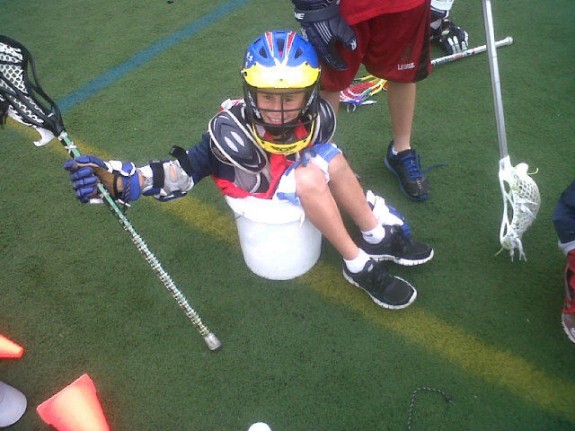 We still got a good amount of skill drilling in, but the real focus was on teaching the young players how they can do these things on their own, and continue to improve.  We did some drills with a boxla lean to them, and kept the kids thinking creatively.  In the afternoons, we let them loose and did a ton of "seven drills" and live scrimmaging.  Coaches even put the pads on and got down and dirty to keep things interesting.
Malcolm Chase from LongStickMiddie.com stuck around for Thursday and Friday, after a special "longstick Wednesday" session, and was a huge help.  The man is an absolute vat of lacrosse knowledge, and he coaches passionately and efficiently.  He brought the kids up through a progression and constantly helped kids learn the "right" way to do things.  I could see the lessons the kids were learning being used right away, and that was really impressive, and spoke to his ability as a coach.
Overall, it was a great experience for the coaches and the campers alike, and I'm pretty sure every single person there came out with a better lacrosse IQ, including yours truly.  Great Summer lax experience!
We also got the chance to talk to Dom DiNapoli, alumnae LSM extraordinaire for St. John's, and take no prisoners coach for Maximum Lacrosse Camps, and Dom is an amazing character. Love this guy!