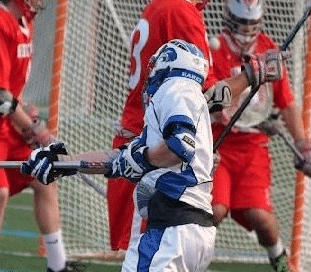 Each week we're looking for a superb lacrosse photo from one of our readers. If your photo is selected as Photo Of The Week, you win some awesome lacrosse swag from LAS!
This week's photo comes to us from Sean Feeley, of Shorter, an independent NAIA school (for now!), who scored his first ever goal with a longstick this season.  It's not that he's never scored a goal before.  He's just never ripped one with a pole… until now!  The goal came in a 21-2 win over NCAA D3 Huntingdon College.
Getting a little creative with your submission never hurts!
(Editor's note: Sean – you just won yourself a pair of GTG Laces! Email us your mailing address and we'll get those right out to you!)
Got a GREAT Lacrosse Photo? Hit us up!