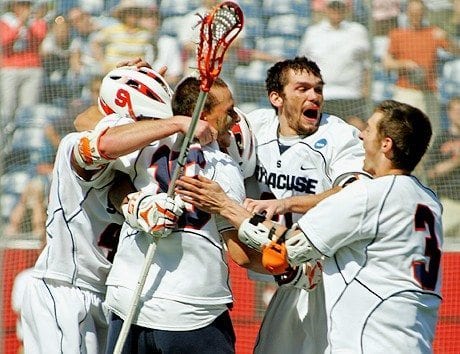 Editor's note: Each week Ryan Powell interviews one current or former professional lacrosse player, asking them some quick hitter questions to better understand them as a person and lacrosse player. It is often these players that have driven, and continue to drive, the game of lacrosse to the next level.
We hope you enjoy learning some fun facts that you might not have known about some of the greatest players to pick up a stick. This week Rhino interviews John Galloway of the Rochester Rattlers and G3 Lacrosse!
_______________________________________________________________________________
Name: John Galloway
Nickname: Fresh Prince of Syracuse
Position: Goalie/7th Defender
Birthday: March 26, 1989
Hometown: Camillus, NY
College: Syracuse University (HHH!)
High School: West Genesee High School
Awards: 2x National Champ/2x First Team All American/2x NCAA Goalie of the Year/2x Academic All-American/Winningest Goalie in NCAA History.
Current Gig: Assistant Coach at Duke University and Founder of G3 Lacrosse
Time To Let It Rip!
What was the first vehicle that you had? What kind of vehicle do you currently drive?
First vehicle was a cherry red dodge stratus, absolute chick magnet!
I now drive a navy blue jeep wrangler. Top down in rain and snow!
It's your last meal, what do you eat?
My last meal was London broil and asparagus courtesy of my roommate. Might have to go with that!  Starting to eat right for the upcoming MLL season. Go Ratz!
Who do you look up to most today and why?
I look up to my brother and the Donahue brothers at West Genesee. Both were integral to me growing up as a lacrosse player and as a man.
What is your biggest fear?
Biggest fears are failing, and never trying new things.
If you had to redo college and had to go to another school to play lacrosse, where would you go?
Syracuse was the only place for me. I couldn't have chosen a better place. If I had to choose another place, I would come play for my new boss at Duke. Coach Danowski has such a respect for how the game is played and where the state of the game is going.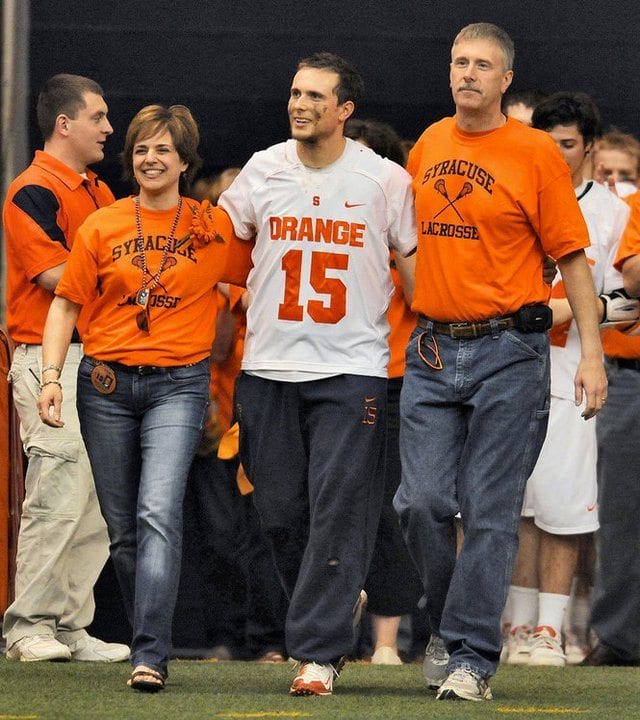 What is the one thing that you need on a daily basis?
The one thing I need every day is my stick and my friends. I love taking time every day connecting with my brothers from the 'Cuse!
What's in your DVD collection?
DVD collection is small but growing. I have all seasons of Friday Night Lights and Varsity Blues, and movies like John Q, Backdraft, and the Pursuit of Happyness.
Are you a cat person or a dog person?
Dog person. Labradoodles in fact! Shout out to the big bear!
What are some of your household chores?
Household chores now include dishes, garbage and laundry. I am getting good at it in my old age.
What's your favorite TV show?
Favorite TV show is Friday Night Lights.
What's your favorite song?
Favorite song is 'I Wanna Dance With Somebody" by the late great Whitney Houston!
What would you say if someone on the street asked you for 20 bucks?
If they asked me for 20 bucks: Who was the best Powell? If they answer right, they got it!
What was the best lacrosse stick that you ever owned?
Best lacrosse stick was the my first one. Begged my mom for my first goalie stick, she finally gave in a year later.
If you could be a video game character, who would you be and why?
No question, Pac-Man. Guy eats all day and doesn't gain a pound.
What kid of cologne do you wear?
Dolce and Gobanna "The One" (99% of the time, it works all the time)
If you could be any color of crayon, what would you be?
'Cuse Orange crayon. I bleed it, might as well color with it too!
If you did not choose lacrosse as your sport, what sport would you have chosen?
Basketball. I would do anything for another CYO Basketball season. Lin and I were like twins.
What do you want to be remembered for?
I want to be remembered for being a great leader, and showing the lacrosse world how much power we have to make positive change in our world, even with the smallest acts of kindness.
What is your favorite pizza topping?
Favorite pizza topping is chicken wing.
Did you have a nickname as a kid?
Nickname was meathead because I always tried to run out of the goal to try and score.
If you were to play an instrument what would it be?
Guitar. It is #1 on my bucket list right now to learn how to play.
If you could visit anywhere in the world that you have not visited before, where would it be?
I would visit Australia. Down under is supposed to have some great spots.
If you could have any animal as a pet, what would it be?
No question, I would have a Lion. Mufasa and Simba have me hooked! He would have to have some hot lion girlfriend to named Nala.
If you could meet anyone in the world dead or alive who would it be and what would you ask him?
I would meet Muhammed Ali and I would ask him what is the number one thing it took him to be the greatest ever.
What is the longest you've gone without a shower?
Longest I have gone without a shower is probably three or four days. Dave Matthews concerts were not filled with hygiene.
If you knew you were going to be stranded on a desert island, what three items would you take with you?
The three items I would take with me on a stranded island would be my stick, my national championship rings and a picture of my friends and teammates.
Tell us one random thing about yourself!
I fancy myself as a phenomenal dancer. Improving every day too.
Favorite restaurant of all time?
SO many good places, but has to be Dino BBQ in the 'Cuse!
Who is your celebrity crush?
Celebrity crush is two-fold; Rachel McAdams and Carrie Underwood… oh and Minka Kelly!
Do you have a pre-game ritual? If so, what is it?
Too many pregame rituals to count. Most important that I can disclose is wearing mud on my face.
On my day off, I wake up and read lacrosse websites until I do have work!
Are you a good tipper?
I'm not a good tipper… I am a great one.
What do you put on your hot dog?
On my hotdog, I am a big mustard guy with onions.
Why do you wear the number that you wear?
I wear #15 for no particular reason. Damn proud of it though!
Do you have a question that we could ask the next pro lacrosse player?
Next question: If you could relive one year in your life, what would it be and why?
Also, please answer this question that was asked by Kyle Harrison: What's your favorite lacrosse memory and why?
Favorite lacrosse memory was winning a national championship my freshman year because of the seniors on that team. Mike Leveille, Kyle Guads, Evan Brady, Danny Brennan, etc. wanted it so bad. I was honored to be a small part of that team.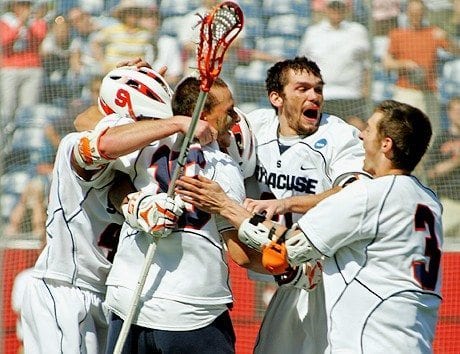 Check out all the posts from the Lettin' It Rip series here.