Editor's note: Each week Ryan Powell interviews one current or former professional lacrosse player, asking them some quick hitter questions to better understand them as a person and lacrosse player. It is often these players that have driven, and continue to drive, the game of lacrosse to the next level.
We hope you enjoy learning some fun facts that you might not have known about some of the greatest players to pick up a stick. This week Rhino interviews Matt Bocklet of the Denver Outlaws!
_______________________________________________________________________________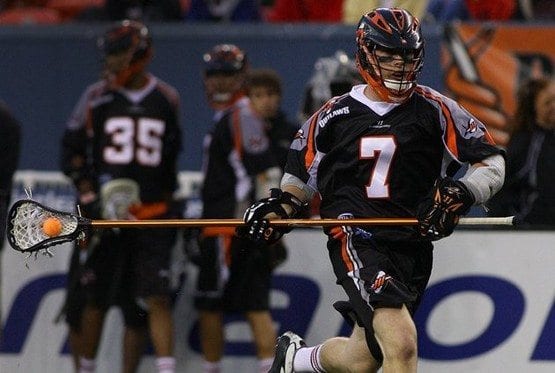 Name: Matt Bocklet
Nickname: Marty and Dustbuster
Position: LSM
Birthday: 3/26/86
Hometown: South Salem, NY
College: Johns Hopkins
High School: John Jay
Awards: NCAA All-American, 3x MLL All-Star & 2x All-MLL Team
Current Gig: Founder of DoCo Lacrosse Club, Co-founder of X10 Mountain Lacrosse Academy
Time to let it rip!

What was the first vehicle that you had? What kind of vehicle do you currently drive?
My first car was a bright red Nissan Pathfinder, which had a lot of flash with a chrome brush guard, chrome tail light guards and powerful fog lights.  My friends called it the fire truck.  Now I drive around a Ford Escape which is not as flashy, but at least I have a sun roof.
Your last meal; what is it?
My last meal will be comprised of soda, french fries, sausage, potato chips and tater tots.  I have not tasted these unhealthy treats in more than a few years… Each year I give up a type of food that I enjoy, but is not healthy for you.  I like to call it my own lifetime "Man Challenge". Hopefully before my last meal I will have added many other treats to the list.
Who do you look up to most today and why (your idol or mentor)?
I would have to say that my father has been a pretty big mentor of mine, without him even knowing it.  He coached every youth sport team I played on, and always remains calm, cool and collected.  I would like to think that I now use the same coaching style for my HS lacrosse team.  I used to idolize Tim Tebow as well, until he became a Jet.
What is your biggest fear?
Having to go back to my old lifestyle of wearing a suit and sitting in a cube for the rest of my life.
If you had to redo college, and had to go to another school, and you were going to play lacrosse at the new school, where would you go?
I would go to the University of Virginia.  I visited my younger brother, Chris, down there very often and always had a great time.  I will always love the time I spent at Hopkins, but it would have been nice to get a big school experience.
What is the one thing that you need on a daily basis?
To break a sweat.  If I don't work out at least once every day I feel like a bum.
What's in your DVD collection?
Love Actually, When Harry Met Sally, Pretty Woman and any other romantic comedy aka RoCo's.  Not to mention The Mighty Ducks series…those are just classics!
Are you a cat person or a dog person?
Dogs for life.
What are some of your household chores?
Well my current roommates are lazy bums who think they are still in college… so pretty much everything: vacuuming, cleaning, putting away the dishes, taking out the trash and tending to our garden.
What is your favorite TV show?
Right now either Game of Thrones or True Blood.
What is your favorite song?
This is a toss up between "Linger" by the Cranberries and "In a Big Country" by MOE. I just checked by iTunes and each song has over 100 plays.
What would you say if someone on the street asked you for 20 bucks?
"Lo siento, no speaka inglish"
What was the best lacrosse stick that you ever owned?
My senior year of college I had an X2 that Jake Byrne strung up for me. I swear that stick could do no wrong. I felt invincible playing with it.
If you could be a video game character, who would you be and why?
I would be Donatello. He is an intelligent ninja turtle that knows how to use a bow. He would be a ridiculous defenseman in lacrosse.
What kind of cologne do you wear?
None, I'm all me.
If you could be any color of a crayon, what would you be?
Purple. It has always been my favorite color and just so happens to be the same color as Donatello and my high school.
What is your favorite quote?
"Every battle is won before it is ever fought." – Sun Tzu
If you did not choose lacrosse as your sport, what sport would you have chosen.
Ping Pong. When my lacrosse playing career is over, I am going to try to go pro.
What do you want to be remembered for?
I'm still working on the answer to this question.
What is your favorite pizza topping?
Artichoke. If you have ever been to an Artichoke Pizza in NYC you will know what I'm talking about.  I used to live 3 blocks from one and would wait, in line, for a half hour just to get a slice.
Did you have a nick name as a kid?
My first two years of college, when I was at Fairfield University, my friends called me Chester.  I still don't know why.
If you were to play an instrument what would it be?
I would want to be a real good drummer.  My uncle is a phenomenal drummer and I have always wished I could play like him.
If you could visit anywhere in the world that you have not visited before, where would it be?
I have always wanted to visit Chile.  It is an interesting country that has almost every type of terrain and climate.  Plus I have always wanted to go on a South American snowboarding trip during our Summer time.
If you could have any animal as a pet, what would it be?
I am a big fan of birds of prey.  I think it would be pretty cool to have a Falcon that I could use to go hunting with.
If you could meet anyone in the world dead or alive who would it be and what would say?
I think it would be a lot of fun to meet Chris Farley.  I've heard that he always made everyone around him laugh.
What is the longest you've gone without a shower?
This winter I lived up in the mountain town of Breckenridge…I showered about 2 or 3 times a week.
If you knew you were going to be stranded on a desert island, what 3 items would you take with you?
Sunscreen, shades and a towel.  Might as well get my tan on, if I'm going to be stuck there.  I burn very easily.
Tell us one random thing about yourself?
My friends shot me in the face with a BB gun, when I was 13.  I am still missing a tooth from it.
Favorite restaurant of all time? Name and what city?
Cafe Mogador, in the East Village, of NYC.  I used to live on the same block and ate there at least once a week.  I am actually headed back to NYC, in a couple days, and will be going there for the first time in over a year.
Who is your celebrity crush?
Tina Fey. She makes me laugh.
Do you have a pre-game ritual? If so, what is it?
I give my stick a fresh tape job for every game.
On your day off, you wake up and…?
Do some yoga.
Are you a good tipper?
I would like to think so.
What do you put on your hot dog?
Ketchup and mustard, just like every real American.
Why do you wear the # that you wear?
To annoy my old teammate from Fairfield, Matt Scanlon.
Do you have a question that we could ask the next pro lacrosse players?
If you had to be the leader of a foreign nation, which would you choose and why?
One last question for you to answer from our last Lettin' it Rip player "Mike Powell"…
What books are you reading, and what art do you have on your walls?
American Sniper by Chris Kyle.  I currently have empty purple walls in my room.  My plan is to put a skyline shot of every city that I have lived in (Baltimore, Dallas, NY and Denver) on the walls, but I have not gotten to it yet.
Bocklet working on his own sniping skills.