Editor's note: As you all know, Connor Wilson is down in New Orleans, LA this weekend for the 2011 Mardi Gras Lacrosse Tournament (read his tournament preview here). In an effort to share some of his experience, Connor will be sending photos at will via his cellular handheld device, and we'll be posting them up here as we receive them. Enjoy!
__________________________________________________________________________________________________
Connor Wilson's Mardi Gras Lax Photo Blog
FRIDAY
12:00pm – Nets need some work!
12:15pm – BEAUTIFUL day in NOLA! Lining the fields and stringing nets!
3:00pm – Wiscy kids happy to be off the bus! Laxing!
3:30pm – Flying Elvis uniforms:
4:00pm – Me, pre-game vs. Bamboozers…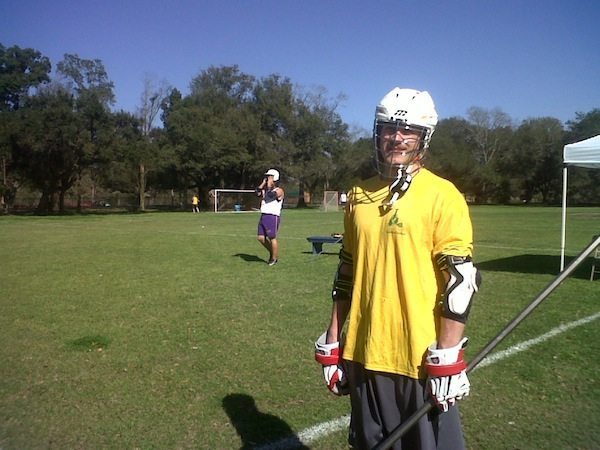 5:30pm – Tony's Tavern uniforms. My team (NOLC) lost 8-6 to the Bamboozers.
6:30pm – Post game beer tent!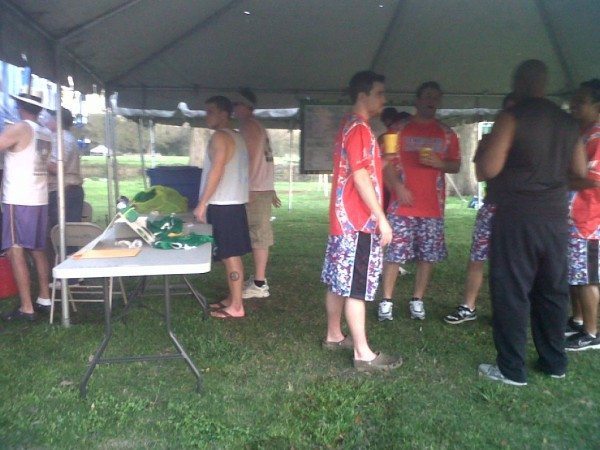 SATURDAY
9:00am – The classics (in black) take on georgia tech in an 845am game.
11:00am – Uva Club vs. Great Lakes Lacrosse
11:30am – Homegrown (mn) dye job for a GLL player.  Sick dye!!
1:00pm – Team Viva pole shoots on the Saints. Viva won 6-0.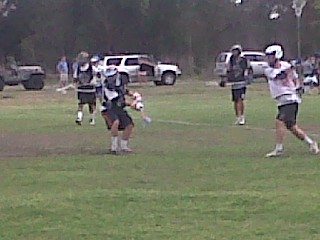 1:15pm – The wiscy kids!
1:45pm – Line for bbq pork sammiches.
2:15pm – UVa CLUB (NCLL) middie en route to scoring on the Bamboozers.
2:30pm  – Time to lax!
5:00pm
The Wisco logo…
…and the inspiration!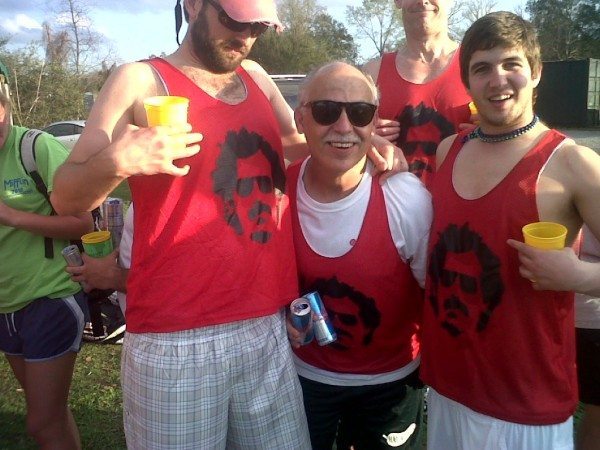 10:15pm – Saturday night tourney party! Sammiches were excellent!
SUNDAY
12:30pm – Women's championship game UVa Club vs. Vanderbilt Club.
12:30pm – UVa wearing taped on, whimsical numbers. Perfect!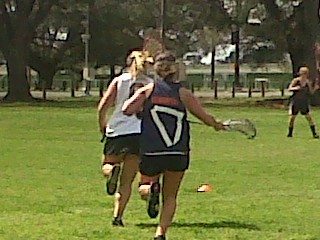 1:10pm – UVa club wins the championship for the women, they shake hands and run off the field to get on their bus. Dedication to lax!
1:15pm – NESCAC sighting! Ephmen of Williams.
1:30pm – Laxzone takes on Tony's Tavern in the men's final at Pan Am Stadium.
1:35pm – Tony's Tavern on O. Laxzone up 2-1.
1:40pm – Team Charlotte/Laxzone lids.
2:00pm – Tony's Tavern wins the 'ship 5-2! MVP was clearly their goalie. HUGE day in goal.
2:05pm – Sportsmanship!
3:30pm – Parting shot. Birds on a bridge.
3:45pm – The Rex doubloon. Best doubloon to have, I've been told.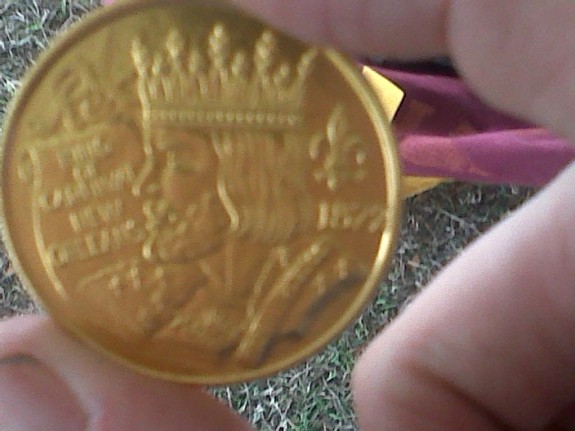 WHAT A TOURNEY!