Photo Credit: Craig Chase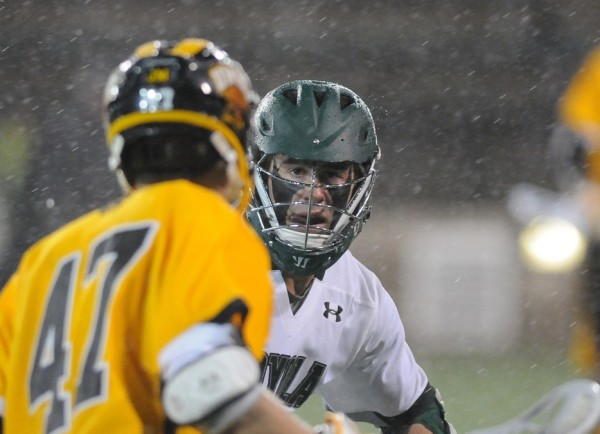 Early on, the Loyola – UMBC game was bringing up memories of Delaware, and for a while, it almost looked like the Greyhounds were about to get Terp'd all over again, but then they Loyola we all know and love emerged, and they ended up spanking the Retrievers 21-9 in absolute downpour conditions.
Justin Ward went off in this game for 7 goals, and he also dropped a hat trick of assists, hitting double digit points to lead all scorers. Nikko Pontrello stepped up in a major way as well notching hat tricks of goals and assists, for six big time points. Mike Sawyer also went 3-1, while the midfield continued to produce, as Chris Layne went 2-1 and Davis Butts went 1-2, both for three points.
Jack Runkel got the start after getting pulled against Maryland for Jimmy Joe Granito, and had 7 saves with 8 goals against in just under 52 minutes of play. Jimmy Joe played the last 8 minutes and gave up a goal while making two saves. There might not be a goalie controversy today at Loyola, but there could definitely be one down the line, especially if Runkel struggles again. From limited time this year, one can already tell that Granito (a freshman) is the real deal, and provides a definite spark for Loyola.
Loyola was up 8-6 at the half, and used a huge 9-1 run in the 3rd quarter to pull away from the Retrievers. UMBC was led by Matt Gregoire and Patrick Young, who each registered two goals. David Campbell, Conor Finch, and Nate Lewnes each went 1-1 on the day for two points. Adam Cohen gave up 17 goals while making 6 saves in 45 minutes of play, earning the loss for UMBC.
Loyola dominated the game in shots (46-33), ground balls (49-30), and won 20 of 33 face offs, while also losing 4 of those from pre-whistle violations. Loyola went 2 for 5 on man ups, while UMBC was 0-2. UMBC struggled to clear the ball at times, going 9-14 on the day.
Loyola plays Bellarmine on March 2nd, while UMBC heads to Fairfield to take on the #13 ranked Stags on the same day.