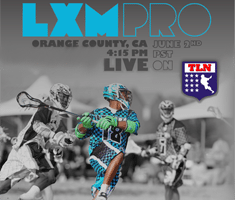 The LXM Pro Tour kicks off its 2012 campaign this weekend in Orange County, California with the LXM 949 between STX West and LXM East. This is the 3rd year that the LXM Pro Tour stops in Orange County. It looks to be an incredibly fun day of lacrosse at Orange Coast College!
As listed on our great Lacrosse on TV Schedule, the event will begin at 4:15 pm PST and will be broadcast LIVE on The Lacrosse Network, which is as close to LAXTV as you can get. Easton's Cort Kim will be providing color commentary and we are DEFINITELY excited for that. Make sure to tune in to the game here.
The game will be followed by the Adrenaline All-American Game at 6:30 pm PST that will also be aired on The Lacrosse Network.
Easton is sponsoring the LXM East team, and STX is obviously sponsoring the STX West team. Sam Bradman will make his pro debut and join the likes of Mike Powell, Kyle Harrison, Lewis Ratcliff, The Brattons, Chris Rotelli, and our main man, JR Oreskovich, as an LXM star.
In case you needed any more help getting excited for it. Check out their newest promo video.
We'll be watching the LXM Pro online this weekend… Will YOU?