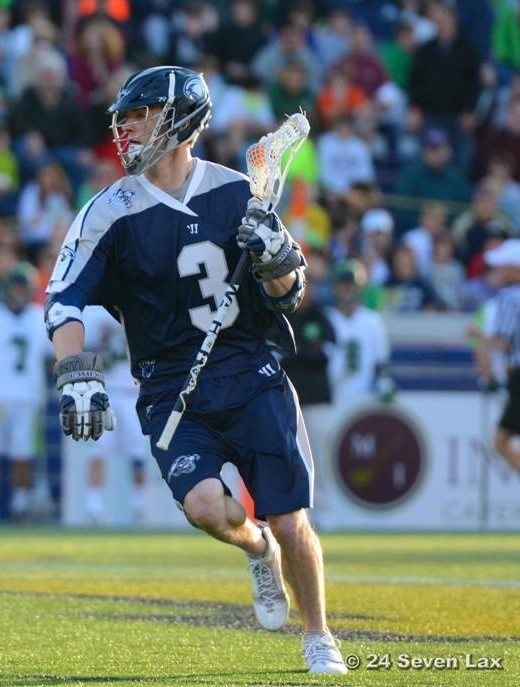 Normal
0
It's MLL week three, every team has played at least one game, and this weekend, we've got all eight teams in action. Can the Machine pull off the stunner on the road? Will Boston make the bad kind of history? Here's everything you need to know before the games start up tonight!
Photo Credit: 24 Seven Lax – make sure you LIKE them out on Facebook!
Rochester Rattlers @ Charlotte Hounds
Considering they played each other only six days ago, there aren't too many unknowns in this game, with one very notable exception: Matt Danowski. The Hounds beat the Rattlers 15-8 when Dino wasn't in the lineup last week, so what happens when he's back? It all comes down to how he works within the flow of the offense. If everyone decides to pull up a chair and watch the Matt Danowski show, it's going to be a long day. If Danowski gets the rest of the Charlotte offense involved (and he can – he had a career-high 19 assists with the Hounds last season), they'll have a much better shot at sweeping the series.
The Rattlers have had decent midfield production in their first two games, and can't really complain much about their defensive play (except for penalty kills – they've given up five extra-man goals in the first two games). As surprising as it may seem based on the names involved, Rochester really needs to get more production of their attack unit. Head coach Tim Soudan thought sending his attackmen out of the substitution box led to hurried possessions and forced shots in their last outing, so expect a return to a more conventional and settled offense that takes advantage of the entire shot clock.
Denver Outlaws @ Boston Cannons
The Boston Cannons have never started a season 0-3. Unless they want this year to be the first, they've got an uphill climb ahead of them because they are 0-2 right now.
The Outlaws are notoriously good on the road (they've won nine of their last ten away games), and Brendan Mundorf scored seven points the last time these teams met. If that wasn't bad enough, Boston goalie Jordan Burke has been placed on the two-game Injured Reserve. Fortunately for the Cannons, Mitch Belisle is back in the lineup now that his NLL season is done. Good to solidify the defense when you're facing a team with this many scoring threats. 
Ryan Boyle heads into the game with 398 career points, just one behind Casey Powell's MLL record. With just three points in his first two games (he averaged over four per game last season), you've got to wonder if chasing the record has started to weigh on his mind a bit, or if it was just a product of Boston's lethargic beginnings. Despite the slow start, he's got a great chance to set the new mark this weekend. And once that record is his, he'll never have to worry about it again.
That is, of course, unless Casey Powell comes out of retirement and tries to take it back, but that would be ridiculous, right? (chuckles to self, shakes head whimsically, and takes a cool, refreshing sip of water).
Ohio Machine @ Chesapeake Bayhawks
And… I just spit that aforementioned water all over the place…
So that happened. In case you hadn't heard, Casey Powell is officially back. Well, kind of. His 2012 suspension ends next weekend, at which point he'll get together with the Bayhawks and figure everything out, but head coach Dave Cottle said it himself: you will see Casey Powell in a Bayhawks jersey this summer.
As far as this week goes, Chesapeake gets John Grant Jr back in the lineup, which Cottle says allows the Bayhawks to attack more regularly from behind the goal. Even if it takes Junior a while to transition back to field mode, having him on the field means someone like Drew Westervelt won't have to hurry and worry about a double team coming quite as quickly as it used to. 
There's no spot in the standings for moral victories, but the Ohio Machine should have picked up some encouraging momentum from their 13-8 loss to Denver last week. Increase the possessions, decrease the unforced turnovers, and they'll be able to hang with anyone. Last season the Machine attack didn't have much success against Chesapeake (their July 21 game was the only one in which both Steele Stanwick and Chazz Woodson were held without goals), so expect the midfield to take charge if needed.
Jeff Ledwick had a strong two-goal debut last week, Connor Martin is back in the lineup after missing last week's game with an injury, and Chesapeake LSM Mike Simon will miss at least the next four games with a knee injury of his own. For Ohio, this is a perfect time to capitalize.
New York Lizards @ Hamilton Nationals
The final roster is starting to take shape for the New York Lizards, and after last week's three-goal effort, it can not come a moment too soon. Mark Matthews and Matt Gibson are suiting up for the first time this season, along with David Earl, who's back just in time to face his former team.
Unlike their offensive weapons, the New York defense has already been in place, and did a solid job last week in holding the champs to single-digits. Coach Joe Spallina tried running Tommy Palasek as a midfielder last week, which may be the solution to overcrowding at the attack position. It's going to be interesting to see if midfield becomes Palasek's new position or if attackmen like Matthews and Catalino (who always seems to be above the arc anyway) take turns running through the box.
While the Lizards attackmen are going to get the pre-game attention, the best matchups may be the ones taking place at midfield. The Lizards pride themselves on being able to run their defensive midfield at anyone, and most of Hamilton's scoring last week came from Kevin Crowley, Roy Lang, and Martin Cahill, who are all midfielders.
Matt Dolente won 55% of his draws last season, yet only won 41% of the ones he took against Greg Gurenlian. Dolente went 18-25 against Chris Eck last weekend; can he settle the score with The Beast?
Enjoy the weekend's games and be sure to check back next week for the MLL recap.
//