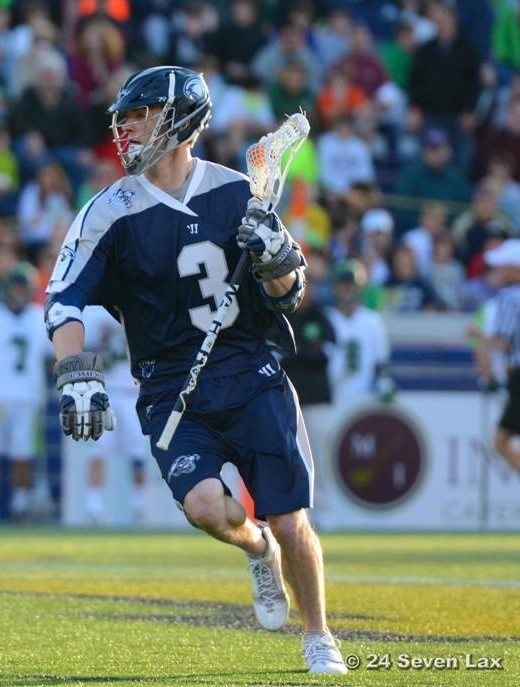 Week 4 always feels a little bigger than it probably should, and here's why: Say you have a 1-2 record coming into the weekend. What if you lose? Doesn't 1-3 seem miles away from 2-2? It was all good just a week ago, now you've got to win twice as many games as you have all season just to get back to .500? No way.
Not happening.
That's it, blow the team up. Trade everybody. And just like that, we've got a full-fledged meltdown on our hands. Is this rational? Not in the least. Reasonable? It sure ain't… But we're sports fans, and that's just how we roll.
Photo Credit: 24 Seven Lax
Charlotte Hounds (1-2) vs. Hamilton Nationals (2-0)
Note: This game takes place today at 11:00 a.m., so there's a chance you may be reading this preview after this particular section is relevant. If that's the case, feel free to assume everything I wrote was dead-on and just move ahead to the next game, thanks.
After starting their season 2-0 (by beating two of last year's playoff teams), the Nationals now welcome Joe Walters (team-high 28 assists in 2012), Stephen Keogh (team-high 26 goals in 2012), and Cody Jamieson (good at lacrosse as well) back to their squad.
Re-introducing talent like that to your roster will either make the team much better or much worse, and it all depends on team chemistry. They'll need to get used to working with new contributors such as Roy Lang and Martin Cahill, but if they can, Hamilton's offense could make the leap from "impressive" to "scary," just like that. Add in that Jammer, Keough, and Walters ALL played for Rochester in the NLL, and this is the way you have to lean.
Meanwhile, the (probably exhausted) Charlotte Hounds are playing their third game in 13 days. Only this one is at 11:00 in the morning, and in a different country, and none of that helps them out one bit. Unless this team thrives on total chaos. It might.
Aside from potential fatigue, the big story from Charlotte is the arrival of Loyola's Mike Sawyer this weekend. Eric Lusby plays on the opposite side, and Ryan Young scored seven goals last week, so where does this leave Sawyer? According to head coach Mike Cerino, there's a chance we'll see him coming out of the box as a midfielder. Depending on his transition to the pro game, Sawyer could be a big offensive presence for a midfield that combined to score only one point last weekend.
In other news, the Nationals announced that they activated defensemen Reid Acton (Loyola) and Tucker Durkin (Hopkins), just in time for the latter to get payback on a) the Charlotte Hounds for trading him and b) Mike Sawyer for dropping three goals and beating him at Homewood last month. I can't say for sure which, if either, will play in today's game, but chances are good that at least one of them will since week 4 starter Solomon Bliss has been assigned to the practice squad.
Chesapeake Bayhawks (3-0) vs. Boston Cannons (0-3)
The Cannons are 0-2 at home this season (which already ties their 2012 and 2011 home-loss totals), and although it's still early, the term "must-win" is being thrown around quite a bit. Of course, they don't have to win this game, but look at it this way: last season, the Lizards earned the fourth playoff seed with an 8-6 record. If that's the case this year, and the Cannons drop this one, they'd need to win eight of their final ten games to even make it to championship weekend. Maybe it is a must win?
As we discussed in last week's recap, the Bayhawks absolutely love opponents who slide early. I'm not sure how they feel about teams that don't slide at all, but I'm guessing they're cool with that too. Unless the Cannons made some defensive adjustments in the past week, guys like Matt Mackrides and Kyle Dixon are going to be a serious problem if they get a step or space. On the other hand, John Grant Jr absolutely bullied his Cannons defenders in their matchups last season, so it may be Junior's turn to run the offense.
The Cannons face a defense that a) has held their past two opponents to single-digit scoring, and b) held Ryan Boyle without a point in their last meeting, which means they could really go for some power plays. Nothing sparks a stagnant offense like an EMO, and nobody knows that better than the Cannons, your back-to-back league leader in man-up opportunities.
In their last regular-season contest (a 16-13 Cannons victory), Chesapeake racked up a grand total of 11 penalty minutes. It doesn't matter who you're playing against, you can't give someone that many chances and expect to win, especially if you're playing a team with Boyle, Poskay, and Rabil. If the Bayhawks stay out of the box, they'll have a much better shot at keeping Boston winless.
New York Lizards (1-2) vs. Ohio Machine (0-2)
I know you started your season against Denver and Chesapeake, and I know you only got to play three quarters of a game against the Bayhawks, but still: 6.5 goals per game isn't going to cut it, Ohio Machine. Someone needs to generate their own shot there. The question, of course, is who, especially from the midfield, will start to get this done?
Steele Stanwick can always seem to find Joe Cummings for a goal or two, and Kevin Kaminski (nine goals in eight games last season for Charlotte) was just picked up from the player pool, but Connor Martin's been placed on the IR for at least two games. Unless Kyle Hartzell starts coming down and chucking twos from 20 yards out again (and I really hope he does, because that was great), Ohio's rookie midfielders have to step up and prove they can carry their share of the offense.
The Lizards are coming off of an absolute heartbreaker to Hamilton, but Matt Gibson and Mark Matthews were extremely impressive in their first game together. So impressive, in fact, that they're already second and third, respectively, on the team in scoring, a stat that means the LI midfield probably needs to step up as well. Head coach Joe Spallina has said that he'd like to see David Earl be more assertive when he gets the ball, which is particularly important since Stephen Berger's currently shooting 2-26 (.077%).
You wouldn't expect it, but look for a good battle to take place at the faceoff x. While it's a battle between 2013's best (Greg Gurenlian – 67%) and worst (Eric O'Brien – 37%) faceoff percentages, these two won 19 draws each when they went head-to-head last season. It's a match up thing.
Rochester Rattlers (1-2) vs. Denver Outlaws (3-0)
The Denver Outlaws haven't played a home game since July 14, 2012, which amounts to a total of nine games since their last game at Invesco field. They won eight of those games (that ninth, of course, being a loss in last year's championship game), but if you believe in home-field advantage, getting back to thousands of lacrosse-starved fans after a delay like that is bound to help the team.
This game already marks the second time this season where the reigning offensive and defensive players of the week (in this case Ned Crotty and Jesse Schwartzman, respectively) square off against each other. Granted he was dealing with injuries, but Crotty was held to a total of two points (both assists) in Rochester and Denver's two matchups last season (Lee Zink tends to have that effect on people, no matter if they're healthy or not). Crotty will need backup if he runs into a problem like that again, and unfortunately, Mike Leveille won't be making the trip. Look for both Mark Millon and Stephen Boyle to take those other attack spots.
Chris Bocklet and Jeremy Boltus must have enjoyed watching Ryan Young go off last week, because now it's their turn to face Rochester's second and third-best defenders. Boltus hasn't shown signs of rust after this injury-shortened 2012 season, and has been great off-ball in the Denver offense. Since Zack Greer's out of the lineup this week, look for Boltus to cash in often if Brendan Mundorf consistently draws a double team.
Week 4 is a big one, and it gets started extremely early. Can the Bayhawks help crush the Cannons' postseason dreams? Will the Lizards get back to even ground or will the Machine get their first win? Enjoy the games this weekend and be sure to check back next week for the recap.