Last week we saw a great game in Boston, and three relative blowouts. Long Island barely knocked off Boston, meanwhile Denver, Chesapeake and Hamilton all routed the opposition. In the three blowouts, the winner used an early run to establish dominance and rode it out for the win.
Week 7 should feature a much more competitive slate of games, but I'm don't think my picking prowess will falter. So far I'm 17 for 22 on predictions (that's approximately 77%), and I'm looking to get hot again after only going 3 for 4 last week.
To find out where you can watch the MLL on TV and online, check out our Lacrosse On TV 2012 resource!
Boston Cannons @ Charlotte Hounds
If you want to beat the Boston Cannons, your defensive midfield needs to come up big. The Cannons have lost two games in a row after starting the season 4-0. Last week, the Cannons failed to find the net efficiently from the midfield while Long Island did a nice job of disrupting them – Drew Adams also came up big in the cage.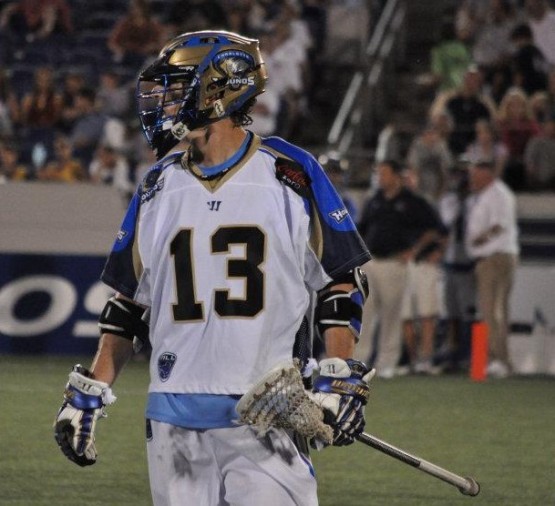 The Charlotte Hounds are looking for wins, and it is likely that we'll see a couple new faces this weekend. While this bodes well for the future of the Hounds, I don't think it bodes well for this specific game. Even with a shot clock, the Cannons midfield can work a set and wait for a missed or slow slide, and Charlotte's "newness" could be a detriment as teamwork takes time to develop. Boston has it, and Charlotte is still building it. The Cannons exercise the losing demons and win by 6+
Hamilton Nationals @ Chesepeake Bayhawks
The Hamilton Nationals put in a goal scoring, crazy catching, no-look feeding effort last week against Rochester, but Chesapeake's defense is a very different monster. When I say they're a monster I mean they are literally monsters. This is the most physical group of poles in the MLL, and if you turn your head they will break you.
Will the Nationals see some success against the Bayhawks defense? Sure, they'll score some goals! But the Bayhawks seem content to punish you and play team defense, and I don't know if Hamilton's offense will see as much success against that type of defense. However, if the Nationals can find a hero to consistently beat his man with speed, they can definitely win this game.
The fact that Hamilton really only needs ONE player to consistently draw a slide to see success (assuming they can maintain the ball movement and chemistry they had last week), makes me think they'll pull off the win in this one. The Nationals will go home bruised, and I think they'll also go home victorious. Nationals by 2+
Long Island Lizards @ Ohio Machine
The Long Island Lizards really put on a bit of a display against the Ohio Machine two weeks ago on Long Island. Maybe it was the pre-game speech. They played relatively simple lacrosse and over the course of the game, showed their superiority. Guys knew their roles, and played them to perfection. It was a real team effort, even if offensive guys garnered most of the headlines.
Long Island has a roster of extremely athletic yet selfless players, and I think they're going to be tough to beat during the remainder of the season – especially if Greg Gurenlian keeps it up at the face-off spot.
The Ohio Machine will continue to improve, and now that they've seen what Long Island can do, the Machine can work to limit the Lizards' midfield. Where it gets tricky is that if you limit the midfield too much, the Long Island attack is more than capable of making you pay. Brian Langtry is looking like a rejuvenated player out there, Matt Gibson is thriving in the MLL immediately, and Ryan Young is looking dynamic and playing with passion.
I like Ohio's defensive make up overall, and I think it will be a closer game than last time, but not too close. Long Island takes this games by 5+ on the road. The only question I have: Who will put the points up this week… the middies or the attack?
Rochester Rattlers @ Denver Outlaws
Last week's Rochester vs. Hamilton pick was in favor of Hamilton because I thought Rochester would win, and I haven't been able to pick them consistently all year, so I'm sticking with the approach. My gut says Denver wins this game, and does so by 4 goals or more. It just seems like Mundorf and Matthews will be too much for the Rochester poles (they're tough match ups for anyone) and that Rochester's offense will continue to sputter a bit against better teams.
But in keeping with this Summer's weird new tradition, I'm picking against my gut when Rochester is involved. I'm going with the Rattlers to win a close one via some increased midfield scoring and a standout day from the defensive unit. If Craig Bunker doesn't win 50% or more, Rochester loses. So he will, or I'll look stupid.
Either way, make sure to check out the Major League Lacrosse action in your neck of the woods whether it be in person, on TV or with an online broadcast. It's good lacrosse, a lot of fun, and maybe, just maybe, you can someday become the next MLL Swami.
What do your picks look like this week?