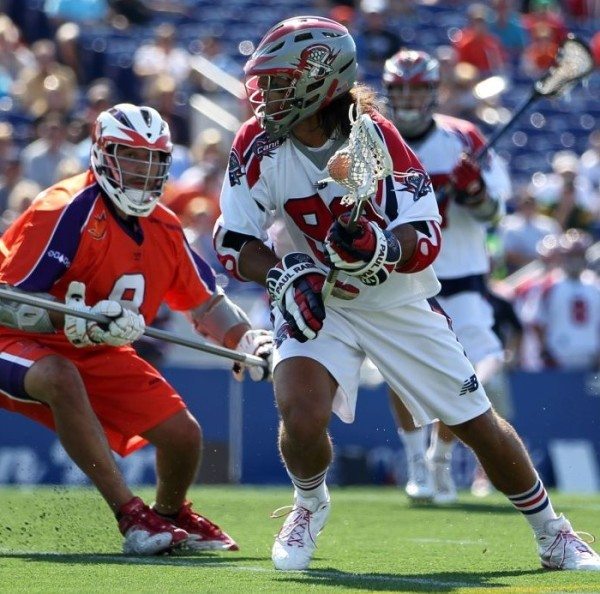 Editor's Note: Connor Wilson has handed over the reins of the MLL Weekend Previews and Recaps to Chris Rosenthall, and Chris has been giving a fresh take on pro field lacrosse, just in time for the final push and playoffs! Check out the MLL Weekly Recap!
_____________________________________________________________________________
Heading into week 13, only the Bayhawks had officially clinched a playoff berth. However, both Denver and Long Island had the chance to clinch spots with victories, and Boston could clinch if some other things fell their way. Rochester needed to wait until next week whether they won or lost, but a win definitely would've helped their chances of making it in. In case you missed any of the action, here's what went down:
LI Lizards 6 – Chesapeake Bayhawks 13
The Lizards came to Annapolis with a three-game winning streak and needing a win to clinch their spot in Championship Weekend. The Bayhawks already clinched, so they'd probably just sit their starters and relax, right?
Actually, they did the exact opposite, and Chesapeake dominated in all aspects of the game. They outshot the Lizards 49-36, their defense only allowed three goals per half and MLL leader Greg Gurenlian was held to 40% (8-20) on faceoffs, his lowest percentage of the season.For the Lizards, their six points were the fewest they've ever scored in a game and Max Siebald's assist to Brian Langtry in the fourth quarter accounted for the only points scored by either of these 30-point scorers.
Since the Lizards didn't win, they'll have to win next weekend in Hamilton (or hope Rochester loses their game in Charlotte) to make it to Championship Weekend.
Game Note: Ben Hunt's two-pointer in the fourth quarter was the Bayhawks' 26th of the season, a new MLL record.
Denver Outlaws 17 – Rochester Rattlers 12
Things started off pretty well for the Rattlers; they were controlling the face-offs and matching the Outlaws offensive production for most of the first quarter. But like I said last week, you don't want to trade punches with the Outlaws, and they scored two goals in the last minute of the quarter to open things up.
Speaking of trading punches, the big momentum swing in this game came in the third quarter, after Rochester scored three in a row to cut Denver's lead to 11-8. A Dillon Roy slash to Joel White's leg resulted in an altercation that gave the Rattlers a non-releasable penalty, and Denver scored three goals on the ensuing power play (with Mark Matthews accounting for one goal and two assists). After the penalty, the score was 14-8 and Rochester never got much closer.
Denver clinched a playoff spot with the win and will now go into Championship Weekend with either the #1 or #2 seed (we'll find out next week for sure). Meanwhile, Rochester can still make it, but only if they win next weekend at Charlotte and Long Island loses at Hamilton.
Game Note: Kevin Leveille scored his 248th career goal, passing Jesse Hubbard for 2nd all-time. Former Long Island Lizard Tim Goettlemann is #1 with 251.
Ohio Machine 13 – Boston Cannons 19
The Machine were looking to pull off the upset of the year, and they came out on fire. They scored the first goal after only six seconds and had gone up 3-0 after four minutes before Kevin Buchanan scored for the Cannons. Ohio was up 6-4 at one point in the second quarter, but a Paul Rabil two-pointer tied things up and the Cannons never looked back.
Boston's big stars are back to making it all look ridiculously easy; Paul Rabil finished with three goals and three assists, Ryan Boyle had a goal and five assists (that's 11 assists in the past two weeks) and Chris Eck won 24-32 of his face-offs. Boston ran away with it late and scored seven of the last eight goals. The Cannons were actually up 19-11 until the final seconds of regulation, when Ohio's Max Schmidt launched a full-field shot that rolled into the cage as time was about to expire.
The Cannons needed this win, but they still haven't clinched, and there's no guarantee they will. If Boston wins next week against Ohio, the Cannons are in. If they lose and Rochester loses too, they're still in. BUT, if they lose, Rochester wins and Long Island loses, they're out. ON THE OTHER HAND, if they lose, Rochester wins and Long Island wins, they're in. Got it?
Game Note: Rabil's six points give him 68 for the season, four away from the single-season scoring record currently held by John Grant, Jr.
Photo Credit: Kim Black Photography
Charlotte Hounds 11- Hamilton Nationals 9
In the only game without playoff implications, the Hounds snapped their three-game losing streak against the Nationals, who now have a three-game losing streak of their own.
The Hounds were up 7-1 in the second quarter, but the Nationals scored five in a row, including a David Earl two-pointer (Only Hamilton's 4th two-pointer of the entire year; it was actually a fluke that bounced off a Charlotte defenseman's stick) to make a game out of it. The Hounds used goals from Joe Vitale (playing in his second game) and Kyle Wimer (playing in his third) to protect their lead late in the game, and Charlotte's Adam Ghitelman came up huge in goal, turning away several point-blank shots. The Nationals got the ball and called timeout down two goals with 22 seconds left in the game; but like I mentioned earlier, two-pointers aren't really their thing, and they couldn't put a shot on cage in time.
Game Notes: Brodie Merrill's six ground balls give him 92 on the season, a new Nationals team record.
Charlotte's Matt Danowski was held without a point for the first time since the 2009 season.
There's only one more week in the MLL regular season, but we still need two more teams for championship weekend, and between Long Island, Boston and Rochester, nobody's guaranteed a spot. Every game next weekend has major playoff implications, so check back here on Friday for previews of all the matchups.
//