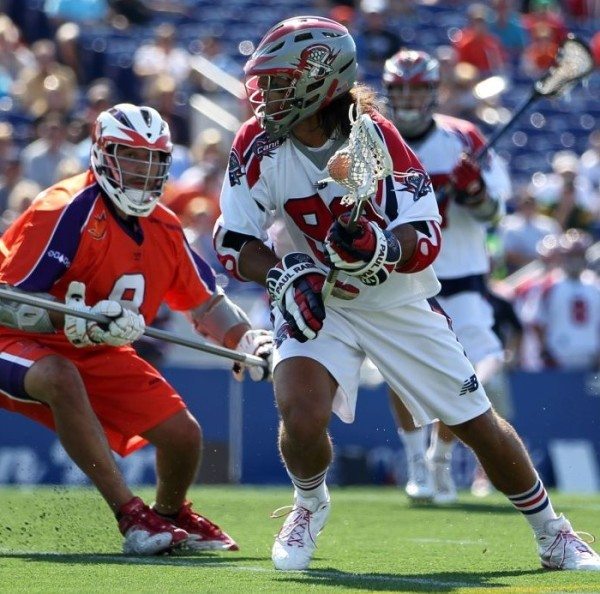 It took the entire Major League Lacrosse 2012 season to do it, but we finally figured out who's headed to Boston for Championship Weekend. Going into Saturday, we had three teams fighting for two remaining spots, all playing on the road, against teams they'd already beaten this season. In case you missed anything, here's how it all went down:
Denver Outlaws 15 – Chesapeake Bayhawks 13
Chesapeake started things off the exact opposite of how I expected and pushed the tempo early. It worked, because the Bayhawks jumped out to a quick 3-0 lead. Kyle Dixon and Drew Westervelt combined for four goals (one of Dixon's was a two-pointer, of course), and Chesapeake was up 7-2 at the end of the first quarter. Denver came right back in the second, shutting the Bayhawks out, scoring five goals of their own, and tying it up going into halftime.
The second half was an incredibly close back-and-forth battle featuring four different lead changes, but ultimately Denver's Jesse Schwartzman proved to be the difference maker. In addition to his season-high 18 saves (12 in the second half), Schwartzman had an assist in the fourth quarter, hitting a cutting Brendan Mundorf in stride from almost 60 yards away to give Denver a 14-12 lead.
The Bayhawks were held scoreless for the last 6:45, and the Outlaws will enter Championship Weekend having gone two months without losing a single game.
Boston Cannons 18 – Ohio Machine 16
The big news before this game was that Boston's Chris Eck was out with an injury, leaving John Ortolani to take the draws for the first time this season. Ortolani went 22-36 and won eight of the first nine, so there you go. Your face off problem is solved when you replace Eck with an MMA fighter.
Just like last week, the Machine started off the scoring, this time with a Kyle Hartzell two-pointer. Hartzell, who has absolutely no regard for where the arc is actually located, pulled up and buried this one from about 23 yards out, as he's been doing all season.
The Machine threw all sorts of different looks at the Cannons (switching from zone to man, moving Steele Stanwick up top on the man-up plays, you name it) and led 11-9 at the half. Boston's usual suspects took over coming out of the break, and a Paul Rabil two-pointer a) tied the game at 14, and b) tied John Grant's record for most points in a season. Maybe. Well, it definitely tied the game, but "maybe" to the other part. I'll explain later.
Kevin Buchanan took over scoring duties for the Cannons, but Ohio kept fighting back, tying it again at 16. The Cannons scored two more goals, and Ohio defenseman Max Schmidt got the ball with time running out, just like he did last week. He put the shot on cage but Jordan Burke made the stop, dropping his save percentage on full-field Max Schmidt shots to a far more respectable 50%.
So, about that Rabil thing: at some point after the game, the league went back, reviewed all the scoring plays, and determined that there was an assist during the game that he didn't properly get credit for. Which means instead of tying the record, Paul Rabil actually scored a new MLL-record 72 points this season. Congrats PR99!
LI Lizards 8 – Hamilton Nationals 18
See, this is why I don't make score predictions. Since the Nationals a) lost to Long Island 19-12 last month and b) hadn't won a game since, most people assumed they'd just save their energy, chalk this season up and try to forget it ever happened. Who knows how or why… but the Nationals saved their best for last.
The scoring started just how you'd expect, with Long Island's Matt Gibson tossing in a casual backhand only about a minute and a half in. Then things started getting weird. First, starting (?) attackman (?) Rhys Duch tied the game up. Then, Donnie Moss scored a two-pointer. No goofy deflection like last week, an actual two-pointer, and we had Hamilton's fifth "2" of the season.
When the Nationals start dropping pull-up twos, you know all bets are off. Next thing you know, it's 5-1 after the first, and Long Island doesn't get closer than that the entire game. Both Joe Walters and Cody Jamieson had one goal and four assists, and Duch (who began the game with two goals and four assists on the season) led the way with five goals and two assists.
As far as the Lizards go, they're still heading to Championship Weekend, but definitely not on a good note. Last week's low point total made a little more sense since it was against the Bayhawks, but going up against the second-worst (and only second by a goal) defense in the league and scoring eight goals? They've got a lot to talk about in the next two weeks if they plan to stop the Outlaws and their six-game winning streak.
Rochester Rattlers 14 – Charlotte Hounds 15
Thanks to the Canadian beatdown above, all the Rattlers had to do was beat the Hounds one more time (they won their previous meeting 14-5) and they'd be on their way to Championship weekend. The bad news: they'd have to do it without Ned Crotty, who was out with a thumb injury. They'd played well without Crotty before, so it wasn't the end of the world. Or was it?
With Crotty out, the Rattlers middies stepped up and scored six of the team's seven first-half goals. The Hounds were up to the challenge, and Charlotte scored eight goals in the second quarter (the most they'd scored in any one quarter this season) to make it 13-7 at the half.
I'm not sure if the Hounds eat BBQ ribs at halftime or something, but this was the third straight game where they only managed one goal in the third quarter, and the Rattlers made it 14-11 going into the fourth. Rochester kept chipping away and made it a one-goal game when they ran into a big problem.
Remember their altercation against Denver last week that ended up with Kevin Leveille in the penalty box? A similar thing happened this weekend, only this time he got kicked out…  and with only five minutes left in the close game. Down by one, with a trip to the playoffs on the line. Can't have that.
Even without their two best attackmen, the Rattlers almost pulled it off. After John Galloway made a point-blank save on Stephen Berger with a minute left. Matt Striebel fired a two-point attempt to win the game. Unfortunately for Rochester, the shot went wide, and the Rattlers (remember, no Crotty at X) didn't back it up. Charlotte ball, game over, no playoffs for Rochester.
So there we have it, our four contenders have been decided. #1 seed Denver plays #4 Long Island, and #2 Chesapeake takes on #3 Boston in a rematch of last year's semifinal. The games take place the weekend of the 25th, so we've got two weeks to analyze the teams, place our bets, second guess ourselves and change our minds. Check back between now and then and we'll be sure to break it all down.