The Marquette Golden Eagles traveled to Ohio to take on the Buckeyes of Ohio State on Saturday for the program's first ever NCAA D1 game. Marquette fell to Top 20 OSU by an 18-8 score, and while it wasn't exactly a tight game, we've got a lot of respect for Marquette for opening their program history against a strong team like OSU.
OSU started out hot, generating chances, and eventually registering the first three goals of the game. Marquette showed excellent fight by following the OSU run with two goals of their own to close out the first quarter. 3-2 after one quarter of play isn't bad at all! Bryan Badolato scored Marquette's first ever goal, unassisted.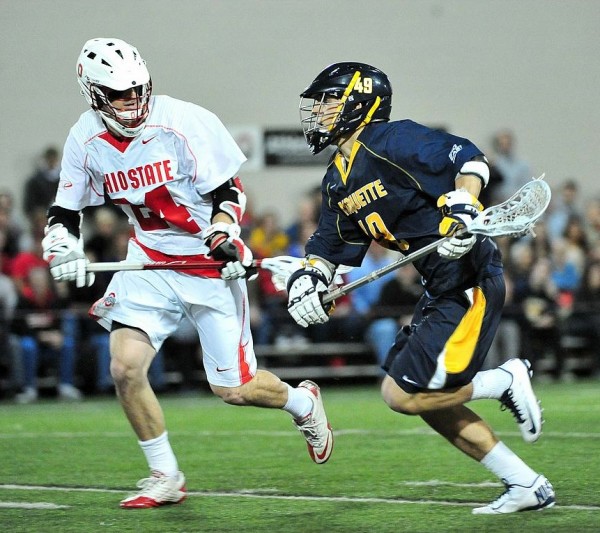 By halftime, OSU's lead ballooned to 10-5, as the Buckeyes outscored Marquette 7-3 in the second frame. 3 of OSU's goals in the 2nd came on the man up after a two-minute penalty for cross checking on the Golden Eagles. OSU scored 4 goals in 4 man up chances in the game even though Logan Schuss had only one goal (on six shots).
In the second half, Ohio State out scored Marquette 8-3, and this was the product of a six goal run by the Buckeyes. The Buckeyes won the face-off battle but just barely (16-14), and also edged Marquette on groundballs (31-28).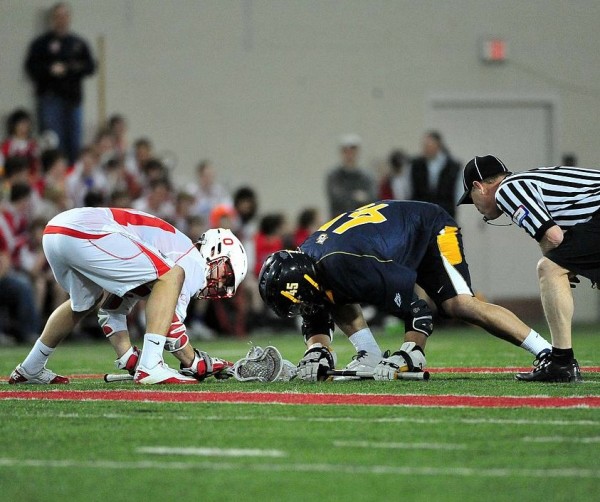 Bryan Badolato, Connor Bernal, and Tyler Melnyk led Marquette with two goals each. Carter Brown had four big goals for OSU, while Jesse King added a hat trick, and David Planning, Tyler, Pfister, and Turner Evans each had two goals. Carter Brown and Jesse King also had three assists  each for OSU, giving them 7 and 6 points, respectively, on the day. JJ Sagl made 9 saves in 50 minutes for the loss, and Greg Dutton made 2 saves in 50 minutes to earn the win.
Marquette takes on Air Force next weekend, while Ohio State has a HUGE game with Penn State. Marquette, Ohio State, Penn State… college lacrosse really is taking off at big time D1 schools!
Thanks to Lucas LeNoble for the game information that made this post possible. Excellent Photos Credit to Jeff Mills.