So much lacrosse to talk about!  I couldn't put together 5 different posts on all this stuff so I'm going to knock 'em out one story at a time, all in one post.  Craziness.
Stevenson Highlight
Stevenson is tearing it up pretty nicely in NCAA Division III laxland right now.  Jimmy Dailey is blogging on GoMustangSports.com, the 'Stangs are winning, and winning big, and Paul Cantabene has these guys fired up to play lacrosse.  That much is evident.  Even in tighter games, they've come out victorious by good margins.  Of course, the season is still early.
One thing I noticed in their highlight is the sheer number of high hits, late hits, pushes from behind, gang tackles and more when the Mustangs are on D.  None of them were particularly vicious, which is good, but there were a LOT of them.  If I had been a ref, I may have thrown some more laundry than these guys did.  Stevenson had 6 penalties against Kean (this game film), and I definitely saw at least penalties there.  I am NOT talking smack about Stevenson here.  Trust me.  I was a bit reckless as a player and got penalties regularly.  I had 4 BAD slashes against WNEC as a Sophomore or Junior in only 3 periods of play I think.  Coach Raba pulled me.  And thank God for that.
My point of concern comes later in the year.  When Stevenson is playing Salisbury, Roanoke and others in the playoffs, can they contain their enthusiasm and cut the penalties down?  The top teams in DIII will rip most man-down defenses apart so it's something for all of us D3 lax enthusiasts to keep an eye on!
Note To ALL Teams Playing Guilford
These guys love taking jump shots.  If they're not scoring on you inside (and jumping), they're shooting jump shots.  Goalies for the opposition take heed.  Seriously, am I the only who is amazed by the number of jump shot goals in this clip?
Princeton Gloves – Deceptively Custom
The Tigers Warrior kits have been getting, for the most part, rave reviews in 2011.  The tiger stripes on the shoulders aside, I think it's all been executed to perfection.  The stripes aren't perfect but they are far from disastrous!  It's a good effort and pretty unique.  Well done.  The padding is where it gets really good.  The matte black helmets are obviously super.  I hope they come out with something else though as an alternate.  The black pads with a little orange trim look great and are distinctively Princeton, which is just what you want.
The gloves are black with a little bit of orange on them.  They look good, just like the rest of the padding.  But if you look closer, you'll notice they also have an orange floating cuff.  I haven't seen another team with anything like this yet.  Small detail, but as I've said before, that's what makes you the king of custom!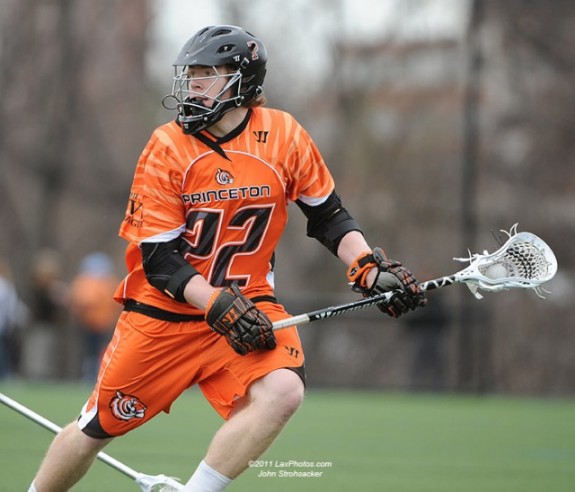 More excellent Princeton – Johns Hopkins Photos on Lax.com
One of the Worst Hits I've Ever Seen
Seriously, do NOT watch this if you are squeamish.  It actually makes my stomach turn a little.  Evidently, John Rose of Harvard is ok.  There was some confusion over whether or not he walked off the field on his own, but from this, I would say he probably shouldn't have been allowed to.  Just a brutal collision.  Jay Card was given a 2 minute penalty for the hit.  But honestly, like the hit in the Duke – Notre Dame game, I wouldn't mind seeing the kid tossed for that on top of the penalty.
Lacrosse doesn't need to be turned into some sort of headhunting, murderous blood sport.  It's tough and violent enough without anyone taking a head shot like that.  I'm not even calling out Jay Card here because it is part of the culture of college lacrosse right now.  In order for it to be stopped, coaches, players, refs and the NCAA have to make it a real priority, which just means calling it right and teaching the game correctly, starting at youth and continuing on through college.
Headshots and concussions aren't glamorous.  They cheapen a great game and we all need to make it a priority to get this stuff out of the game.  Teaching or coaching players to give headshots is thuggish and there is no honor in it, at any level of involvement.  Pretty simple.  I hope I never have to post another one of these.
I repeat, watch at your own risk.  Seriously.  This will be taken down in 3…2…1…
Untitled from Harvard Men's Lacrosse on Vimeo.
More on headshots:
– Hot Pot Of Lax: Long Pole Goal
MCLA Quickie
Colorado demolished Kansas.  Good news from a team I picked to win it all!  They also took down DII Adams State earlier in a scrimmage.  But that doesn't count.  Cal Poly rolls on and is looking solid while LMU took out Oregon State.  LMU looking a little up in 2011!  Nice to see.  Idaho snuck by Montana by 1 and I bet that was one heck of a game.  Lindenwood beat Wisconsin 11-6.  Wiscy doing all right but not taking the MCLA by storm yet.  Sonoma State beat Michigan State 15-14 in a crazy game from the sound of things but the biggest upset was on Sunday was Utah over Minnesota – Duluth by a score of 13-5.  Utah is for real this year, huh?!?!?!