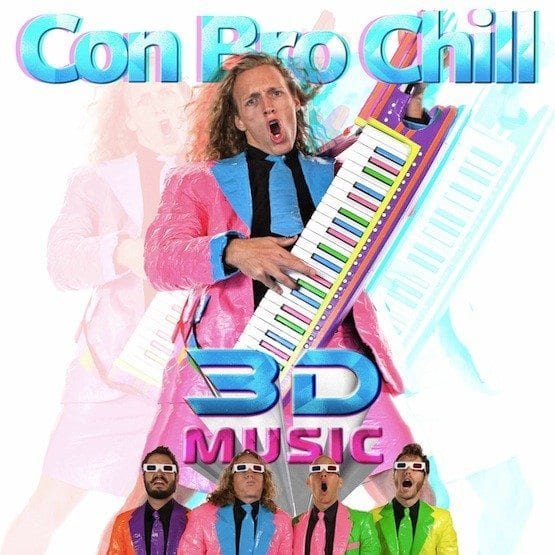 Meet Con Bro Chill, the band.
Over the past few years, a humble long-haired kid from Portland, Oregon, has quickly risen to the top of the lacrosse world. His name is Connor Martin, but most people know him as Con Bro Chill – all thanks to the wacky YouTube videos he began creating back when he interned for Warrior Lacrosse during college and more recently, his budding musical career.
A standout lacrosse player at Chapman University (MCLA D1), Connor Martin finished his collegiate lacrosse career as one of the best players to ever play in the Men's College Lacrosse Association. Major League Lacrosse officials quickly took notice, and the next thing he knew he was a professional lacrosse player.
While lacrosse is a huge part of his life, music has always played an equal role. In an attempt to carry out his post-collegiate days on his own terms, Connor started seriously pursuing music, continuing to cleverly market his goofy Con Bro Chill persona. One album and two MLL seasons later, Connor Martin has taken center stage in the lacrosse world whether traditional lacrosse fans like it or not.
On the musical side, Con Bro Chill has evolved from one person to a four man band. Connor's brother SAMM, an Atlantic Records producer, and a couple of talented friends have joined in on the fun. Earlier this month, the band's new single "Power Happy" gave fans a taste of a new and improved CBC – one that may in fact drive mainstream appeal.
CLICK HERE TO ORDER CBC's NEW ALBUM
Tomorrow, January 31st, Con Bro Chill's new album, 3D Music, will be released on iTunes. Produced by his brother SAMM, the "visionary catalyst" to CBC, and packaged for a larger audience, this new album is something for the lacrosse world to stand behind and support. Because truth be told, Con Bro Chill hasn't just become a lacrosse celebrity, he's also helped kids everywhere find a passion for our sport.
What follows below is a recent conversation we had with Connor Martin about CBC, the new album and his love for lax.
LAS: You're a professional lacrosse player, a musician, and a spokesman, so we know you must have a lot on your table. How much of your personal time went into putting together the new album, 3D Music?
Connor Martin: You nailed it on the head there. I put a lot of time, musical input, heart, soul, (all that good stuff) into the album, but all the credit in the world goes to my brother SAMM. He's a signed producer for Atlantic Records and our jump in quality musically has 100% to do with him. The man spent 8 months creating this party opus.
The great thing about "Con Bro Chill" is it's a band and everyone contributes to the fun, but on the musical side, we'd be pumping out "Come To My Party" quality songs at best if I were left to my own (SAMM even helped me a bit on that track too). The simple point is my brother is sick and he produced an album I am incredibly proud to have contributed to.
The video for 'Power Happy'… how much fun was that to make? Can you tell us a little about the experience?
We try our hardest to have as good of a time when producing these videos. What people may not understand is how intense pulling off a video shoot is. Once we've finished the concept/script and finally prepared all the sets, costumes, lighting equipment, crew, extras, schedule, locations, budget, stunts, etc. we get to perform and capture the madness. It's just like game day… All the practicing, running, lifting, hitting the wall, watching film, getting yelled at by your coach, all of it is worth it to finally get to strap it up and play in that big game.
So much of growing up playing competitive lax has prepared me for what we try to pull off on film. The teamwork it takes to pull some of this off is incredible. We just got done shooting a video on Saturday that involved 3,000 extras and 3 different sets managing this mob. I had like 25 people helping us crank it out, not to mention the month it took to prepare everything for the shoot with the band. The relief and the accomplishment you feel after a shoot like that are the exact same as winning a huge game.
With a couple years of music under your belt, you seem to be making a push at the mainstream with CBC. Do you think you'll ever have to decide between lacrosse and music?
We definitely want all of planet globage to hear our music, because sadly, it's not just exclusively for our core fans in my lax family. I love lacrosse and I love music. I started playing lacrosse and piano at the exact same time when I was 14 and have pursued making these two beauties my life. So far I've pulled it off and I plan on playing lax as long as my body lets me.
There is still nothing more fun than suiting up in an MLL game and playing with the best players in the world. The question you bring up is also why I've created Boom Town Lacrosse. That way wherever CBC goes, I'll always have a place for lax so I can coach and be apart of lax. BOOM TOWN!
AND…… if you look at lax and music from a logistical standpoint, the MLL is not to a point yet where they can make it a full time job. Even when we're producing these videos and music I'm lifting and doing cross fit 4-5 times a week in the morning and then taking care of CBC stuff the rest of the day. I've probably got one of the best schedules for training in pro lacrosse. Just trying to keep it flexy! Interesting and fun time to be a laxer… Hope to blow it out so we can all make pro lax a full time gig!
On the lacrosse side of things, are you playing right now or just staying loose for the 2012 MLL season?
Def not staying loose. This fall I was training for Indoor like crazy. Hired a trainer and got introduced to cross fit lovin. So when indoor fell through I was in pretty good shape. I've kept it up but I've put the stick down a bit. Our shoot for "Partied Out" is over this week and I got the alumni game at Chaptown to kick off the beginning of heavy lax for the next 3 months getting ready for season.
Sometimes it's good to put down the stick so when you pick it up for the first time after a while you're as excited as a little school girl and you lax your face off.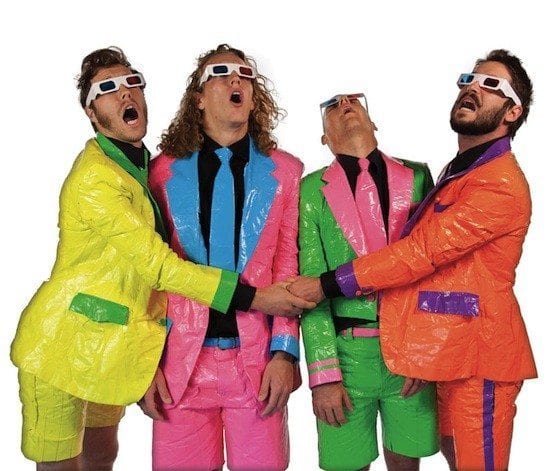 As arguably the most well-known former-MCLA laxer AND MLL Lacrosse player, do you ever feel any pressure to deliver out on the field?
Ya, I'm in quite a funny situation. So being from the MCLA I honestly should be an underdog when it comes to playing in the MLL. As competitive as I believe the MCLA is I still wasn't playing against any of these guys in college so this is still generally new to me. But when I get to step on the field and suit up I'll sometimes see kids with signs saying "Do It For Bruce Con Brewfus", wearing a CBC shirt or whatever and I'm like, "These kids think I'm just gonna go out there and score 5 G Notes a game because they saw Flowseidon on Youtube".
It's still a game, the guy guarding me is a 1st team All-American, and I'm a role player in the MLL. But pressure from fans is fun and it makes you play harder and better. Sometimes the pressure of whether you'll play or not play from the coaching staff is what has gotten to me before. Funny situation but all it does is get me fired up to keep working hard and get a real spot on a team. Excited for Ohio to say the least.
What are some of the positives and negatives of being so well known in the lacrosse world?
All positive. I've gotten try outs for the MLL, opportunities to be apart of an expansion team, had a great endorsement from Flow Society that has allowed us to keep doing what we love. I mean, if I drive across the country I got a place to stay in almost every state. And the lacrosse community is the overwhelming majority of people who support what we do.
I love the lacrosse world and have no problems with it. There is nothing better than when a little laxer from somewhere like Boom Pueblo, Arkansas looks up to you as a role model and tells you he's gonna play in the MLL just like you. It's all about the kids, and I'm hoping because I'm in known in certain areas they'll hear my story and start to believe that they can use lacrosse to have as much fun and opportunity as I have.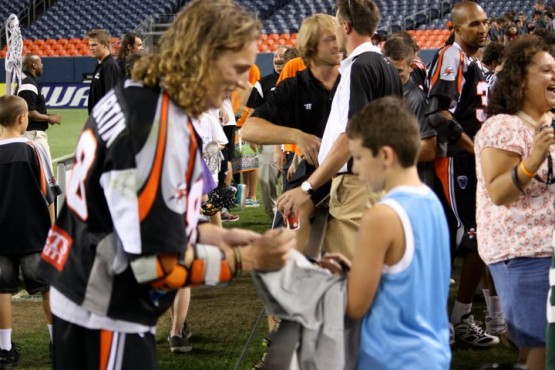 Which would you say is harder: competing against other musicians to get your name out there or competing against other players to earn a roster spot in the MLL?
The odds are insane in each. No matter what you have to differentiate yourself. Don't just be a punk band, and don't just be a middy that shoots from the outside. It's a good lesson that tells you to expand what you do. Expand your game, expand your mind, expand your talents. Pick a couple things and get good at them. Don't just settle and be comfortable.
It's amazing how much lax correlates to anything you do in life. We play because we love the game, not because we're gonna making an incredible living and retire off of it. There's million dollar lessons in lacrosse that will help you crush life long after your body can't handle lax anymore. So screw the odds and go hard after whatever you want!
Any tips for fellow musicians-slash-lacrosse-players looking to make a name for themselves? 
You can do it! I love what I do so it's not work yet. I think my only trick is I don't watch tv, play video games, or get partied out all the time. Think about how much time you have to do activities if you nix out one of those!  ACTIVITIES!
Love Life!
Con
For more from Con Bro Chill, check out the official website, become a fan on Facebook or follow Connor Martin on Twitter.
CLICK HERE TO ORDER CBC's NEW ALBUM