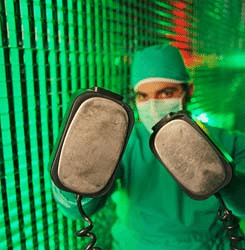 Editor's Note: Please welcome Nate Fritts to the Lacrosse All Stars! This isn't his first time on the site of course, we had the pleasure of meeting Nate on the Rhino Lacrosse Camp Tour a couple summers back. Nate hales from Portland, Oregon, played at Bowdoin College (NESCAC) in Maine, and now resides in Boston, MA where he researches concussions and brain diseases when he's not laxing.
________________________________________________________________________________
We're baaaaaaaackkkkkkkk! It's that time of the week again… Music Monday is here to catapult you into another week of working, playing, laxing and relaxing (hopefully more of the latter three). Here at LAS we're getting crazy on you this week and throwing three tracks your way to get things moving along after that lazy Sunday you just had. Let's just say your ears have their work cut out for them.
Underworld – "Rez (Bassnectar Remix)"
By no means did this artist get pulled out of any secret lax tunes vault… Bassnectar has been shaking the electronic music scene for over a decade. The California-based electronic mastermind claims to have first fell in love with bass when an earthquake rattled his home as a child, and with this track he delivers a good-feeling, tame yet bass-heavy track that taps into a more diverse set of drum lines. I'd say this one only falls at a 6.0 on the Richter, but it is certain to get your head held-high and rocking during your January shoot around.
Sibot – "Tronarist"
"Tronarist" is not just a jam for fans of the electronic music scene; it is just one of those tracks that any music-lover can fall for. Sibot is a South-African DJ who has been known for pushing the boundaries between genres and testing the limits of live performance since the late 90's. This new song exemplifies his reputation so much that I don't even know what to call it. It's got a video-game digital vibe going on to carry it through varying sections of funky synth leads and oscillating intensity. Does that make sense? Probably not, so just listen and appreciate this one.
Dead Meadow – "Sleepy Silver Door"
To change gears a little, we had to toss in some good old fuzzy rock to this Music Monday cauldron. Enter Dead Meadow. This song is somewhat of a throw back, with new-born relevancy. You may recognize the beginning of this song from the new Miller Lite commercial where the mega-sweaty bro, dripping from hot wing perspiration and seemingly down for the count, rallies with his friends to finish the last "demon wing," thus glorifying his name in dive bar history. Dead Meadow, known for its psychedelic distortion and eerie vocals, crawled out of Washington D.C. in the late 90's and released this track in 2008. This song just feels right to get the cleats laced up and the stick moving in the morning fog.
[Featured image from BoatsnBikes.com]
Have some music you think the lax world wants to hear? Drop us a note in the LAS Tipline and let us know!