We put the question out there last week, and quite a few of you made your voices heard: it looks like the North American Lacrosse League is drawing fan interest and deserves some additional attention. With that in mind, it's a big three-game weekend in the NALL; so let's take a look at the match ups!
Boston (3-1) vs. Rhode Island  (0-2)
By avenging their lone loss of the season, by way of a 20-9 victory over the Baltimore Bombers last weekend, it only makes sense to call the Rockhoppers the team to beat in the NALL until further notice. On the other side, the Kingfish are still looking for their first win, but they have half as many games under their belt as the Rockhoppers, so it's tough to judge them based strictly on record.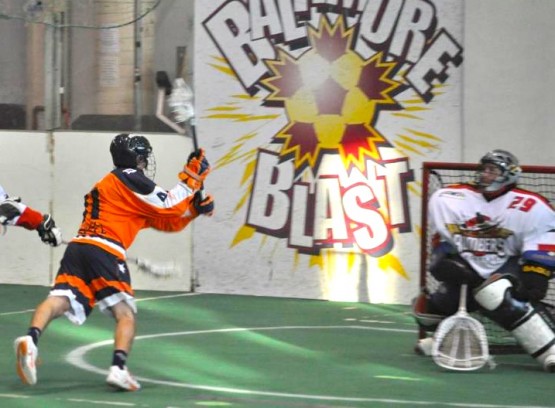 (Check out 24SevenLax for 324 more AWESOME photos!)
If we look at common opponents, the Rockhoppers held the Kentucky Stickhorses to nine goals, while the Kingfish gave up 17 to them, so that doesn't look great for them, but again: they've only played two games, and there is still plenty of time to turn a corner.
If they're going to get that first win of the season this weekend, the Kingfish need to slow down Boston's offensive production (66 shots on cage last week) while finding a way to expand their own (Only one Rhode Island player, Mike Maggio, has tossed in multiple goals in each of their games). Of course both of those things are easier said than done, especially since Tim Fallon and Peter Vlahakis have been dominant on face-offs and Vince Talbot is only giving up nine goals per game while in goal for Boston.
Playing all of their games on the road this season, this is the closest thing to a home game the Kingfish are going to get. Since Boston is less than an hour away from Providence, we get to find out how well the Kingfish faithful travel, provided there's even room for them at the New England Sports Center, which the Rockhoppers have done a pretty good job of filling on their own.
Baltimore (2-1) vs. Kentucky (1-2) – 2 Games
These teams look pretty similar on paper: both have scored 17 goals at their best, nine at their worst, and are coming off of lopsided losses to the Rockhoppers. Baltimore's scoring average is only about a point higher, but so is their goals-against average, so that doesn't help much either. Here's what I can tell you: if the Bombers are going to win either/both of these games, they need to stay out of the penalty box.
Remember my last preview, when I said they needed to cut down on their 14 penalty minutes? Yeah, about that: last week the Bombers racked up an astounding 42 minutes worth of penalties. Can't have that, fellas. Not if you want to win.
And while we're talking about the Bombers, we'll have to see if they're traveling with a full roster, which would be crucial for a two-game weekend. F Jordan Kenny was forced to leave last week's game with a knee injury, and it doesn't look like he'll play this week. D Josh Rachman, get this, dislocated his thumb while breaking his stick in two on a cross-check early in the third quarter against Boston. Oh, and by the way: he taped it up (the thumb that is, the stick could not be saved) and played out the remainder of the game before heading to the hospital. Don't count Rachman out just yet though. His toughness is unparalleled.
One of the biggest stories from this weekend's matchup is the addition of Chazz Woodson to the Kentucky lineup. We're all familiar with his field exploits, but Woodson has no prior box experience, nor does he seem to have all that much interest in playing professionally. So why join up with the Stickhorses?
"When they reached out to me," said Woodson, "I just thought it'd be a cool opportunity to do something a little different, while I still can, and to team up again with some guys that have been an important part of my professional lacrosse experience over the last 5 or 6 years."
It's becoming more common for American field stars to find success in the box game (see C. Powell, J. Walters, like 90% of the Philadelphia Wings); will Woodson's transition be as successful? He's taking things with a level-headed approach: "I'm not going in with any expectations at all, other than to play as hard as I can, as well as I can, and to enjoy it."
Woodson joins a Kentucky team that's capable of putting up points, and they have both transition and defensive players who don't mind going to the goal (even when short-handed), but this weekend's schedule could pose an additional challenge of it's own: after almost two weeks off, they're playing two games in three nights. Will being so well rested carry them through the weekend, or will they be rusty on Friday, and winded on Sunday?
With all four teams in action, and all seeing their opponents for the first time, this is the weekend where we'll get a much better sense of who ranks where in the NALL hierarchy. I said the Rockhoppers were the team to beat, but let's not go crazy: since the season's so young, 75% of the league could find themselves at the top of the standings this time on Monday. It's still anyone's game.