As most of you probably know, the dimensions for an NCAA legal head change for the 2010 season.  The heads will be the subject to very similar width restrictions at the top and the same restrictions surrounding depth.  The changes in the regulations are most evident in the throat of the stick, where most players have the deepest part of their pocket.  This part of the stick will now be required, at a minimum, to be 3 inches wide whereas in the past the ball basically just had to barely fit through the two sidewalls.  The changes aren't extremely drastic but I do think they will have an effect on the game.
We are going back to the days of the Brine Edge in terms of throat width.  In fact, Brine is even bringing the stick back for sale! The only real differences is that now the head comes in 10 different colors AND has a much better stringing configuration functionality with the added sidewall holes.
Earlier this summer I spoke with a couple of current division one and division three players about the new regulations and the reactions ranged from "it shouldn't be a big deal", "I'm a defenseman so I really don't see it as an issue" and "it isn't the wand, its the wizard" to "my game is done, man", "WHHHHYYYYYY?" and "maybe I'll pass more".  Now Harry Potter might not agree that the wand doesn't matter but the point is valid nonetheless: truly great players will still be great players.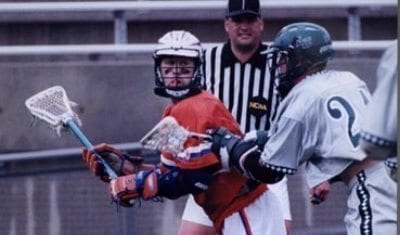 The least affected group here is probably defensemen.  They handle the ball less, use their stick to pick off passes more and generally can benefit from a slightly wider head.  The mo
st affected groups of players will probably be attackmen, dodging middies and fogos.  The attackmen and middies are for the obvious reasons surrounds ball control and retention.  The fogos come to mind because while they are ALL dealing with same changes, they will ALL have to adjust their game accordingly and this gives newer names a chance to rise to the top and evens the playing field to a certain extent.  Trust me, facing off with a wide Edge is VERY different from using a pinched Blade.
I'm curious to hear reactions from the players as they pick up their new spoons.  If you have any insight throw it into the comments section and we will try to address your questions or comments in the next post.  I get the feeling that head width is going to be a pretty popular topic come spring time!