Editor's Note: Jimmy Ciccone has been busy at Penn State with club lacrosse, new coaching responsibilities at a local high school, and more, but as the weather warms, Jimmy will be back on LAS with great new stories!  This week Jimmy is filling us in on THON, a fundraiser that Penn State puts on each year to raise money for the fight against cancer in children.  It's a great event, and a perfect example of how students can get involved and make a difference in the larger world in a major way.
______________________________________________________________________________________
We'll guys, it's been awhile but I'm back. I've either been busy with school work, playing club lacrosse, coaching at a local prep school or participating in THON with club lax. What's THON you might ask? Well today I'm here to not only tell you our story but to challenge teams everywhere to take up an initiative and make an impact in your community!
THON is the largest student-run philanthropy project in the world, and THON raises money for the fight against pediatric cancer, and it can only be found at Penn State. It started in 1973 and is still running strong today. Money is raised via various events throughout the year, such as a dodgeball tourney, canning, THONvelopes and many more. All money raised goes to the Four Diamond Fund, which is  located at Penn State's Hershey Medical Center in Hershey, PA. The money raised directly pays for treatment, medicine, etc. for the children diagnosed with cancer, thereby leaving the family with no bills whatsoever, so that their child can get treatment.
Every year in February, thousands of people fill the Bryce Jordan Center for THON. The big weekend is a way to celebrate the year of raising funds, and we do so with a 46 hour dance marathon. Each THON organization can have 1, 2, or many dancers in the marathon, and it depends on many factors.
Luckily for Club Lacrosse THON (which consists of both the men's and women's club teams) we were represented by our very own Pat Gilbert and Christina Fiorentino. Dancers stand for 46 hours straight and are not allowed to sit at all, so it really takes people who are dedicated to the cause and have the strength/determination to dance for the kids, so that some day we may find the cure.
This year we were also lucky enough to adopt a four diamond family of our own. Dustin Beaver is a 12 year old who was diagnosed with ALL Leukemia two days before Christmas. We met Dustin earlier this year, and we immediately knew we couldn't have asked for a better family. Dustin is a very cool, outgoing, and especially strong kid, for everything he had to go through. He was the driving force behind our fundraising efforts this year for THON. Recently it became official that Dustin was a full year into remission. His strength has inspired us all and made us that much more excited for what THON weekend had in store for us.
Also this year's theme was "Brighten Every Journey" so we made sure our Club Lax THON represented the theme well.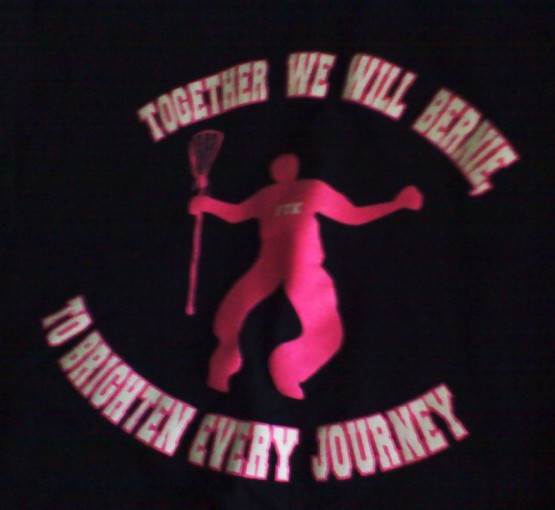 Club Lax as always pulled out all the stops and come out in full force to show our support for Dustin and our dancers for THON weekend. Although we're in the stands, we're still not allowed to sit at all, to show support for our dancers, who are on their feet for the full 46 hours. Being Dustin's first THON, we wanted to make sure we showed him and his family our support, and we also wanted to make sure we kept our dancers morale ump so I organized a group to stay the last 24 hours and cheer our dancers on.
It's nothing compared to what the dancers go through, but we made it through the 24 hours as a team and made sure we were rowdy the whole time.
The moment everyone had been waiting for was finally upon us. The GRAND TOTAL that thousands of students have sacrificed many hours, days, weekends etc for. First they started with the top 10 regular organization totals. A regular organization was a group whose sole purpose of existence was not THON (ex: club lacrosse. Our purpose is to play lacrosse BUT we also participate in THON).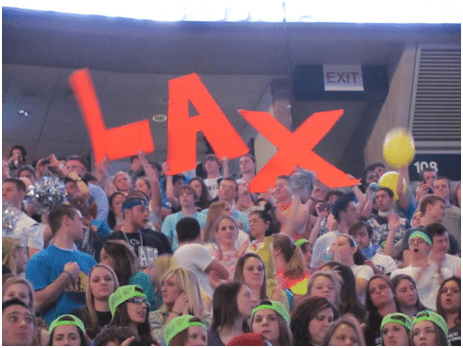 The top 10 went onto the screen and out of hundreds of groups, in 6th place, was Club Lacrosse!!!!!!!!  Club lacrosse raised $57,000 for the kids. That in and of itself was an incredible accomplishment but we all still anxiously awaited the grand total. After they announced the top ten THON groups it was time and… well… I'll let the video speak for itself.
$10,686,924.83 all for the kids… for the cure!  Easily one of the most incredible feelings I've ever felt.
As a group, we overcame a scandal, the passing of one of our teammates from the girls' team Gaby Sicard (#flyhighgaby) and the passing of our beloved football coach, and we were still able to set a new record for THON. Best of all, I was able to say I accomplished this with my teammates, and that we are helping to make the world a better place!
Sorry if this post was a bit disorganized but I honestly have so many memories from that weekened that it made it hard to stay on track. I don't mind though because I know that means that this was an incredible experience that I will never forget. Sound off in the comments of what you think after reading this or your own personal story of how your team has made an impact. GTG and FTK (For the Kids!)!
To learn more about THON's mission or how you can donate to this incredible cause and help us beat this years record of over 10 million click HERE. Be sure to credit your donation to Men's or Women's Club Lacrosse. Or if you have any questions feel free to ask in the comments below. FTK!