Did you hear about that time the NFL's No. 1 Free Agent got pwned by a couple of Denver lacrosse teams? Well… LAS reader Bobby Magrin just sent us the inside scoop!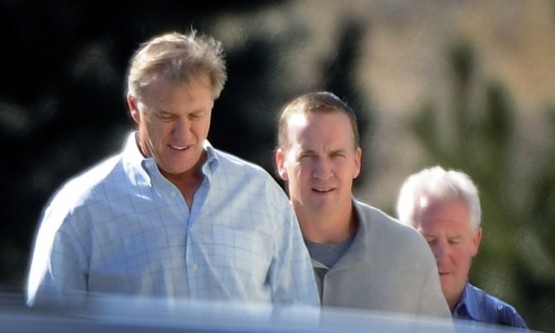 Last weekend, Peyton Manning took a visit to Tim Tebow's promised land. There to speak with the Denver Broncos and experience the Rocky Mountain high, Manning bunked at the home of former Bronco wide-receiver Brandon Stokley.
Stokely and Manning have been friends for a long time, so it was only natural the two would want to toss the pigskin around a little during Peyton's stay. Around 8:00AM on Saturday morning (nice and early), the two headed out to a brand new local field with Stokley's son (who wanted to wear his Peyton Manning jersey, of course) and his friend only to discover thirty cars in the parking lot and a high school lacrosse game going on.
In a radio interview on 104.3 The Fan in Denver, Stokley expresses how shocked he was to see the field being used by lacrosse players at 8am in the morning. With no Plan B, the group headed back to Stokley's house to throw in the driveway.
The lacrosse talk begins at the 8:10 mark. The story about Stokeley's son wearing a Peyton jersey to the passing session is also pretty darn funny! Big ups to Big Al & D-Mac for talking lacrosse during their show!
Special thanks to Bobby Magrin for submitting this FANTASTIC find! Got something we should see? Hit us up!
[Photos via
VivaColorado.com
,
ManningFace.com
,
Grizlr.com
]