The LaxAllStars.com Photo of the Week is back! And it's STILL sponsored by Man Bro Bro Man Sunglasses! Every week one lucky winner gets a free pair of sweet sweet shades!
To win Photo Of The Week, you still have to send in a photo. But at this point, we've given out and sold more LAS gear than we originally thought possible, so a new PotW requirement is that the photo must have at least one piece of LAS gear in it to win. A player in an action shot could be wearing LAS socks, or LAS shorts, or have an LAS or GTG sticker on their helmet. Candid shots with LAS gear are also great options!  Or maybe you have a great photo and someone happens to be wearing some LAS gear in the background… or an LAS sticker placed somewhere truly awesome.  WHO KNOWS! The key is to be creative!
Once you have your photo, email it to us at info@lacrosseallstars.com! Make sure to use "Photo Of The Week" in the subject line!
This week's winner was a REALLY TOUGH ONE!  We're just going to ASSUME that the kid is wearing one of these LAS T-Shirts because this photo is just TOO awesome to not be a winner!  Can you lax while unicycling?  I can't!  But Ian Zaleski sure can!  Thanks to Joe Buss for sending that in!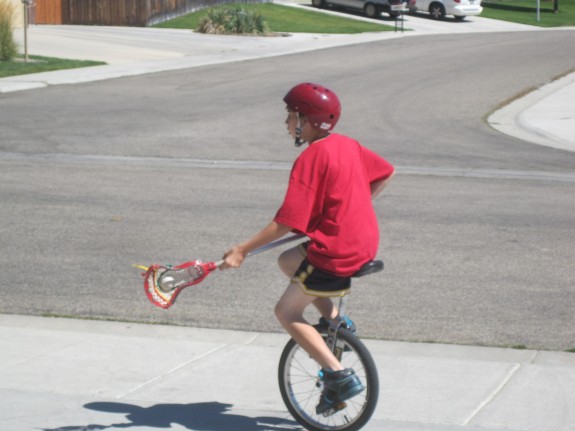 Joe, email us at info@lacrosseallstars.com to claim your prize!
As an added bonus, we've got a great shot from a photo shoot that the Thailand Lacrosse Association recently hosted.  Looking good, you guys!  Grow The Game!  The TLA has some GREAT photos from their recent game against Singapore on their blog!