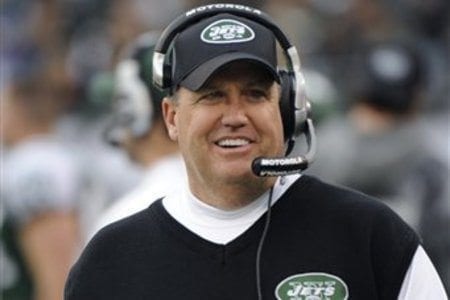 It's certainly not set in stone, but I think Rex Ryan might be a closet lacrosse fan.  Check out this quote from a recent interview about the upcoming Pats – Jets game on why Rex wore his Hall Of Fame blazer (Rex is now in the Southwestern Oklahoma State HOF):
"It boils down to two Hall of Famers butting heads,.  So, that's why I'll wear the jacket today.
"We know he's (Belichick) going to have a bust in Canton and all that in that other minor Hall of Fame.  Two great athletes, obviously. I think I could've held my own with him on the football field, but I also saw that he was a lacrosse player and I have no idea what I'm doing in lacrosse. I do like the idea, though, of hitting people with a stick, so I think I might've been all right."
Billy B was a laxer and football player at Wesleyan and is in the University's HOF.  But you guys already knew that.
Ok, the rest of you can stop reading now.  This last part is for Rex's eyes only.
You know what Rex, we think you might have been all right too… and we feel like you might have been a pretty nasty crease attackman back in the day, if you had only played!  Well, if you want to come out and give it a shot this Spring, Rex, I've got room for you on my LaxAllStars.com ULax team.  And that's a promise, from one lacrosse fan to another.
More on this from the Jets Blog.  Thanks to Christian G for the tip!
Photo courtesy SBNation.