Sam Bradman of Salisbury scored 99 points this year as a D3 midfielder, and finished his career with 304 total points.  Within 30 minutes of Salisbury winning their second straight national title, it was announced that their star player would forego the MLL, where he was drafted, and join the LXM Pro instead.  Only a few days later it was announced that Sam Bradman had signed a 1-year deal sponsorship deal with STX, his new contract employer and an LXM sponsor.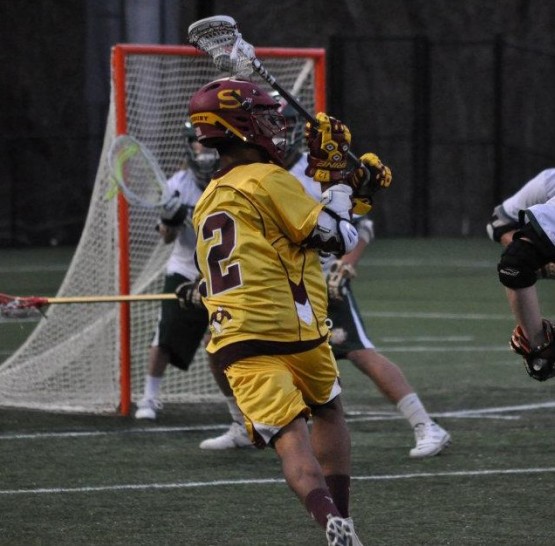 The quick deal with the LXM and STX alone make for interesting topics of conversation given Sam Bradman's D3 roots, and if the MLL can draft players before they even graduate, this should not be a problem.  As to the STX sponsorship, if you choose to go with the LXM, STX is an obvious choice, and vice versa, but we'll get to that later.
For now, I'll start with his choice to not play in the MLL.
There is little to no doubt that Sam Bradman could have made it in Major League Lacrosse. There are a number of Salisbury players in the league right now, and Bradman is definitely on their level. Unlike the Brattons, college stars who also went to the LXM directly over MLL straight out of school, he isn't dealing with off the field issues in any way, so for many, his decision seems puzzling.
Sam Bradman comes from an "exotic" but well-known smaller school, and he plays with a certain style that is sure to electrify crowds. He's well known in New York (he's from Canton, NY) and Maryland. You can see the box game in his play, and his toughness is unquestionable. Bradman regularly takes his opponents' best shots and keeps on trucking. He is quick, smart, conditioned, and has a great stick. He's perfect for pro lacrosse, and MLL fans would eat him up because of his smaller size, and ability to play big.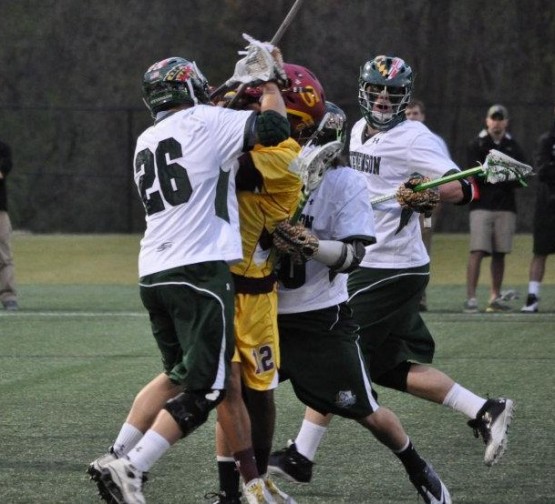 Some will point to Sam Bradman joining the LXM as a sign that he might NOT want any of that. Those people usually view the LXM as a sideshow, but to me, it's just a different approach to things, and still in its fledgling stages. It might not go anywhere (of course many people also said that about the MLL), but only time will tell. For now, it's kind of like Steve Young opting to play in the USFL, except we don't know how this one will turn out.  And either way, Young still became a huge super star.
I make the comparison to the NFL legend because Bradman is already an incredibly smart and skilled player, who is more than capable of using his legs to create space and opportunity. Young needed time to adjust to the D1 game and become a better passer, while Sam Bradman fully adjusted to the D3 game by his sophomore season… but he could have experienced a similar transition at the higher D1 levels. Neither is necessarily a prototypical star. Finally, both men decided to opt for start-up leagues, in the face of offers from the more established powers.
It's not a perfect comparison by any means, and we know that Young went on to prove his longevity after the USFL folded, in the NFL. However, had the USFL worked out, I can only think he would have proved his longevity there too.  It took him some time to reach the elite levels, and now I'm curious to see if Sam Bradman can do the same in the lacrosse world, no matter what league he plays in. This down the road potential makes him incredibly interesting.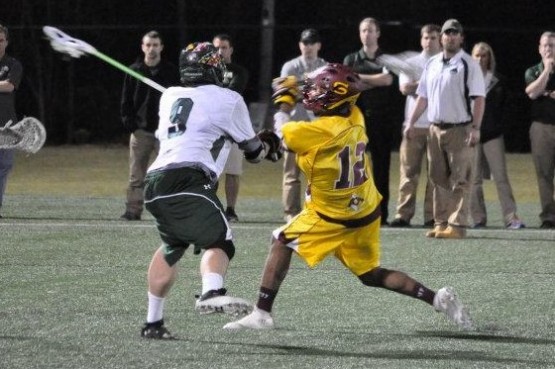 The big questions here become:
Can he keep it up at the next level?
Can he produce big time, and right away?
Can Bradman become a household name in lacrosse?
Does he even want that?
Does he deserve all this attention?
I'll start off by saying this; not many D3 players get signed on as sponsored athletes. Even more D3 players don't have two pro leagues vying for their time. Now if Peter Baum were a senior and Colgate had made it further, even to the Final Four, we might not be having this conversation.  If Duke had won it all, CJ Costabile would undoubtedly be the subject of more attention.  Heck, if Mike Sawyer had scored the way Eric Lusby did, people might not be talking about Bradman at all.
But none of those things happened, and somehow, it's now Sam Bradman's time to shine. I think he'll be able to do so nicely  in the LXM for at least the near future, if he so chooses.
At the very least, I like the LXM to stick around for at least another couple years, and at a bare minimum I think we're talking 2 more tour seasons.  It could go the way of the USFL at that point, although I seriously doubt it.  There is real potential there in many ways, even if you don't see it.  That brings us to the other option, where the LXM takes off on the West Coast in a major way, and becomes a modern lacrosse fixture, much like the MLL has done back East.
This latter result seems a little more likely if you've been paying attention closely.  STX has been a mainstay in the LXM, and more of their athletes are opting to play in the Tour instead of the MLL.  Those athletes that do opt for the MLL seem a little more likely to be dropped as sponsored players, which can be rough I'm sure, but makes sense from business, growth and marketing perspectives.
With the LXM, manufacturers like STX, Easton, Reebok and others all have access to game footage of their guys wearing their stuff.  Guys can wear their line of gear, and it provides a strong "in" with an exploding lacrosse scene outside of the traditional areas, namely the West Coast.  Via the LXM, manufacturers are tapping into the next HUGE lacrosse markets early.  Honestly, it's brilliant, it's subtle, and it is why, at least in my opinion, the LXM will carry on for years. The investment towards future returns is simply worth it.
Sam Bradman is the poster child for this type of advertising/event/game.  He is incredibly skilled, in great shape right now (it's a Salisbury thing), has plenty of East Coast name recognition and credibility, and more accolades than could fit on a bio. Since he's "just a D3 guy", he also has a good story, and the chance to now prove himself against the best out West.
He'll be playing in the June 2nd event (video above), and we're hearing that STX promotions featuring Bradman are already in the works. Add in the fact that he's inclined to have big hair and rock a mustache, and you now have a potential West Coast sports legend in the making.
I don't know that Bradman will be lacrosse's Steve Young, but I certainly think he has the potential.  Without a huge D1 name to overshadow him this Summer, Bradman could truly make a name for himself, and perhaps even do the same for the LXM and STX, all at the same time.
I'll be following his progress closely, because right now, for me, Sam Bradman is the most interesting man in lacrosse. I predicted that an A-list celebrity would buy a pro lacrosse franchise, but missed a couple others calls, although I did nail Salisbury going undefeated and winning their second NC.  Will my Bradman prediction work out as well?
Photo Credit: 24 Seven Lax Facebook Page.