Show LAS Your Old School is up this week and will be back next week but today we're trying something a little different as well.  I'm going with the NEW School instead and while this feature usually sticks to teams and uniforms, I've got to show off the new Reebok Zig Basketball shoes I just bought.  They're so NEW School its not even funny.  I had to travel all the way to the year 2027 to get them.  Welcome to the future.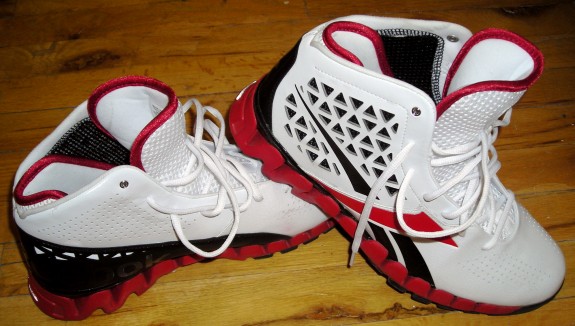 I got stock Reebok Zigtechs.  They look money.  Word from Reebok is that these will be the shoes worn my the majority of NLL players this winter.  I am sure some of the guys will get some unreal custom versions of these shoes.  Since Reebok has a wonderful Zigtech Customizer, I can imagine and then show you what Mark Steenhuis should rock.  Something like this:
We're also going to see more and more green or recycling based manufacturers in the US and abroad, but especially in the US.  Being green or part of a "recycled goods" production cycle has caché right now.  In order to manufacture anything in the US, you have to charge a premium because of labor laws, unions, insurance requirements and overall manufacturing cost structures.  That is part of why the "Made in USA" motto was created.  People will pay more for products created at home, even though they cost more.  The same goes for green products.  The consumer pays more for the feeling of contentment they derive from buying US made products or helping the environment.
In that vein, I think we'll see more companies like Seabags.  This Maine-based company takes old sails (yes, from sailboats) and turns them into bags.  Like a sail, the bags can take a serious beating from mother nature and hold up to the abuse.  I think they desperately need to increase the size of the duffel bags so I can use one as my lacrosse equipment and travel bag.  The Seabags duffel bag my parents got me for Christmas (if you donate an old sail, of which we've had a few, you get a bag for free!) is perfect for a long weekend of travel, especially if I'm headed somewhere preppy or coastal.
The coolness factor of having a bag made out of sail is only eclipsed by the fact that the sail in question is not rotting in a dump… because it is now your bag.  I can get behind that.  I Seabags expands to also make a SeaJacket (maybe in an Anorak style?) and a SeaHat (an adjustable back baseball cap would be ideal).  I would also consider wearing a pair of Seabag shorts if they softened the sail up first just a bit.  Maybe they could wash it with some slightly corrosive stones or something.  I don't know…  it sounds like an interesting concept anyway!