I love good Old School Lacrosse Equipment.  Thanks to friends, Sportstop.com, a slight lax pack rat mentality, and a forgiving girlfriend, I've got a small collection going.  None of the heads are strung up yet… but I'm sure I'll throw a traditional string job in a couple of them before too long.  And at least one will probably get the Ninja Lacrosse mesh treatment.  I just got a sample pack of the stuff and it's legit!  You can expect a full review of the Ninja Lax mesh on SweetSweetLax in the very near future!  But for now, check out the foam!
Now back to the Old School…
We've got a little challenge for you Old School experts out there.  I have 8 heads, and 7 of them are different models.  From the photo below, try your best to correctly identify EACH head!!!  To get credit you MUST get the BRAND and MODEL correct, for extra credit you can do a little research and tell us what years the head was offered!
If anyone drops some unreal knowledge in the comments about these heads we'll make sure you're rewarded.  Grow The Game!  Prove Your Intelligence!  Impress us!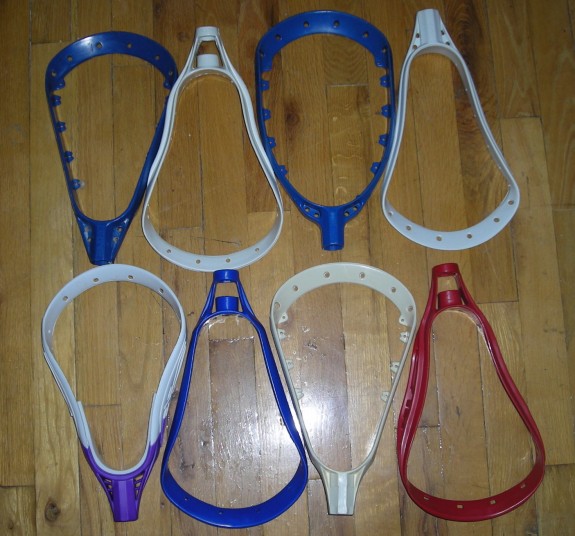 And as a bonus, we'll show you what two of these OS heads look like when compared to a more modern head, the Evo2 by Warrior Lacrosse.
Thanks to Matt Corry of Team Jesse for the two new OS heads seen below!  Big ups!!!!