Welcome to another Old School Thursday!  I was part of the first-ever public school lacrosse team in Weston, MA but there is a private school in Weston that has had lacrosse for decades now, and my father used to play there, The Rivers School.  Small world.  I got my first helmet ever (an outdated three bar Bacharach) from one of my dad's former teammates (Jim Navoni, who is a current lacrosse coach at Rivers!), and when I attended the Rivers Day Camp I got my first exposure to no pads lacrosse.
But this week's Old School focuses on the Rivers School team from WAY BACK in the day!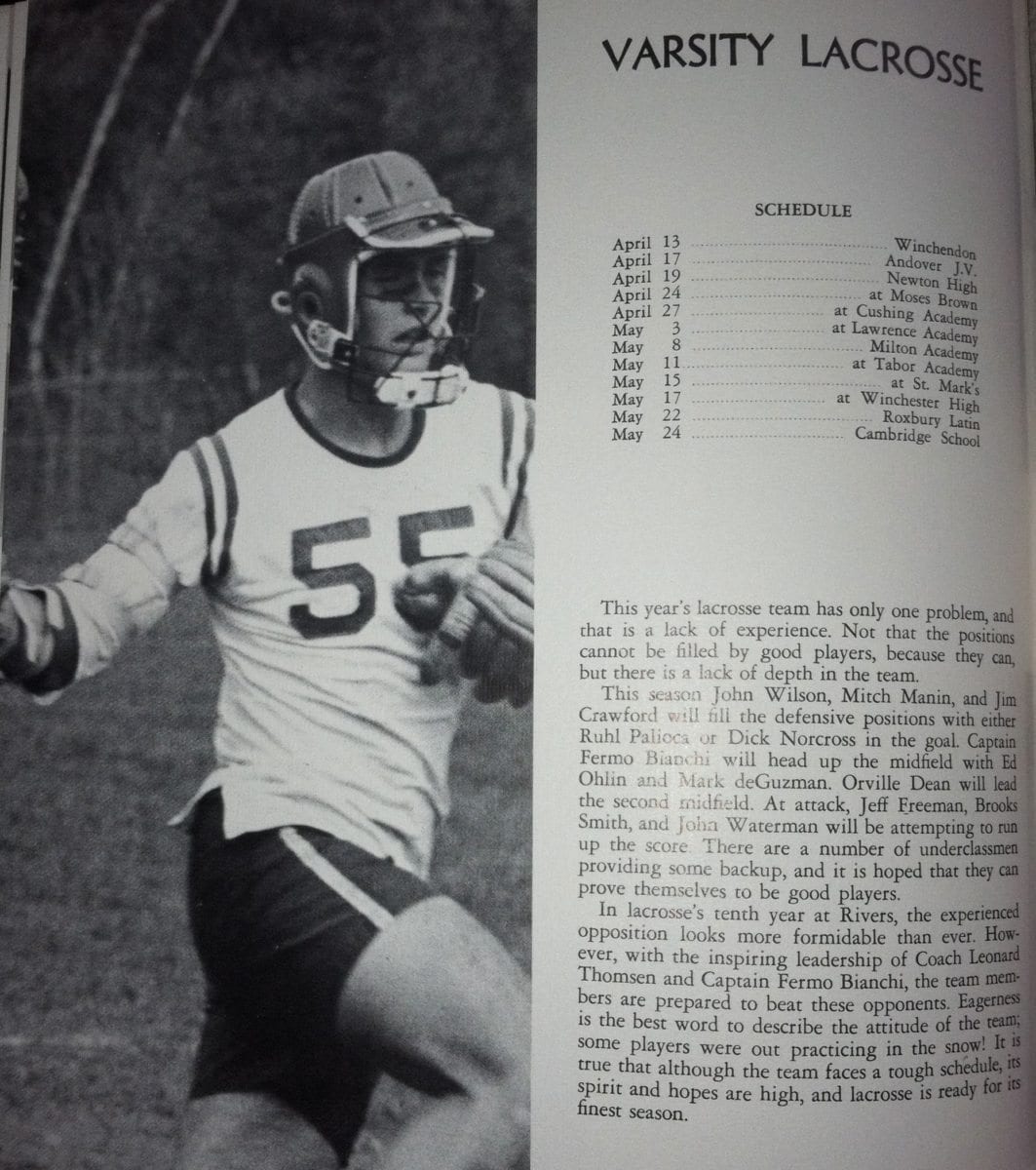 You will notice that Rivers is scheduled to play "Newton High" (actually Newton North HS) and Winchester High, and these were two of the first public school lacrosse teams in Massachusetts.  My father remembers that they weren't necessarily great lacrosse players, but they certainly had an abundance of athleticism, and early rosters were often filled up with football players looking for someone to hit in the offseason.
Given that they were playing with wooden sticks back then, I can only imagine the bumps and bruises they used to go home with!
See below for more excellent Rivers Old School (courtesy of my dad's yearbook) and if you've got something worth sharing, PLEASE send it in!  We'd love to show it off and maintain the connection to the past, for the players of today.
There is a ton more info below…
If my father's memory serves him right, the team went 8-4 during the year.  One thing my dad will never forget is his coach, Lem Thomsen, who was an HM All-American at Princeton in 1956.  Lem had taken over from his brother three years earlier.  His brother, Tommy Thomsen had left to take the job at Denison.  My dad had this to say about the Thomsen Brothers:
As a college player, he (Tommy) had been the University of Pennsylvania's star goalie, and had done so on legs severely stunted & bowed from some childhood disease. Watching him haul butt out of the crease and clear the ball was some sight. Quite a guy, and both brothers were excellent coaches and good people. Tommy died this past January, and his obit is worth reading.
Rivers didn't have much a bench, and as my dad remembers, "if you showed up, you played!"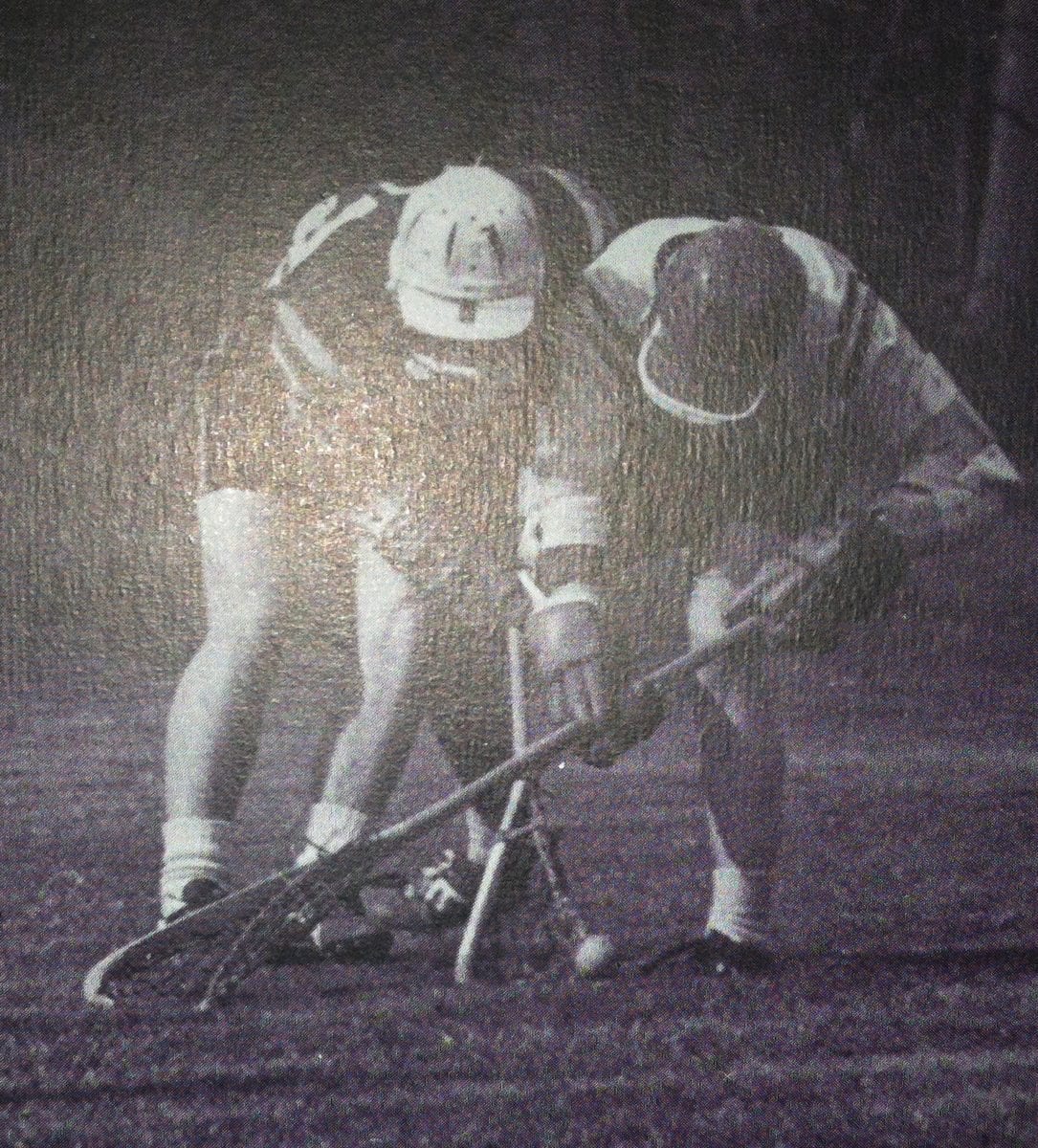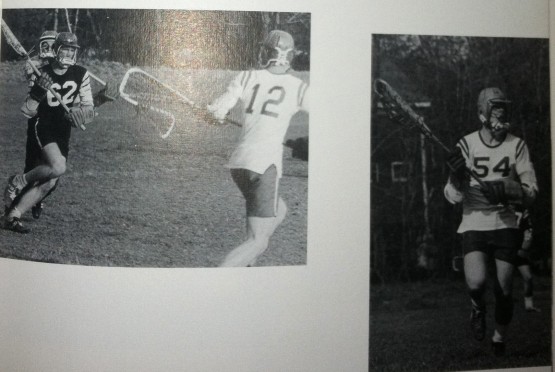 Fermo Bianchi was the captain of the team, and one heck of a player.  Jim Navoni was also a great player and all-around athlete, and he actually gave me my first lacrosse helmet and was a huge influence on me over the Summers at the Rivers Camp.  The most amazing thing about Jimmy playing lacrosse was that his father was the baseball coach at Rivers!  That shows you just how good the Navoni family really was!  Mark DeGuzman is also on the team, and he is Mike DeGuzman's (a childhood friend of mine who played at Dartmouth) uncle.
Here's a quick recollection from my father about the Newton North game I mentioned earlier:
We played Newton North H.S. their first year of having a lax team; they showed up in two school buses, 50+ players, all huge Newton North football players. Their coach was North's football coach who started lax there so his players wouldn't get sloppy over the off-season. One of our 110 pound attackers got cranky and throttled one of their gorilla-esque defensemen, Newton's bench cleared and ran onto the field, and the only Rivers player to join the fray was Mark! We beat them 7 – 4, guaranteed the last time Rivers would ever beat Newton North. And we knew it even then. I think they were the first Boston area public school team.
I just love learning more about the history of lacrosse in Massachusetts.  I'm lucky to have such a great resource!  And it's amazing to see just how many connections I have to this group of high school lacrosse players from 44 years ago, and a great example of how tightly knit the lacrosse family really is.