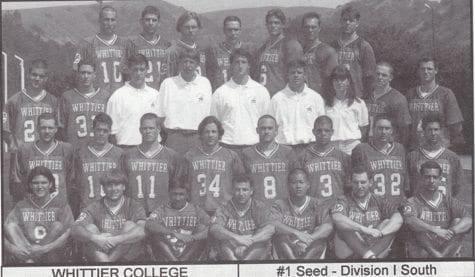 Two weeks ago OLD School took a look at Whittier Lacrosse from the perspective of Brian Kelly, the current Head Coach for the Poets.  Well now we have a look even further back in time thanks to Whittier alum, Geoff Ianiri.  GI now lives in the Boston area, and laxes it up as much as he still can.  I met Geoff about 10 years ago (maybe more) and the Whittier stories were always some of my favorites.  Geoff recounts the 1996 season, which was a true turning point for Whittier lax.
___________________________________________________________________________________________________
The 1996 group of lacrosse players at Whittier was challenged by then Asst. Coaches Erik Bayersdorfer, Dan Shepard and Doug Locker.  We had just come off a mediocre regular season (1995) and we crapped the bed in the WCLL playoffs, and team morale was low.  We weren't reaching our full potential with all the talent we had.  Erik, our grad asst, who came to us via Greensboro College, brought along their starting goalie as a transfer (in Ben Simmons) and that the only piece of the puzzle we were in need of.
He also implemented team interval training….basically sprint / distance running BEFORE practicing.  After the fall/early spring workouts we were in the best shape in our lives…  EVERYONE on that team never ran that hard in their lacrosse playing lives.  All runs were timed and everyone had to make time.  If we didn't, we would have to continue until we made the times.  The "California Dream" was over at Whittier; and some guys wound up quitting.
Locker was taking this program to the next level, and we were all in for the ride.  This team not only went undefeated but set several NCAA records that year on both offense and defense, and most people dont know about that.  And due to the fact we only played one NCAA team (almost no one was willing to travel out to us that year, only Trinity College (CT) as they did a spring break trip to Arizona to play them and us) most of the coaches in DIII didnt pay much mind to it.
The plaques from that year still sit in the Whittier trophy cases (of course with lots of dust on them!).  Many of those records still stand today if you go to the NCAA Records Website.  Check out the points our guys scored, it was crazy!
That next year, (1997) we entered the season with a bit of a chip on our shoulders.  Locker came to us Seniors and asked if we wanted a challenging spring break trip…. where we would play the best in NCAA D3, and hopefully get some respect.  We accepted, and he got us games vs. the top teams in all of D3:  Nazareth (#1), Ohio Wesleyan (#3) and Dennison (#4) along with Kenyon College.   4 games, 7 days… REAL iron man lacrosse.  We were used to playing 3 games in a weekend at times so we were ready for the grueling trip.
Although our only win on that trip came vs. Kenyon, we nearly beat OWU (lost 18-15, and leading at half-time), and had tough games with Nazareth (lost 18-9) and Denison (lost 12-3; it was 6-3 in the 4th quarter).  Our only problem at Whittier was depth; our starters could (and did) play with anyone in the country, hands down.
But this season was the start of it all IMO.  People out east knew we could compete and Lacrosse Magazine did an article on us after that season about that road trip and how people out East were starting to talk about us, and were starting to respect us despite our lopsided wins out West.  I mean, what team would take on the top 3 teams in the country in a span of ONLY 7 days?  No one did that back then.   And that's when the program started to grow.  Locker kept getting in better recruits from the more established hot beds back east, along with the Canadian pipeline and then the program morphed into a national contender during Brian Kelly and Malcolm Chase's hey-days.
Funny thing is, I played against Malc when he was at OWU (he did a year there).  He was a frosh in '97, and he remembers me all too well during our game.  2 of their All American attackman did not like me very much during and after that game – I bet you know why! haha.
I included some scan shots of the 1996 Season… I've got a roster of that year with a pic, a final USILA national ranking poll off the internet… yeah when internet first went live in like 1996!  And some statistical information on the program that year as well as an all time wins/loss records dating all the way back to 1982.   Pretty cool stuff.