Editor's Note: Please welcome Anthoy Crimmins and StickStarLacrosse.com to LAS! Anthony and StickStar will be writing about High School, College, and youth lacrosse in the great state of Texas this year, and this week he writes about the Patriot Cup (Dartmouth vs. Georgetown) and a visit from the Lawrenceville School (NJ)!
__________________________________________________________________________________________________
Every year, the organizers behind the Patriot Cup treat the folks in Texas to a day full of high-level lacrosse excitement; 2013 was no different. Now entering its 5 th year, the Patriot Cup has always served to support the Wounded Warrior Project as all proceeds from the event go to this non-profit organization that seeks to assist men and women of our armed forces who have been severely injured during conflict in Iraq, Afghanistan and other locations around the world.
This year's schedule consisted of:
1. Division 2 THSLL – Flower Mound vs. Highland Park D2
2. NCAA D1 – Dartmouth vs. Georgetown
3. Inter-State High School – Lawrenceville, NJ, vs. Highland Park D1
4. MCLA – Texas A&M vs. SMU
The day kicked off with a highly anticipated matchup between the defending, D2 State Champions, the Highland Park Scots, vs. the #1 D2 team in the Great State, The Flower Mound Force. Highland Park upset a talented, Flower Mound team in last year's North District Regional, and the Force had not forgotten.
Flower Mound was up 8-0 at the half and finished the match defeating HP 12 – 3. Highland Park's D2 team, mostly comprised of freshmen, sophomores, and some juniors, takes some time to round into shape, but their coaching staff will have them ready for another playoff run in late April / May. Flower Mound's team, led by 17 seniors, is on a mission. These two will likely meet up again sometime later on down the line.
Without a doubt, the main attraction of the day's events was the NCAA, Division 1 contest between Dartmouth and Georgetown. For Texans, it is tough to catch a live, Division 1 game unless you buy a plane ticket. Therefore, every opportunity to watch elite level lacrosse is relished. For many Texans, there was a vested interest in watching Dartmouth compete as two local products compete for the Big Green.
Junior attackman Jeff Perkins and sophomore midfielder Patrick Campbell both hail from Dallas and played their high school lacrosse at St. Marks and Highland Park respectively. The D1 contest did not disappoint as Dartmouth was up 9-8 with a little less than 5 minutes left in the 4 th quarter, when Georgetown brought it right on back escaping the contest with a narrow 10-9 victory.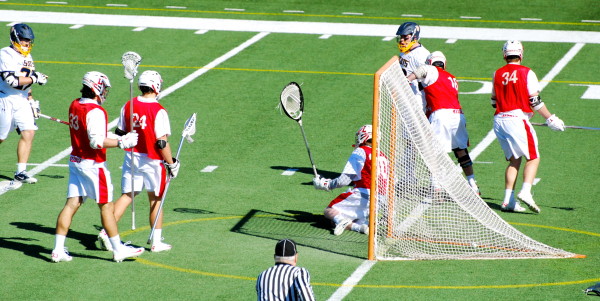 To close our coverage of the 2013 Patriot Cup, we watched Lawrenceville, NJ, vs. Highland Park's D1 squad. Highland Park D1, also a defending State Champion from 2012, is still a work in progress, while Lawrenceville had only 1 practice before the day's contest. Lawrenceville used the trip south as the kickoff to their season and a great way to spend their spring break. In this matchup, Highland Park opened up the scoring when senior attackman Bryce Green (committed to Furman) snuck one by the Lawrenceville keeper to put the Scots up 1-0.
After that it was all Lawrenceville as the Big Red led 8-3 at the half and 11-4 heading into the 4th. Highland Park played its best lacrosse in the 4th quarter, but, ultimately, it was Lawrenceville who tallied an impressive 12-6 victory. From a spectator standpoint, it is impressive to see a team have 1 team practice and still compete at such a high level.
While the Texas A&M vs. SMU contest was still on the docket, we had to hustle out to Coppell for another D1, inter-district contest between Coppell & the Woodlands. Over the weekend, StickStar Lacrosse covered 3 games in addition to the Patriot Cup making it one busy weekend!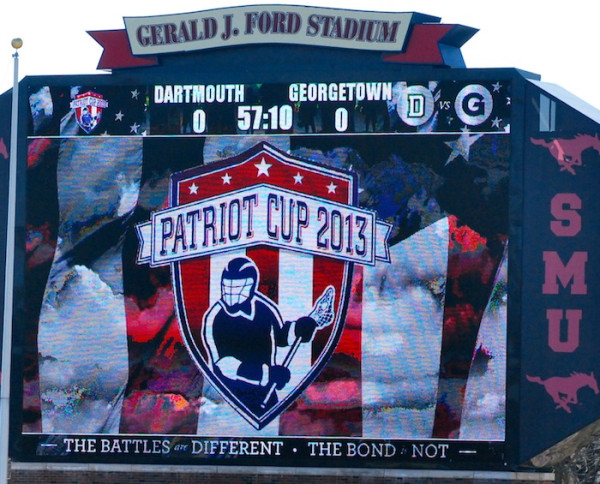 The Patriot Cup is a highlight to every season, and 2013 was no exception. We appreciate the hard work that co-chairs Tom Fitzsimmons and Tim Perkins and look forward to seeing what they have in store for us in 2014.
For more lacrosse in Texas, check out Stickstar Lacrosse:
– StickStar Apparel / Tyler's Press Release
– Texas United Spring Break Seminar