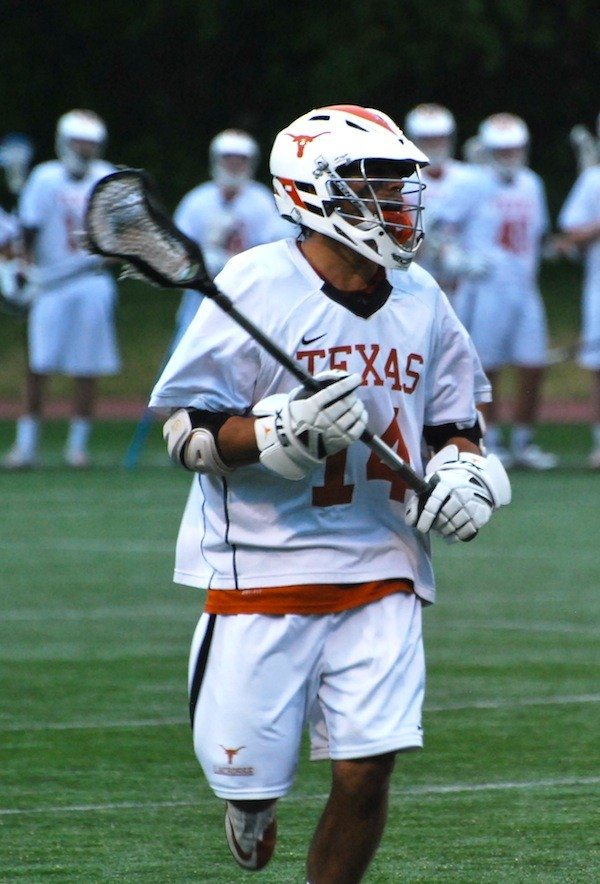 Editor's Note: Please welcome Anthony Crimmins and StickStarLacrosse.com to LAS! Anthony and StickStar will be writing about High School, College, and youth lacrosse in the great state of Texas this year, and this week he writes about Texas Vs Texas State… a battle of the Undefeateds! See who came out on top, and how it all went down.
__________________________________________________________________________________________________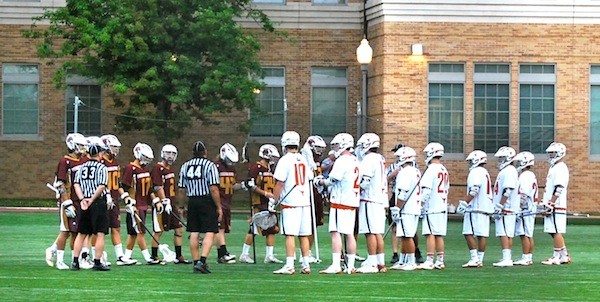 Juniors Sam Jones (2g, 2a) and John Jackson (1g, 3a) along with Freshman Jake Hiebert (3g, 1a) each had four points to help pace the University of Texas Longhorns to a 14 – 6 victory over the Texas State Bobcats in Lone Star Alliance (LSA), South District Clash of Unbeatens Friday night at Caven Lacrosse Field.
Also getting involved for UT was senior attackman Spencer Price with two goals and an assist, senior attackman Chris Purdue with two goals, junior midfielder Josh Francis with two assists, and, finally, junior midfielders James Mills and Elliot Chang Tung with a goal apiece.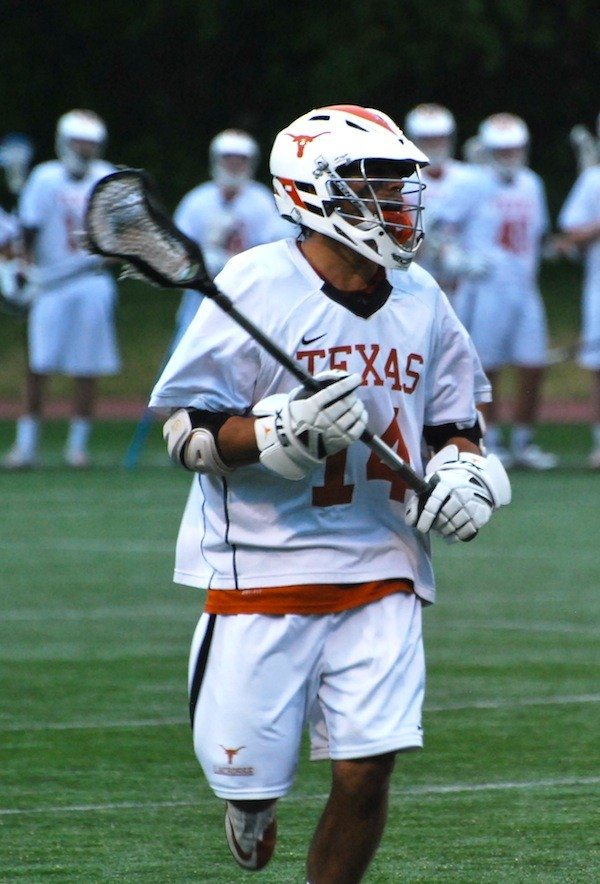 Friday night was another installment in the highly anticipated rivalry between UT and Texas State. It did not disappoint! Coming into the game, both teams were undefeated in the LSA South District, and both had come off tough Spring Break trips. Both teams also shared a common loss to Boston College, so it was a game that would be quite telling as the current MCLA regular season is quickly coming to a close.
Friday night was the first time StickStar has had the opportunity to watch the Texas Longhorns compete in the 2013 season, and the first time we have made it out to Caven Lacrosse Field. Needless to say, both are pretty impressive.
In a losing effort, junior attackman Andy Uhl tallied two goals and an assist, while senior midfielder Clark Dansby added two goals, as did freshman attackman Dom Pizzuti.
UT led for most of the game but Texas State battled back to tie it several times. UT did, however, lead at the end of each quarter – 2-0 at the end of the 1st, 4-2 at the half, and 6-4 moving into the final quarter.
Friday night was a great outing and showed how much the sport is growing in the Great State. Nestled on the University of Texas campus, Caven Field is a tremendous venue for a lacrosse game. The proverbial "Friday Night Lights" were definitely on as the crowd was in store for a contentious game between the two LSA rivals. The healthy level of animosity between these two squads allowed for a truly competitive game.
The game was pretty tight throughout, with UT only really distancing themselves in the 4 th quarter. Lacrosse is a game of runs; this matchup was no different. UT got out to a 2-goal lead, and Texas State responded with 2 tallies of their own. This continued throughout the match. State tied the game at 2 and at 4 but could never maintain the rallies as UT managed to always find a quick answer to the Bobcat runs.
One of the most difficult parts of playing UT is finding the back of the net. Texas State got goal-scoring opportunities, but junior goaltender Jordan Lee is phenomenal in cage. The kid takes goals off the board and really makes you earn it. For Texas State, junior goaltender Will Laurel also made his fair share of tough stops. UT gets tons of shots, and they've got great shooters. Laurel kept the Bobcats in the game.
The Longhorns boast a squad with tremendous depth of skilled players. Towards the end of the game, both possession time and numbers made it tough for Texas State. More paramount than either of those factors were penalties. Texas State took their fair share in this matchup. Ultimately, it was the
determining factor as UT was able to convert on several, crucial, man-up opportunities. The penalties compounded the possession time and ultimately eroded the rather stingy Bobcat defense.
Friday night we witnessed a great game and likely a precursor of a LSA playoff battle that will take place in the coming weeks. To take the LSA championship, you must usually knock off the Longhorns. NOT an easy task! This year will be no different. We will see if Texas State or any of the other competitors have the ability to do so.
For more information on lacrosse in the Great State, follow us @StickStarLax on Twitter or Instagram. We'll have you covered with comprehensive and consistent content!
For more from StickStarLacrosse.com, check out the following posts:
StickStar Report: Jesuit vs. St. Marks
StickStar Report: Allen vs. Coppell