Welcome to another wonderful Sunday Lacrosse Drop! Tons of video, links, news, photos and more, all in one post, and all related to lacrosse. It's the perfect way to extend your weekend just a bit and prep for the coming Monday!
Turkey Lacrosse on NTV Sports
STX Shafts To Review?
Yup, lots of them! Plus a new head from the boys in Baltimore… keep an eye out!
New Bandits Uniforms
NJ Riot 2016 Helmets by Warrior
We'll be following the NJ Riot 2016 Lacrosse Team for the next couple of years, as these kids and parents make their way through the recruiting world. It's going to be a bit of a case study down the line, and should inform others on how to run a travel team. For now, check out their custom Warrior helmets:
Budapest Lacrosse – New Year 2013
Morrisville State Vs MCC Fall Ball
Why A Recruit From Philly Chose Jacksonville
Allentown Central Catholic junior midfielder Ryan Beville has made a commitment to play Division I lacrosse at Jacksonville University. Read the full story by Chris Goldberg on Phillylacrosse.com.
WOOO! We're going to Australia. WOOO!
Proof The NLL Played in Montreal
CityLax Clinics in NYC Roll On…
Who cares about cold weather and rain? Not the fine men and women of CityLax! For the second weekend in a row, the free clinics have gone down, and the lacrosse action has been excellent. Here's a group shot of some of the coaches and players from the free Brooklyn clinic.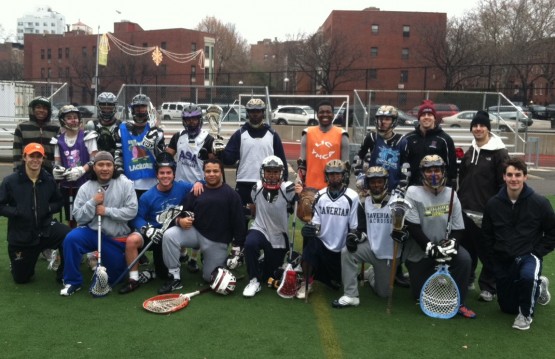 Wooden Shafts Get JoJo WarDrummer's Love: