Editor's note: Please welcome our good friend Cody Hart to LaxAllStars.com! Cody is a former NDNU & College of Idaho laxer and current Woozle/Tahoe Dawg who lives in Reno, NV. Last weekend he had the opportunity to go back to Lake Tahoe for yet another awesome summer lacrosse tournament. Check it out!
____________________________________________________________________________________________
I know what you're thinking – Awesome, another Tahoe Lacrosse post from a tournament two weeks ago and more talk about those ridiculous Woozles (shout out!). Well, this is my first post, so everyone is just going to have to deal with it; and also – it's for a different tournament! What most probably aren't aware of is that there is a U-19 Boys Tournament that takes place in Tahoe the weekend following the Men's Tournament.
This tourney is put on by the Tahoe Truckee Lacrosse Association and boasts two days of lacrosse with 14 teams. As a member of the Tahoe Dawgs, I was afforded the opportunity to volunteer at this awesome event. Plus, it was basically a great excuse to get my rapidly aging self back to Tahoe, and rid me of a post Tahoe Men's Tournament funk. (For those of you who have never been to Lake Tahoe, you are seriously missing out. Easily one of the best places on Earth – nay, the Universe. It's science).
Participating teams hailed primarily from Colorado and California with the hosts' Reno eNVy team also participating (Reno's all star team), and the talent showcased was unreal. These high school-ers could definitely ball and you could easily pick out the members who were in store for a bright future playing College lacrosse.
In addition to the beautiful atmosphere and the insanely riveting lacrosse being played, my favorite part of the entire tournament had to be listening in on the local Reno parents talk about the level of play. After several months of observing a frustrating high school lacrosse season in the Reno high school league, I was finally able to play witness to a game I love, being played as it should be. There were hardly any penalties, but the physicality remained. The skill level was evident with these players as they knew how to hit hard, but also how to do it legally.
Don't get me wrong, Reno lacrosse is heading in the right direction and there were definitely some amazing games – but there is clearly an issue with the physicality of the game. In Reno this year, there were 3 bench clearing fights that occurred throughout the season (one in the quarter final game!). To me, this is inexcusable. Field lacrosse is a "gentleman's game" and it should be played that way. Having to endure these high school athletes getting into scuffles throughout an entire season was incredibly frustrating to say the least – and not a spectator sport I'd like to participate in again.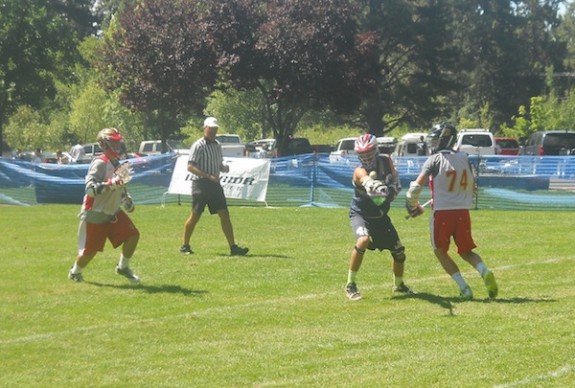 In Tahoe, it was great to be able to see that the high school game could still be played as I remember it. I am sure that some other "growing" areas of lacrosse can attest to some of these frustrations that are somewhat of a necessary evil as the local talent (slowly but surely) learns how to play the game. But, I digress. Some of the standouts at this tournament included Nor Cal Lacrosse (they brought 3 teams! – and had some sick shooting shirts, pinneys, and shorts) and Golden Gate (2 teams – Can I just please have one of your CPX-R's?). The Golden Gate Goalie also had a helmet cam on! How legit is that?
Unfortunately, I wasn't able to stick around to gather too many scores, but Palo Alto (Angry Ducks) won against the Rams (Orangevale, California) and Nor Cal beat Ryquin. In between a couple of the games there was also a "fastest shot" competition. In the first round, there were two individuals that hit 91 and 92 mph. Pretty good. Nothing to compare to my Hart Howitzer (I never got out of the 70's, but I'm not bitter or anything). Nonetheless, the final shooter Joe Rainoldi, missed his first shot. Looked super fast though. On the next one, he luckily found the net and it buzzed in at 102 mph!
Okay, so where might this "Joe" in question be from? Reno! So, we do have some players here (sidenote – this individual is currently at the Hill Academy with the Merrills in Canada, but here in Reno, we are still going to take full credit for him! I am pretty sure the two conversations I have had with Joe are the reason that he is so good. Obviously.) Unfortunately, the 102 mph wonder couldn't find the cage in the final round and lost to a competitor that hit a respectable 95 mph shot. Warrior Lacrosse was generous enough to give the winner a hoodie and a complete lacrosse stick (Evo 3, I believe).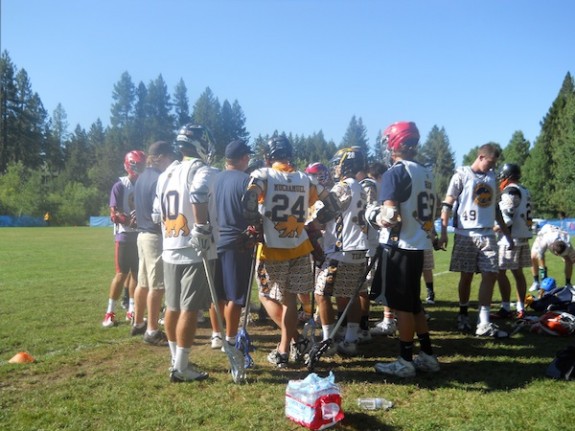 After the competition, it was time to once again take the windy road home to Reno. Always a sad journey to leave Tahoe, but any chance you get to be up there is well worth it – even if it's only for half a day. Congratulations to the Tahoe Truckee Lacrosse Association on an incredibly successful event weekend!