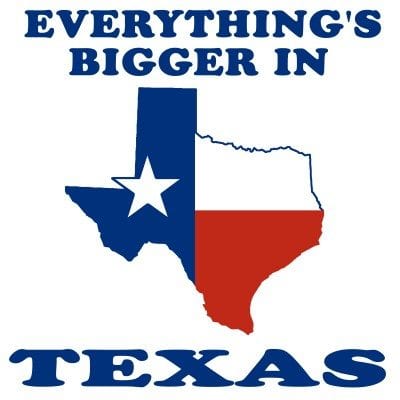 Editor's Note: Josh "Chewy" Acut has done way more than his fair share of Growing The Game, and his focus has been decidedly on the great state of Texas!  He's been working his tail off in Corpus Christi and San Antonio to make lacrosse as popular there as it already is in areas near Dallas.  Texas lacrosse is on the rise and it's thanks to guys like Josh who just go out and get it done every single day.
______________________________________________________________________________________________________________
In what just might be the most exciting thing that I could do in my mission to GTL: Grow Texas Lacrosse… I am proud to say that "Lacrosse Week" is getting some big time props and legitimacy… From the Governor of Texas!
Think I'm joking?! Nope! Check out the letter that came in the mail from the Governor's Office, it even has a fancy seal. At first, my goal was just to get "Lacrosse Day" proclamations made throughout a number of Texas cities, but then I figured why not see if the State would at least recognize the idea on "Lacrosse Week"… and as you can now guess, THEY DID!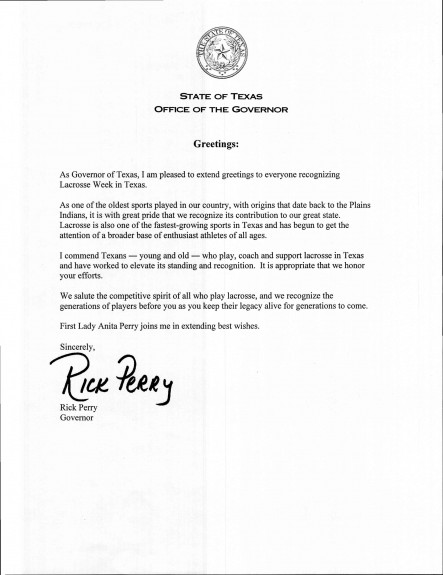 But this little piece of paper won't mean anything unless we ALL spread the word and "Just Play!".
"Lacrosse Week" is going to be the last week in July every year from here on out.  On this week, I am asking that EVERYONE get out there and lax it up! Whether it's a pick up game, the last game of your league's Summer LAX, or even if you just go outside and "Hit the Wall" solo… the point is to "Just Play!"
Help me out as I try to make "Lacrosse Week" the biggest lax sesh in the State.  Even if you aren't in Texas, lax it up anyways. If you ever needed a reason to lax, which is absolutely crazy to think, let this be that reason.
Help me make "Lacrosse Week" as big as it could be.
Help Grow the Game!!!
Be part of the GTL TOUR: Grow Texas Lacrosse!!!
Bottom line… Just Play!
What is "Lacrosse Week"? Lacrosse week is our chance as lacrosse players, coaches, parents, etc to raise awareness for the sport we love. Find someone who has NEVER played and teach them how to catch, pass, and shoot. Give the LXM PRO Tour a reason to come back to Texas… because we are the ONLY state in which "Lacrosse Week" exists. Help make Texas into an official Lax state.
Peace, Love, and Laxiness,
Josh "Chewy" Acut