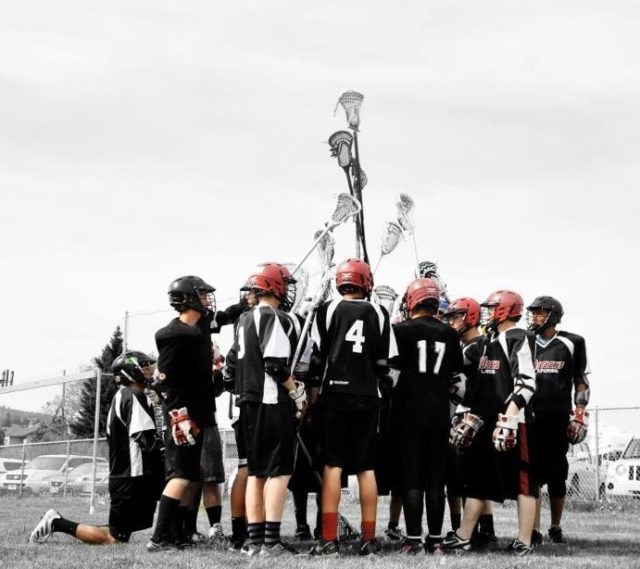 Editor's Note: The Anti-Hotbeds Of Lacrosse Series was written by Richard Roy, Head Coach of Nadzitsaga-Harney Lacrosse in Oregon, Kevin Flynn, Head Coach of Hellgate Lacrosse in Montana and Alex Alviar, Head Coach of 10Sticks Lacrosse in Montana.  The posts provide a deep look into the heart of lacrosse, and growing the game, in some of the most challenging places in the United States: isolated, Western towns and Native American Reservations.
In this three part series, each Coach will lay out their team's situation and history, but they will also fill you in on what they have learned from these situations, and how it can be applied to the larger game.  The challenges they have faced have helped them see what is important and what is not, and each part of the series will make you think.
Richard Roy of Nadzitsaga-Harney Lacrosse in Oregon gave us our first look into the Anti-Hotbeds, and now Alex Alviar of TenSticks Lacrosse in Montana is taking over.
_______________________________________________________________________________
 10Sticks Lacrosse – Polson, Montana: The Law of the Few by Alex Alviar
"Just ten kids," I'd say to myself, shoving three golf club bags of beat up lacrosse sticks, tennis balls, cones, pop-up soccer goals, and colored pennie jerseys gone sour with sweat into my car. "Just ten sticks to make a team. That's all we need."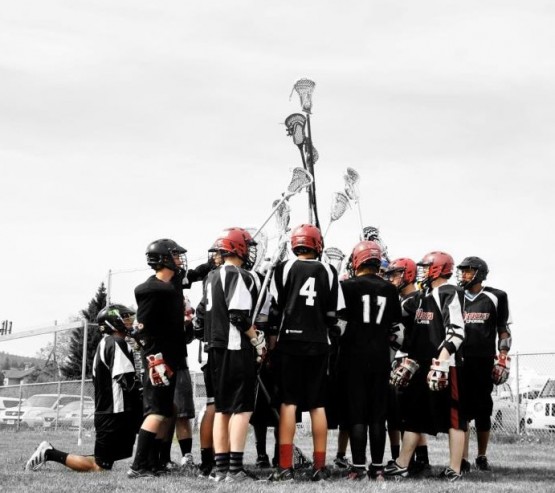 At my feet sat sheet after sheet of names, phone numbers, and emails the students had scrawled on my clipboard, and they flapped against the wind.
The bell had rung, and the kids filed out in a line thanking me for coming, for showing them how to play, signing the sheet for more club information, and then vanishing back into their own lives. I got two hundred names and phone numbers of kids who wanted more information about forming a lacrosse club, but teacher after teacher would scratch their head and tell me, "You can get them to sign, but can you get them to play?"
I didn't know. But we had to start somewhere, and for 10Sticks, that was contacting gym teachers and getting into classrooms after school with soda and pizza and lacrosse sticks. I hit any school along Highway 93 on the Flathead Indian Reservation that would let me come in—Arlee, St. Ignatius, and Two Eagle River. In the end, I only got into three out of the five targeted schools; the other two refused to call back.
"Good luck trying to get anybody to DO anything around here" my colleague told me, "they won't come unless you handout freebies, t-shirts and trinket crap."
I had no helmets, no gloves, no shoulder pads, no sticks of our own, and almost no experience coaching or directing a lacrosse program. All I had was two hundred names. And I just needed ten. I committed to keep showing up even if I only had one.
From October 2010 to February 2011, I remade myself into the most unprofitable entrepreneur possible by studying idiot's guides to marketing and writing page after endless page of our mission statement and business plan. The only thing that really stuck was Malcolm Gladwell's Tipping Point in which he champions the The Law of the Few; the 20 percent who do 80 percent of the work.
Whether it's the spread of a disease, criminality, or shoe fashion trends, out of any set of 100 people, only 20 people will do all the infecting, only 20 people will be raising the crime rates, and only 20 people will be the initial social influencers wearing shoes that suddenly everybody wants. This 20%, argues Gladwell, are the early adopters, connectors, and mavens inherent to any successful social outbreak.
In the case of spreading lacrosse on the Flathead Indian Reservation, these 20 are the few key kids who are early adopters and connectors that can make lacrosse light up the reservation so that one day, for every basketball court that I drive by I will see two lacrosse goals in a nearby plot of grass with kids winding up and taking shots. I want lacrosse to be as ubiquitous as basketball in Indian country out here in Montana, and it all starts here. But our 20 would have to start with just 10.
Two hundred names. Two hundred text messages, two hundred emails sent, two hundred follow-up phone calls, and not one kid from that list has ever showed up. Instead, I got an email from some kid named "Big Dan" from Polson High School—one of the schools that would not open its doors to us.
Dan was Native and he wanted to play. I got another Native kid from Arlee on loan from the Missoula Elite Lacrosse Team named "Al". After all that work, I was going into registration night with two kids. Things did not look good.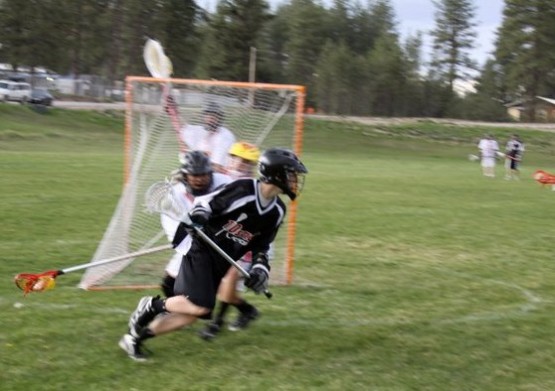 It turns out that Al and Big Dan are related. Al brought two other friends, Ambrose and Mikey. Big Dan brought Meriam and Tim. I gave them all extra sticks and a few balls and said, "Now go get some friends." Every practice they would come back with more kids—two Jarods, Zach, Austin, Xavier, and Shay.
Tim would show up a few minutes late each time and say "Sorry, I'm late but I just got us some sponsors." Each time he would unload surprise goods—two months supply of donated Gatorade, bottled water, a check for $100, and printed game jerseys for the entire team – for free. We even picked up Coach Daniels and his son, Zach, our goalie. This was
our original high school boys crew, the motivated few who will do the work to bring lacrosse to the many on the Flathead Indian Reservation.
To start a social movement, you need the vital few to build momentum and mass until it "tips" over into a rampant rolling outbreak of frenzied kids, parents, community members, businesses, and media outlets compelled into a groundswell of support and excitement for lacrosse. Yes, we won a grant, which helped us win more grants. Yes, we got newspaper coverage, which helped us to get front pages and full color, nine panel photographic essays in the Sunday paper. And I fully expect that more of those sorts of things will be coming soon as our story becomes more widespread.
I wish I could say that we have made it, that the club is thriving and our numbers are swelling beyond what we ever imagined. I write this after having walked across the SKC parking lot on Tuesday with cars honking and people waving out the windows screaming "Great article, coach! Go 10Sticks!" Our video has just finished. Some new donors had just emerged and contacted me.
Not a bad day. But, after the cars left, I came to an empty practice field. Jarod Plant was alone shooting on the cage. It felt like our team, our program, our vision had suddenly just died.
What happened?
Three players need money, so they decided to get jobs. Six players are injured or seriously ill, and of them, only one will return. Another has been seen by his teammates healthily jumping and playing in PE class, so some think he's faking it in order to avoid the shame of saying he quit. Two have also committed to running track. And two more don't have their own cars and rely on the previous two for rides, so they've been left stranded at home. One I have no idea where he is.
Another, I just got called an hour earlier to meet with his school counselor about his troubles and his grades. Coach Daniels' daughter just had a fever-induced seizure. Coach Plant ripped his Achilles tendon. My son who collapsed earlier this season will have an MRI this Friday before his fourth birthday to check for any brain tumors; four weeks ago his six-year-old brother was confirmed to not have leukemia.
Ultimately, we are all frail and broken human beings—physically, psychologically, and emotionally—and we each bring that brokenness with us onto the field. Trying to make change, trying to open up a future that wasn't there before is costly. We have all paid in one way or another to make 10Sticks happen.
Last year when we had another practice full of no-shows and the program again almost died, I went home in a rage and came the closest I ever have been thus far in ending my marriage in divorce. Thankfully, this last Tuesday I simply shrugged my shoulders, picked up a ball, met the two players that could join me on the field, and started passing it around with an oddly calm assurance that none of this is up to me.
We are human. All that we work for is constantly tottering on the edge of disaster. And despite our best efforts, all the long hours of planning and networking and grant writing and practicing, our life and our program's success is ultimately not in our own hands.
This is The Creator's Game. The Creator will decide if our playing of it will flourish and grow, or not. Period.
All that we can do is walk onto the field, pick up the stick and ball, play hard, and be grateful for what we have, grateful for what we've been able to do, and grateful for what we have been given. And then start over again the next day, eager to see who shows up. Thank you, Creator. Lemlemts Amotqn.
Post Script: Just to make it clear, while 10Sticks Lacrosse has faced its fair share of adversity, the club is alive and well and will finish the season with 13 non-injured, healthy, players.
The above is footage from 10Sticks game against Kevin Flynn's Hellgate, our next Anti-Hotbed author and team.