Editor's Note: The Anti-Hotbeds Of Lacrosse Series was written by Richard Roy, Head Coach of Nadzitsaga-Harney Lacrosse in Oregon, Kevin Flynn, Head Coach of Hellgate Lacrosse in Montana and Alex Alviar, Head Coach of 10Sticks Lacrosse in Montana.  The posts provide a deep look into the heart of lacrosse, and growing the game, in some of the most challenging places in the United States: isolated, Western towns and Native American Reservations.
In this three part series, each Coach will lay out their team's situation and history, but they will also fill you in on what they have learned from these situations, and how it can be applied to the larger game.  The challenges they have faced have helped them see what is important and what is not, and each part of the series will make you think.
Richard Roy of Nadzitsaga-Harney Lacrosse in Oregon gave us our first look into the Anti-Hotbeds, then we heard from Alex Alviar of TenSticks Lacrosse in Montana, and now Kevin Flynn of Hellgate Lacrosse in Montana takes the reigns.
_______________________________________________________________________________
Hellgate Lacrosse – Missoula, Montana by Kevin Flynn
Hellgate High School in Missoula, Montana, is the place where organized youth lacrosse really began in Western Montana. In the fall of 2007, James Pyke and Emily Brock fielded a team of Hellgate players through the school's Flagship Program. Brock was the Flagship coordinator and Pyke was a former college teammate from Hanover, New Hampshire, who was the driving force behind the team.
The team received a USLacrosse Equipment Grant to help get off the ground and by the end of the 2008 spring season they had even played some games. I had been coaching for The University of Montana Grizzlies in 2008 and following that season James Pyke and I spent the summer making plans for a youth lacrosse program in Missoula. At the end of the summer, I decided to leave the college program and Coach Pyke and I launched Missoula Elite Lacrosse.
Over the past four years the program has grown tremendously – we now field U9, U11, U13, U15, and High School teams for both boys and girls and there are over 200 youth lacrosse players currently playing in Missoula. In 2011, the Missoula Elite program also launched the state's first school-based teams at Big Sky, Sentinel, and Hellgate – which is where I ended up coaching. What's even better though, is that we've also seen youth lacrosse programs get going recently in Bozeman, Whitefish, Billings, and The Flathead Indian Reservation… we expect the sport to keep growing here for a long time.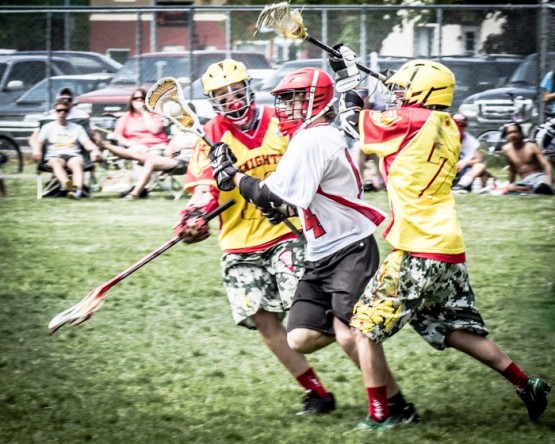 However, we are definitely an anti-hot bed. Barely a blip on the radar of the national lacrosse scene, I'm sure there are very few people anywhere that even understand what is really going on here… but we truly represent what is most amazing about the growth of the game in the last 20 years. When I arrived in Missoula in 2003, I think there were around 20 people playing the Creator's Game here. Last weekend there were 38 youth lacrosse games in Missoula. The vast majority of young players here are "playing lacrosse," but we're starting to see a lot more "lacrosse players" develop.
The biggest challenge we're facing right now is pretty plain to me, but the solution is where I feel we (the greater lacrosse community) need to do some work.
So what is our biggest challenge? The sport is most expensive in the games most isolated areas. Everything is more expensive – equipment costs more (if you can find any), games are further apart (we played 2 seasons where our closest game was a 3 hour drive, one way), and educated and experienced people to run everything are few and far between. All of that is on top of the fact we have to introduce the game to every new player, educate every new parent, organize every level of structure necessary to grow leagues and build our lacrosse community… and most importantly, we have to do it the right way!
Our kids have to learn to play while being bombarded by all this "bro-culture", which has nothing to do with getting better at lacrosse – only looking good. The propaganda is coming from everywhere – college teams, "select" teams, and the equipment and apparel manufacturers. My advice to all who embrace the "lax bro" – just stop, please. This game is a lot cooler when you embrace its history.
I expect a lot out of the young men and women that I coach throughout this state, especially those that I get to work with closely. I want to make sure that the teams that I get to be a part of do our best – that we honor the game, that we compete with class, and that we pay it forward.
The Hellgate Knights Lacrosse team isn't just out here running around with lacrosse sticks… they are coming for you…
All photos courtesy Kendall Photography