The NLL is a predominately Canadian league, with roughly 75% of the players hailing from the Great White North. However, every year there are many American hopefuls that enter their name into the NLL entry draft hat.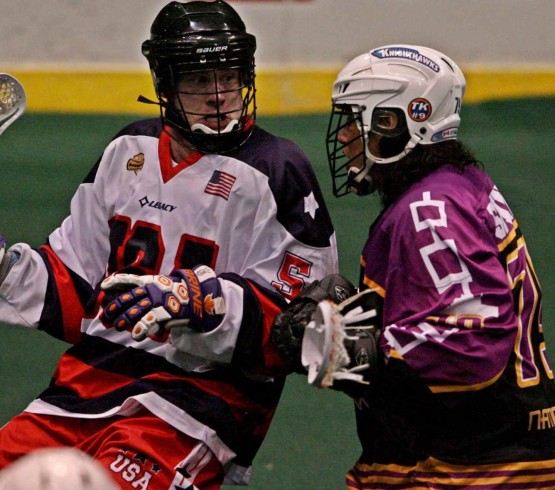 Several US players are usually drafted, but only a few end up making it onto a final roster. I'm here to break down some of the top American draftees and tell you which players I believe have the best chance to make it in the NLL. These guys have what I like to call "The Right Stuff".
Joe Resetarits – Forward – 6th Overall Pick – Calgary Roughnecks
Resetarits is a no-brainer. Hands down the best American player in the draft. He is equally versed in both the indoor and outdoor game. He finished with 170 points at the University of Albany, and also was a member of the 2011 Mann Cup Champions, the Brampton Excelsiors. This past season he tied for the team lead in points, 28 points in 12 games.
He has years of box experience, spending his summers playing Jr. A for the St. Catherine Athletics.  He also lead the league with 88 points in 2009.  All this box experience will translate into minutes on the floor in season one. Not only will Joe Resetarits make the Roughnecks roster, but I firmly believe he will be one of the main offensive threats. He has got all the tools necessary to make it in the NLL, just like his brother Frank did before him.
Matt Gibson – Forward – 46th Overall Pick – Minnesota Swarm
A very late 5th round pick. The late rounds of the draft are where GM's really start to take a gamble and roll the dice. Most teams are satisfied with their early round picks, and want to draft players that they can develop over time. This especially holds true for Minnesota who had 4 first round picks. I had never heard of Matt Gibson until this summer when he absolutely tore up the MLL, winning the rookie of the year award.
Anyone that watched him play at Yale, or over the summer for Long Island, can tell that this kid can flat out play. I think his game works well in the MLL and it can translate to the NLL. He is a small, quick and shifty attackman, that has a knack for scoring. He is excellent in tight, and finds open space very well off-ball. There are a few concerns though, as the open space in field lacrosse is cut in half, then cut in half again in box.
Those wide open cuts outdoor are turned into small slivers of hope met with slashes, hacks and cross checks as you run to them. I know he has the stick skills, it is just a matter of scoring.
You have to learn and train yourself how to shoot on box goalies, it is very different than shooting on outdoor goalies. Some American players can pick it up very easily while many others struggle with it. Gibson has some experience playing box over the Summer in Canada, but the NLL is, of course, a whole new ball game. If Gibson can crack the code to scoring in the NLL – he is golden.
CJ Costabile – Transition/Defense – 39th Overall Pick – Philadelphia Wings
There is a ton of hype about CJ in the NLL. He was possibly one of the greatest LSM to play college lacrosse over the past decade. He can face-off, push transition, score, and was a vacuum with ground balls. He is talented on defense and very dangerous in transition, and that is what Philly fans are excited about. Costabile has the athletic ability to play in the NLL, but it is very difficult to make it as a transition player.
If you are playing transition in the NLL you better be scoring goals. And again here I will digress on the vector that you have to learn how to shoot on box goalies. Transition is very different for box lacrosse than field lacrosse. I think Constible would be better suited trying to just play defense only, but he may lose some credibility there because of his size. Constible weighs in just under 200 pounds, and if you want a good NLL defense man – you want someone that pushed 210-215 on the scales, eats steak and eggs every meal of the day and can bench press a truck.
I believe Constible can make it in the NLL, but I think a player like Joel White makes for a great example of what we can expect. Joel White was one of the great LSM's to play the game and had box experience going into the draft.  He only played the second half of the season for the Knighthawks after being on the practice squad for a few weeks (It's still impressive!). And I think we might find Constible in a similar situation.
Tim Henderson – Defense – 23rd Overall Pick – Washington Stealth
6'3″ and 210 lbs and athletic, stands out… big time. That is one tall, strong, animal of a man. Do not be fooled by the height and size of Tim Henderson, he is a very fast and athletic lacrosse player. Henderson was an All-American LSM at Army and he brings a bad attitude to the game.  Not bad as in negative, but bad as in "I don't want to meet this guy in a dark back alley".
He makes up ground with his agility, where other defenders lose a step because of their size.  Henderson has all the innate features of a great NLL defender. If he can learn the game quickly he should fit right in the Washington, and can be a strong asset to his team. The problem with Henderson is that he comes with a disclaimer… his military commitments. He may not be able to compete in the NLL at all depending on where he is stationed.
The NLL isn't like the MLL where you can get called the night before and asked to suit up due to injuries, because it is difficult to compete in the NLL with no box experience, especially as an American field player. However, if Henderson can make practices and learn the game he may have a bright future in the NLL.
Mike Manley – Defense – 32nd Overall Pick – Philadelphia Wings
A very strong, aggressive and solid defender drafted out of Duke University. He played in the Bowhunter Cup a few weeks ago and played an excellent game. Weighing in at 6′ 1″ and 205 pounds, Manley is the prototype NLL defender. He showcased his defensive skills in the Bowhunter game against the Iroquois, and also showed that he was not afraid to drop the gloves – he tried to mix it up with Cody Jameison.
Again, it all comes down to whether or not he can learn the game quick enough to join the NLL ranks. I believe the only box experience Manley has is the Bowhunter and a small little box league that takes place in his home town of Penn Yan, but every little bit helps. Manley also has prior coaching commitments and that makes it difficult to be in two places at once. So his future in the NLL is up in the air, but he seems to possess the tools to see success.
The National Lacrosse League is very unpredictable, with players going down from injuries and being traded almost at random, so you can never know what is going to happen. I believe the five American college players I listed above the have the best chance to make it in the NLL. Training camps are coming up quick and for these players it will be make it or break it time.
You can (and should!) follow Ryan Connors on Twiter at @connors36!
USA – Iroquois Photo Credit: Larry Palumbo
For more box lacrosse info, check out the recent 2013 NALL Draft Results, or investigate our box lacrosse archive.