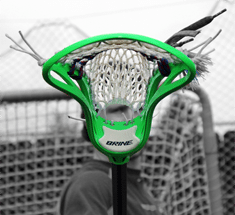 As we look back on 2012, it's always interesting to look for trends in lacrosse equipment, especially when it comes to what college players are using. There was a time when an estimated 90% of NCAA Division1 players were using the Brine Edge, but since then no single head has shown the same level of dominance.
So what were the Top 5 heads from 2012? Judging by what D1 players used last season, we've come up with the following list:
5) Surgeon by STX Lacrosse
The Surgeon wasn't in every player's hands in 2012, but a couple of big-time players from schools like Hop and Cuse opted for this STX head and it's easy to see why. It's stiff, light and has a ton of sidewall holes, making for easy stringing. It also comes factory dyed in colors like orange and light blue. That never hurts. The Surgeon made a big impact in 2012 and because of its strength and stiffness, we could even see more defenders pick it up in 2013 (although it will probably remain a more offensive stick).
Gear Review: Surgeon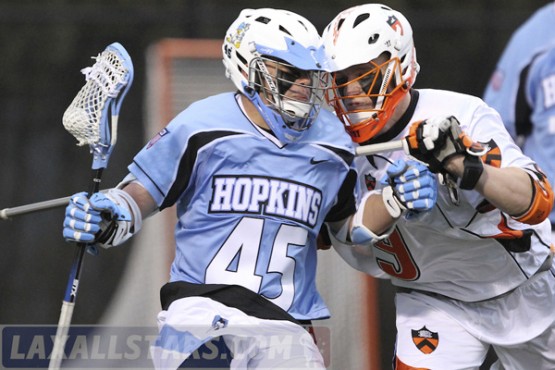 4) Edge by Brine Lacrosse (Defenders!)
There are still some midfielders and attackmen who use the Edge, but the majority of its proponents are of the longstick variety. The Edge is still regarded as one of the toughest, stiffest heads out there, and it has no frills. It's all about getting the job done. The head that revolutionized the game was so well designed that it will remain a mainstay in the college game for years to come. It has staying power and for good reason – it flat out works!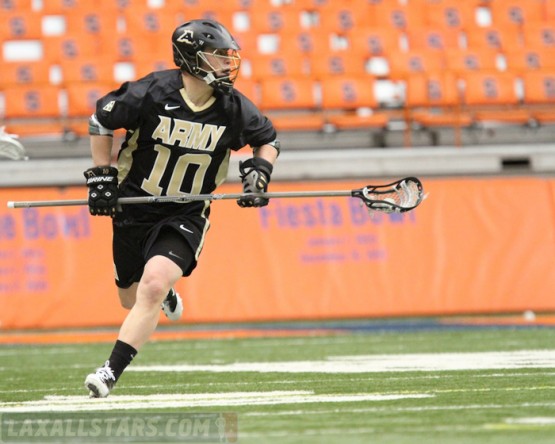 3) Super Power by STX Lacrosse
One can almost lump the Super Power and Proton Power together here. Although there are differences, the two heads are almost interchangeable. Both are extremely light and cut back. They have some flex and are often the weapon of choice for top attackmen and midfielders on STX sponsored teams… and sometimes on non-STX sponsored teams as well. When your head shows up being used by a player on a team sponsored by your competition, that's a good indicator. It must be the perfect mix of flex, strength and lightness. Both the SP and PP come from the original Proton, which was a pretty revolutionary head in its own right.
2) Clutch by Brine Lacrosse
At first glance, the Clutch looks like it's going to break. It's so thin, it's so cut away, and there are just so many sidewall holes. Yet, somehow, it rarely breaks. If it did, I doubt so many college players would select it as their gamer! You'll see every position on the field use this head, and it really is the next generation of the Brine Edge. Brine took the old Edge mold and cut away plastic, which changed the sidewall design. Then they added a million stringing holes. They named it the Clutch and everyone loved it. Why? Because it's an updated classic. And more importantly, it's a tough, light head that can work on either end of the field.
Gear Reviews: Clutch, Clutch 2, Clutch Superlight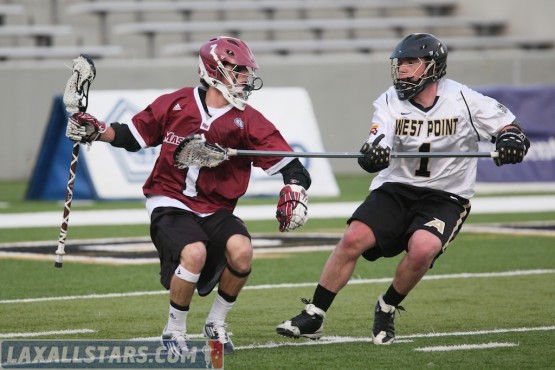 1) Evolution by Warrior Lacrosse
If there's one challenger to the dominance of the Edge back in the day, it would have to be Warrior's Evolution. Over the last bunch of years, this stick has been fiddled with, updated, improved upon and re-released a number of times… and each time it comes out, people go crazy for it. All along the Evolution's core design has really remained the same, and it's easy to see why Warrior hasn't messed with the foundation. This head is a favorite of short sticks everywhere, and it's strong enough for longsticks to use as well. It's narrow, designed for an easy channel pocket that gives the ball a smooth exit. No gimmicks, just goals. There are numerous stringing holes and it comes with a ton of brand loyalty built in – as long as Warrior continues to stand by the Evo, it is in no danger of losing the top spot.
Gear Reviews: Evo 2.0, Evolyte
Not surprisingly, almost all of the top five lacrosse heads from 2012 are either classics themselves or they largely resemble classic heads. So which heads do we think have the potential to make this list in 2013? Let's take a quick look.
Spider by Maverik Lacrosse – There are a ton of Maverik sponsored teams out there, and this head is sure to make its way into more and more players' hands. It's flexible in the right places but still pretty stiff, and it can be used by attackmen, midfielders, face-off specialists or even longstick middies and defensemen.
Mercenary and Charge by Under Armour – Both the Charge and Mercenary have the potential to be great heads in the college game. They are light, stiff and can take a beating. Plus they have plenty of stringing holes and an aggressive look.
Stealth Core by Easton Lacrosse – This head is definitely ready for the college game. It can take a real beating, strings up easily and feels different from almost every other head out there. Once a player falls in love with it, it's hard to move on. Could this be Easton's Edge?
What was your favorite lacrosse head of 2012?