I love a good social media application or site as much as the next guy.  Twitter, Le BookFace, Foursquare, Spotify, and even old social media sites like Xuqa all pique my interest in one way or another.  That being said, I've never been a big #hashtag guy.  Sure, I see a LOT of other people using them in almost every tweet, but it's just not for me.  And it might not be for you… but that doesn't mean you can avoid it any longer!!!!!!!
#Hashtags are coming to an athletics field near you!!!!!!  If you won't join twitter, twitter will join you… IN YOUR STADIUM!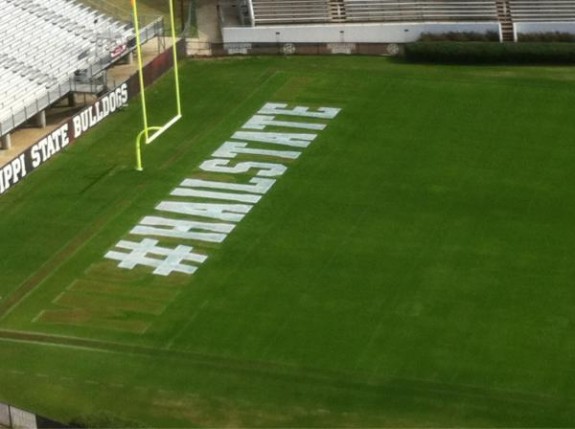 As you can see in the photo above, which may or may not be real, #Hashtags and Twitter are coming for you.  And lacrosse, a sport that doesn't get quite the same play as football or basketball could be a major infiltration point.
You see, because of a lack of mainstream sports media coverage, lacrosse gets pushed to the fringe a bit, and this means the sport has to be more creative in getting their message across.  And one of the avenues used to get this message across will undoubtedly be Twitter, and that means hashtags.  Lots of them.  In the past we've seen score updates done by parents, players and fans on twitter, so that's nothing new.  And these parents and players and fans have often used #hashtags.  But putting #hashtags on the field during a game?   I don't think we've seen that yet.  But we will.
There is probably only room for a couple of lacrosse programs to take their Twitter games to the next level, and it might not be the usual suspects like Cuse, Hopkins, Duke, Virginia or Maryland.  These teams are already successful, and I doubt they're going to drastically change how they interact with fans.  Maybe they'll add on an increased Twitter presence, but I don't see it being a game changer.  But a team like Michigan, which is brand new to D1, or St. Joe's, which is hoping to experience a rennaisance under their new coach, Bob Vlahakis, could definitely take their twitter work to a new and creative place.
Realistically, anyone COULD make a push on Twitter, but it's only going to work if your team is on the right path already.  Social media will not make THE difference for any team, but it could be that little difference that adds fans and focus to your program, pulls in alumni, increases giving and props up exposure just a little.  And as we all know from Any Given Sunday, it's the little things that count.  So is Twitter one of them?  Or is this all just a massive waste of time?  I'd go with the prior right now but it's something that will have to be allowed to play out on its own.
The only real certainty is that it's coming.
Thanks to Steve L's LeBookFace for the Mississippi State photo!