The NYC ULax season runs early because there is such a premium on field space in the City.  We make due even though most other ULax Spring Leagues are just getting started now.  I guess we're just pioneers.  Or crazy.  Maybe a little bit of both.
Dirt McGirt emerged as the strongest, and most consistent team in the league this Spring, but they certainly weren't head and shoulders above the other 3 teams.  They just won the most games.  They were challenged all season long and the great thing about the ULax league this season was the parity.  All of the teams had guys who could play and a lot of times wins and losses were determined by who showed up, or who showed up less hungover.  Let's be honest here, 1pm on Sunday is not always enough time for some post-collegiate lacrosse players to recover.  To my knowledge, no one instituted a 24 hour rule either.  To further illustrate the flexibility this league had, I was only able to make 3 games all season.  And it wasn't a problem.  That explains my 4 points.
The feeling of the league was laid back but still competitive.  Sticks fly like crazy and every once in a while you get some pretty physical play, especially when Edmond Perry for TeamItUp.com is on the field!  At the end of the day, everyone is still just out there to have a good time, get in a good run and lax it up.  Because of this league, whenever my knees do finally give out, I won't look back and say, "I wish I had played more lacrosse"… because thanks to ULax and a couple other NYC leagues, we're all getting our fill!  We all get a kick out of checking our stats out too.
In the first semifinal, Teamitup.com took on The Gotham Goats, who have a solid core of Williams grads on their roster along with a couple of Salt Shakerz LC members.  I know because they have pink helmets.  Teamitup is made up of Penn State, Princeton, Penn, Stony Brook and a number of other D1 school grads.  TIU took this game 9-7 behind 2 goals and an assit from Charlie Perry and 9 saves from Matt Flannery.  Matt Paster went 2, 1 in the loss for the Goats.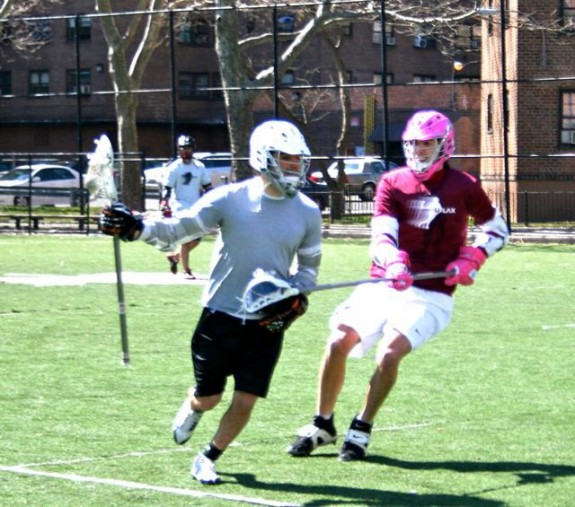 In the second semifinal, Dirt McGirt got through with a little more ease as they dropped the LaxAllStars.com team 14-6.  LAS was without a couple of its more talented offensive players and just couldn't get a lot of offense going outside of Rich Sharp (Gettysburg alum) notching 3 goals.  Garrett Hohendorf led all scores on the day with 3 goals and 3 assists in this game and the Villanova product was simply too much for the LAS D to contain.  John Friedman also notched 3 goals and an assist in the win and seemed content to let rip from anywhere, without even looking at the cage.  Dude is 40 years old and can still snipe and ball.  That's what ULax NYC is all about!
In the final, Dirt McGirt came back from an early deficit and ended up winning 12-8.  TeamItUp got 4 goals and a helper from George Kaleh and Evan Seigert added a goal and 2 helpers but it wasn't enough as Neema Kassai (Colorado alum, he runs the league!) made save after save in net for Dirt McGirt.  He won't toot his own horn, so he didn't put his stats up, but he easily had 20-25 saves, and some of them were of the stand on your head variety.  Player of the game.  No question about it.
Offensively, Hohendorf (Villanova) had 2 goals and 3 assists for 11 points between the 2 games.  Impressive.  Ben Glicklich had 2 goals and a helper Matthew Dennis got a hat trick and a helper as well.  Just when you thought TIU would make a comeback in the second half, these guys would do something to change the momentum.  GBs, good defense or a huge face off win made the difference for Dirt, and they generated a lot of good opportunities, and then made the most of them.
Overall, a great season and I can't wait to get back out there and do it again!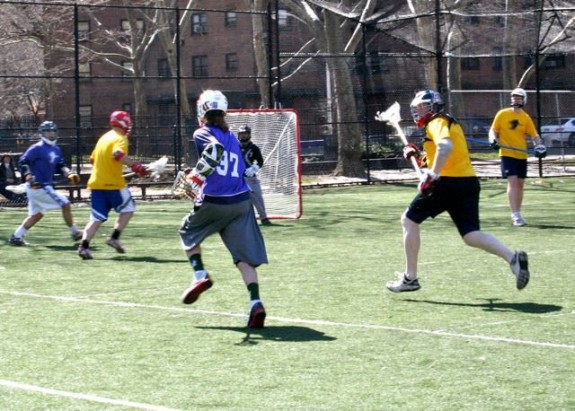 Just kidding Carson.  You're not totally goon.