Box Lacrosse in the United States has not exactly exploded as a sport in terms of popularity, and only small pockets of people are really playing the game in a serious way, especially at the youth level. However, if you compare the current state of affairs to what US box lacrosse was like in the past, the game is making HUGE strides, and the Cali*LAX All-Stars box lacrosse program, run by Shaydon Santos, just might be the best example of these big strides.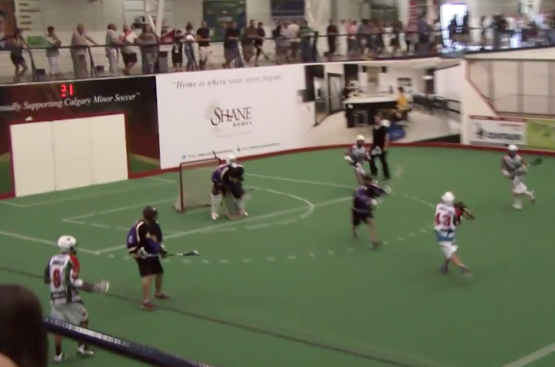 I recently got an email from Shaydon, and he detailed the success of the five Cali*Lax teams that travelled to Calgary for the Canada Day Tournament. Just to have a team go up and compete closely against some of Canada's best young box players would be a big step in the right direction, but for THREE of the five teams to come back with hardware? Well that's just one huge step for US box lacrosse mankind.
Along with the five Cali*Lax teams, this year also marked a 12 team commitment from the US Box Lacrosse Association, which shows that while Cali*LAX may be the top dog, they aren't the only program out there. The box game is clearly growing! And with guys like Shaydon, Denver's Matt Brown, and NLL All-Star Lewis Ratliff all heavily involved, US BoxLa will only continue to improve.
Let's run through some of the major highlights from the tournament:
Cali*Lax ALL-STARS Novice team – The Cali*Lax ALL-STARS Novice team (U10), coached by Mike Lantier, brought home Cali*Lax ALL-STARS' first gold medal in 4 years, going undefeated in the Novice B bracket.
"Coach Lantier isn't a Canadian Box guy but his passion for the Box game and skill at coaching is undeniable. He led this team to victory and he's one of the best youth coaches I've ever been around," says director Shaydon Santos.
"The right things came together at the right times, we laughed, we cried, we worked hard in practice, and we rolled into Canada taking back the club's first gold medal. The boys were awesome," says Mike Lantier, co founder of the SonoMarin Box Lacrosse team and a Maryland native.
Bantam B – Undefeated Gold Medal Champions – Cali*Lax All-Stars weren't done with the Novice bracket though. The Bantam B (U14) division actually featured a medal sweep for USA based Box teams. The Cali*Lax ALL-STARS took the gold beating the Jr Stealth 9-7 in the gold medal game. 2 time Minto Cup Champion and NLL Pro Adam Bysouth head coached this team with assistant and NorCal lax legend Ben Sparks.
"The team executed brilliantly, they played some Box how it's supposed to be played. The Jr Stealth were great but we held them off in the gold medal game and went undefeated in the tournament, I'm proud of our boys," says Adam Bysouth of Portland Lumberjax and Calgary Roughnecks NLL fame.
The Jr Stealth bench staff was essentially the Washington Stealth's Professional Lacrosse team's including Chris Hall and were a very formidable force. NCAA D1 coaching heavyweight Matt Brown's Denver Elite team took home the bronze medal in the Bantam B division marking the USA medal sweep.
Cali*Lax ALL-STARS' Flagship Team – Midget A (U16) division –  The team warmed up with an exhibition game vs Team Alberta (the 4th best All-Star team in Canada – behind Team Ontario, Team BC, Team Iroquois) and lost 7-2.
"Our boys practice year round but we just don't have anyone to play locally who is at our level, so it took a bit to get our game feet, and Team Alberta simply beat us," says head coach Shaydon Santos.
Midget A – Is there any team in the USA that wants to step up? The Midget A team ended up going through the tournament undefeated, with 4 wins and a tie, but only took a bronze medal home because of a period point system.
"Three years ago these same boys entered this tournament as a bit of a joke, being that they were the first USA youth players to play in a Canadian Box tournament, and were matched up against far more skilled players. These boys persevered, they held their heads up, and focused on the training year after year.  To be able to beat teams in the Canadian Midget A level with over 50 years of Box history is a testament to these boys and what the future of the Box game holds in the USA," says Santos.
Cali*Lax ALL-STARS Pee Wee A and Six Nations Warriors – Other Cali*Lax ALL-STAR teams that didn't medal, but represented the club extremely well were the Pee Wee A (U12) team that was lucky enough to play the Six Nations Warrior teams in round robin play, spreading a bit of history to the California boys.
Cali*Lax ALL-STARS Bantam A (U14) – this team was coached by California native and raging Box enthusiast Dave Almy did very well in the A division of the tournament going 2 ties, 1 win and one loss.  These Bantam A boys tied eventual tournament winners the Langley Thunder, who upset tournament favorites, the Coquitlam Adanacs, in the gold medal game.
To help build the Box game back in the USA, US Box Lacrosse Association referees took part in a one day clinic held by the Alberta Referee Association and then were placed into the tournament, marking the first time US Box Lacrosse officials have reffed North of the border.
"To develop players who can compete in this new lacrosse era we need to put an emphasis on building the game here in the USA which includes both coaches and referee development.  We're extremely appreciative of both the BCLA, ALA, and CLA for helping us develop the game here in the USA," says Santos.
Full tournament results can be found on the Calgary Canada Day Tournament website.
All of these Elite US Box Lacrosse Association programs meet for a heavy schedule in August with tournaments in Washington, Denver and the USBOXLA Nationals in Irvine California, Aug 17-19th, which features the Jr Mammoth, Jr Stealth, Denver Elite, the Cali*Lax ALL-STARS and Canadian Programs, plus instructional clinics featuring Matt Brown, Lewis Ratcliff and Shaydon Santos.
Want to train for Box Lacrosse? We've got you covered. Want to step up your box OR field dodging game? Brian Langtry has you covered. Want to learn more about European Box Lacrosse? Why NOT! And there is plenty more box lacrosse info where that came from! So dig in, and if you're a US lacrosse player, consider making box your thing too.