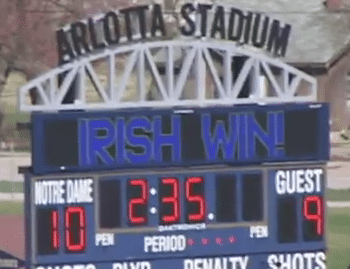 If you set your DVR to record the Notre Dame vs. University of Denver men's lacrosse game on Sunday afternoon, chances are it stopped recording well before the end of the 3OT thriller. Thankfully for all of us, there is NDLaxTV, the official YouTube Channel of Notre Dame men's lacrosse. Enjoy!
The final 30 seconds of the 3rd OT starting with Kevin Randall's ground ball at midline and Sean Rogers game winning goal assisted by Ryan Foley.
Congrats to Coach Corrigan and his staff. This was a hard-fought battle between two of the best coached college lacrosse teams in the country.