If you're looking for games on TV, look no further than our list of Televised 2012 Lacrosse games, but if you want to know ALL the games to keep an eye on this Wednesday, then I've got you covered right here!
On the D1 side of things we only have one game, but it's got potential!  Siena travels to Hartford and both of these teams are really trying to get into that "consistent top 20" category.  Hartford has some close games and big wins, and Siena has been building their program successfully for the last couple of years.  Both teams want a win here, and I like Hartford to win by 2 or 3.
On the D2 side of things, I have one top game, and Bentley at NY Tech could be REALLY good.  Bentley is 0-1 with a loss to #7 CW Post, and NYIT is in the Top 10, but just barely.  Bentley needs a big win here to salvage the early season, and Tech needs to prove it can pull away and win big.
Down in the wonderful third NCAA Division we've obviously got a ton of superb games.  What am I most excited for on Wednesdays?  Don't be silly, you know the answer to that.  Midweek NESCAC games.  Simply nothing finer.  But I cover it all.  We'll start off with the top dog.  Salisbury travels to Washington & Lee, but SU will cruise.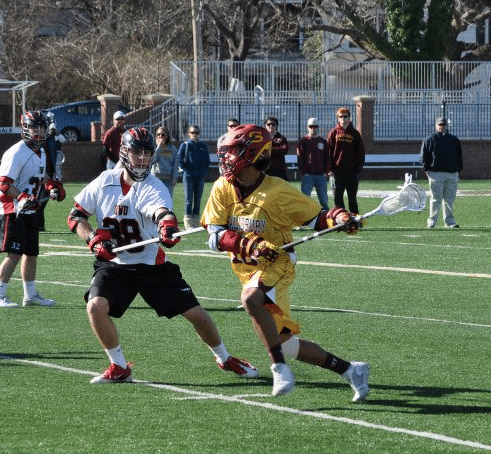 Salisbury photo courtesy Rich Reilly and 24SevenLax.
Our thoughts are with Salisbury Head Coach Jim Berkman, and the entire Sea Gull squad, as Berkman recovers from a health scare.
Conn College at Tufts will be a big ask for the Camels, and I expect the Jumbos to win by 6 or 7, but if Conn's young guns get involved offensively, it could be a game. (EN: This game was actually played Tuesday and Tufts won 16-9.  NAILED IT!)  Endicott isn't a NESCAC team, but they are playing Amherst, and AMH is in the 'CAC.  Endicott is falling in a lot of people's eyes, but their games are always close, and I definitely think this is going to be a 1 or 2 goal game.
The Gulls will bring and the Lord Jeffs better be ready.  Amherst can prove they are a Top 5 team with a decisive win here.  In more OOC NESCAC action, Middlebury plays at Springfield, and this will us a lot more about both of these squads.  Does Midd have the ability to score on offense consistently?  Can their D hold SC back enough to win?  I have lots of questions about both of these teams, and can't wait to see it play out.  I'm thinking Midd pulls out a 5-4 win.  But only if their D is as good as advertised.
Nazareth travels to Bowdoin, and this OOC game has usually been great over the years.  I like Bowdoin here though, and I like them by 4 or more goals.  Trinity heads to Massachusetts to take on Western New England, and this could be a fantastic match up.  It's one either team could win, and both would LOVE to win.  If Trinity can keep their focus on the game, and not the refs, they have the upper hand.
Gettysburg at Cabrini should be an excellent game.  Both teams play good lacrosse, and Gburg is definitely solid this year, but for the first time in a long time, I actually like Cabrini to win this game along the order of 8-7.  Crazy, right?  Goucher at Mary Washington could be an interesting game, and if Goucher wants to broach the top 20, they need a compelling win here.
Skidmore vs Dickinson in Maryland could be the game of the day, and it's a great chance to see how good all these top level Southern teams really are.  Skidmore is good though, and can't be slept on.  Denison vs St Mary's is being played at the Collegiate School in VA, and this is a good chance for Denison to prove to the pollsters that they are legit.  It's also another good chance to SMC to make the jump to the next level.
A definite "trap" game this week is York at Stevenson.  Stevenson just lost a tough game to Lynchburg, so I think they'll come back hot and heavy and destroy York.  But if their confidence in each is shaken, York could come into town and do damage.  I like Stevenson but this game has potential upset written all over it.
On the MCLA side of things, we don't have quite the quantity that we do in DIII, but we CERTAINLY get the same high level of quality!
Buffalo at Florida State has my mind reeling.  Last year I couldn't even imagine a Buffalo win (I have a limited imagination), but this year I'm actually picking them to win AT Florida State.  It's insane, but I'm going with it, and feel confident.  Minnesota – Duluth heads to UCSB and this could be our game of the day from ANY division!  It should be a fantastic game, but I like UCSB to run it out in the end.  California weather and being at home will be on their side.
A really interesting game will be Richmond vs The Hill Academy out of Canada.  It's a lot of seniors and PGs, I believe, and a lot of these kids will go on to star at D1 NCAA programs… but it's going to be cool to see no matter what.  If we get highlights, expect a whole lot of dangle.  Excited!
Got a game I missed? Disagree with one of my predictions? Let me know in the comments. Be compelling!