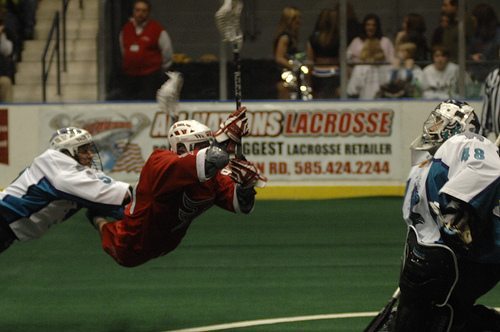 Week 4 of the 2011 NLL Season is in the books.  Week 5 awaits and the box lacrosse action is only getting better.  How lucky we are to have pro indoor lacrosse!  And with select games being broadcast (on Versus) starting at the end of February, buzz is at a pretty high level.  Let's get that decibel level a little higher!  Forget the Super Bowl, you could be watching boxla on your computer (or TSN if you in Canada)!
Minnesota travels to Buffalo for the lone game of Friday night.  Minnesota is at the top of the standings in the West, so it will be interesting to see how they do against the Bandits out of the East.  Buffalo lost 8-5 to Toronto last week and I like them to rebound with a win over Minnesota at home.  I expect the game to be tight though and if Patterson is on, the Swarm could easily win.  I'll stick with Buffalo though, they're due again.
On Saturday, Philadelphia rides a 3 game win streak into Rochester, who just got blow out by Boston, who Philly just beat.  So, obviously, I'm going with Rochester.  It's not that obvious, I guess.  Rochester will press and be physical on D, limiting Philly's chances and they will work the ball on O and get a good game from Jamieson.  If he's not scoring points, he'll be drawing penalties.  Rochester reverses the skid.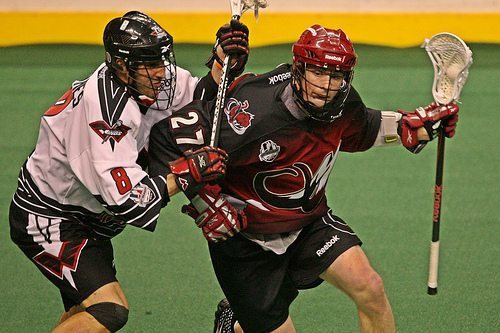 Toronto at Boston is going to be a great game.  Their last match-up was fantastic as Toronto won 15-14 in OT at home.  Boston now has Ryan Powell and are playing some better guys on D a little more.  They're pressing out and being more aggressive so this one will be a little lower scoring and I like Boston to take it.  My heart says the score will be in the 12-11 or 12-10 range with the Blazers coming out on top.
After playing each other on back to back nights last Friday and Satruday, both the Edmonton Rush and the Calgary Roughnecks are off this week.
Finally, Washington travels to Colorado and both of these teams are kind of desperate for a win.  Colorado would like to distance themselves from last place Edmonton with another W and Washington has been inconsistent all year, which is somewhat of a surprise since they won it all last year.  The big news for most NLL fans is exactly what I said above: two teams are in need of a win and they're playing.  The big news for a smaller segment of NLL fans is that Connor Martin, aka Con Bro Chill, will be suiting up for Colorado.  I'll watch this game just to see how he's adapting to the indoor game!  I honestly think that with another year or two of work, Sire Martin could quite possibly be an NLL mainstay.  He just needs to find his mojo, and he never fails to do that.  He's been learning from Brian Langtry and they both have long hair so I'm pretty sure he's going to be good.  Totally sound reasoning, right there.  I'll stick with Washington to win though.