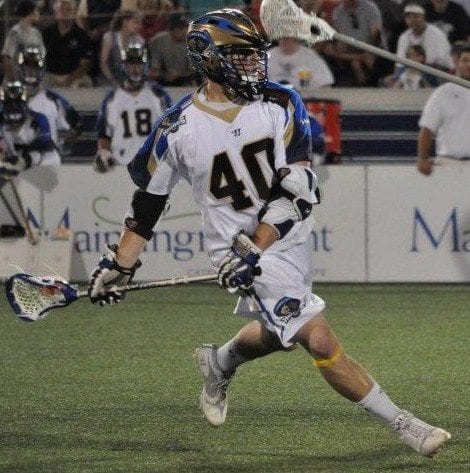 Editor's Note: Welcome Lance Antoine back to LAS. Lance is following the Charlotte Hounds closely this year, and will be providing stories on the team for the rest of the 2013 MLL season. This week, he tackles their most recent game, and prospects moving forward, towards the playoffs.
______________________________________________________________________________________________
Photo Credit: 24 Seven Lax
I'm not sure what's more impressive, how well the hounds played in the second half, or the fact that there is an MLL team with as much talent as Ohio that is still win-less.
In the first half, Charlotte and Ohio only combined for 8 goals. I'm not sure what Charlotte got into at half time, but whatever they have, I want. It seemed like right off the bat Danowski scored and sparked a flame that the Machine wouldn't be able to extinguish, let alone contain.
Charlotte put up a total of 8 goals in the third quarter and held Ohio to only 2 goals in the period. In the fourth each team put up a single goal a piece, making the final score Hounds: 13 Machine: 7. The win put the Hounds record at 3-3, giving them a .50o win percentage, AND a tie for fourth place, which is just enough to get them into championship weekend, should the standings hold. I'm not saying they will hold, but that's how it looks right now.
The Hounds are currently 1-2 at home and 2-1 on the road. Next weekend the Hounds will play the Boston Cannons at home. Now back to the subject of Danowski… Dino had a great game. He had a hat-trick and a 2 pt. goal, but Danowski didn't win the game all by himself. Everybody from Ghitelman to Sawyer played a major part.
Ghitelman had 11 saves, a huge feat not many goalies can brag about with a total of around 20 shots on goal. Ghitelman had a lot of help from his defense though, and if you had to describe them in one word for this game, that word would be consistent. The defense has found their niche and if they can figure out how to work together the rest of the way they'll be running a no daylight defense in no time.
On the offencive side apart from Danowski, Lusby had 5 goals, and the young-guns proved they've got what it takes, as the team also got some help from Peet Poillon himself. Eric Lusby came out and got on the board first for the Hounds. Lusby proved he wasn't going going down without a fight, and a goal when he scored while going down from a hit by the Machine defense. Lusby didn't put up any numbers in the second, but he came out in the third and put up another two goals along with Poillon who put up one goal.
Just as Lusby started it he also ended it, and put up the only Charlotte, and last, goal in the fourth. Players like White, Sawyer, and Young showed that they're each forces not to be reckoned with. Young's presence at X was incredible, even though he didn't have any goals he had two assists.
Even though Young didn't score Sawyer and White sure did, White got his first professional goal and he proved it will be the first of many judging  by the way he played Saturday. He is not somebody you want to over look anytime soon. White's goal brings his season stats to one goal and two assists. Look for more as the weeks progress.
Also, the offense had some good things going for them with face-offs, as they won 53% of them and also got 30 ground balls. Lastly. the offense had the best shot placement I've seen from them all season, which lead to their abundance of third quarter goals.
I think Charlotte showed full potential Saturday and if they keep it up good things will come. They're a young team with a lot of potential, I look forward to following them on their journey the rest of the season because they have a chance to do big things.