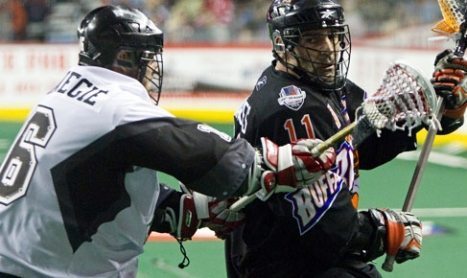 Last week I went 2 – 4, losing 2 games by one goal, both of which were barn-burners. Connor went 4 – 3 by taking the obvious picks! I am surprised there wasn't any trash talking in the comments section!
This weekend fans get one game that should be a pretty even match-up and another that should be fairly predictable. Additionally, fans will be treated to the highly anticipated NLL All-Star Game from Turning Stone Resort + Casino in Verona, NY. Watch the All-Star Game live on Versus at 2PM on Sunday (Feb 27, 2011).
Edmonton (0-1) (2-6) @ Rochester (0-2) (4-4)
Last weekend Edmonton lost a heart breaker against their provincial rival, whom are currently in limbo. The one goal loss in question came against the Western Division leaders, which could suggest that the Rush have found their groove.
Rochester, on the other hand, lost two games to the league leading Toronto Rock. Rochester's offense struggled, only scoring 5 and 6 goals, respectively. In an attempt to re-focus their offensive efforts and let highly touted draft pick Cody Jamieson see some more rubber, on January 27, Rochester dealt long time K-Hawk Scott Evans to the Rush in exchange for Rory Glaves. Since the swap Evans has score 9G, 7A in 5 GP. This will be Evans first game against his former team and younger brother Shawn. Edmonton looks to take advantage of a Rochester team that has yet to jell.
Edmonton with the Win.
Toronto (2-0) (7-2) @ Philadelphia (1-0) (4-4)
What can be said about Troy Cordingley and his Toronto Rock? At the halfway point in the season they are the team to beat. The Rock has improved each of the last two years through the draft and through free agency, taking advantage of seasoned players from the Canadian summer leagues (WLA, MSL/OLA). Toronto is coming of two decisive wins against the Knighthawks and will continue to roll.
Philadelphia, along with the NLL, is celebrating their 25th anniversary as a franchise. In remembrance of their last Champions Cup winning team and rosters of yester-year, the Wings are top-heavy with American talent.  Lead by John Tucker, a recent American-born Hall of Fame inductee, the Wings won a character-building game last week against a strong Buffalo Bandit team, in Banditland nonetheless. Last weeks win could be a hint of positive things to come for Philadelphia. But Wing-Nuts will have to wait another week.
Toronto with the Win.
It's an All-Star game… making picks for an ASG is like taking bets on who will win a… well, an All-Star Game! So lets focus on the event itself! It marks the first NLL game that will be nationally televised LIVE in the US on Versus! It will be played in a casino! Yuuup, a casino!
The Iroquois Nationals will be honored at halftime. Sadly there's nothing mentioned about a Skills Competition. There has been some debate over inclusions, namely under-producing Cody Jamieson and Callum Crawford. Both prime-time players, but numbers are a little low this year. Oh, and Rhianna is performing!
Ok, that's a lie.
East with the Win.
All Star Rosters:
EAST
F – Casey Powell (7th)
F – Colin Doyle (9th)
F – Dan Dawson (5th)
F – Josh Sanderson (6th)
F – John Tavares (9th)
F – Brett Bucktooth (1st)
F – Garrett Billings (1st)
F – Shawn Evans (1st)
F – Cody Jamieson (1st)
T – Max Seibald (1st)
T – Mark Steenhuis (7th)
D – Pat McCready (2nd)
D – Chris White (3rd)
D – Sandy Chapman (1st)
D – Sid Smith (1st)
D – Kyle Rubisch (1st)
G – Brandon Miller (2nd)
G – Anthony Cosmo (5th)
WEST
F – Scott Ranger (1st)
F – Ryan Benesch (1st)
F – Rhys Duch (1st)
F – Lewis Ratcliff (5th)
F – Luke Wiles (1st)
F – Callum Crawford (1st)
F – John Grant (7th)
T – Brodie Merrill (5th)
T – Geoff Snider (4th)
T – Jeff Shattler (3rd)
T – Paul Rabil (1st)
T – Andrew Watt (1st)
D – Andrew McBride (2nd)
D – Mike Grimes (1st)
D – Brett Mydske (1st)
D – Mac Allen (1st)
G – Nick Patterson (2nd)
G – Chris Levis (1st)
(Main photo courtesy of NLLAllStar.com)