This past weekend, NCAA Division III #1 Salisbury University (MD) absolutely destroyed Roanoke College, the then #2 team in DIII, by a score of 22-5.  Yes, the #1 team beat the #2 team 22-5.  That alone is enough to get people arguing that Salisbury should move to D1, and when one looks at the history of the program, the argument can gain even more traction.  But it's a false argument, and the Salisbury Gulls playing D1 lacrosse would be folly on many levels.  Let me count the ways…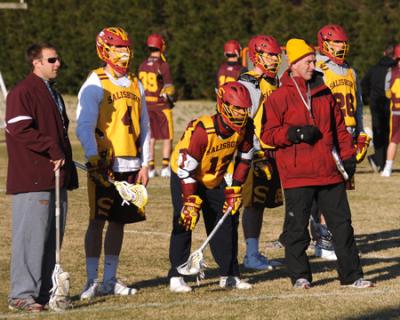 Photo courtesy http://www.suseagulls.com
Let's get the most obvious reasons out of the way immediately.  The first is that NCAA doesn't want to see ANY more schools that are D1 in only one or two sports.  Johns Hopkins and Hobart are grandfathered in for lacrosse, and schools like RIT and Colorado College (amongst others) are in for DI hockey.  But the NCAA doesn't want to see any MORE of this, so unless Salisbury moves to D1 in EVERY sport, it's just not going to happen on a basic rules and bureaucracy level.   SU could move to do D1 overall sometime in the future, like Bryant University in Rhode Island has done, but for now the NCAA isn't supporting moves like that either.  So from a purely realistic stance, it is not going to happen.
But that's not even half of the argument.  There is also the big "why" portion of the Salisbury should NOT go D1 in Lacrosse argument, and it's a lot more interesting than just following the rules.  After all, the NCAA rules are there for a reason, and in this case, they do seem to effectively serve their purpose.
When people make the argument that SU should have D1 lacrosse (usually they are just throwing the NCAA rules out the window and thinking in a very hypothetical sense), they will cite two programs: Johns Hopkins, for their D1 lacrosse success while being a DIII school, and Hobart, for being a dominant DIII team that made the jump to D1.
But both of these programs actually point to Salisbury staying in DIII if you look at them the right way.  Hop has always played the biggest and best teams in lacrosse, and they have always been right near the top of the heap in whatever the top collegiate lacrosse division was, whether it was USILA or NCAA.  They have represented the US in the Olympics, and are easily one of the most storied programs in all of college lacrosse.  More than anything, they are built on tradition and dedication to what the program stands for.
It makes sense for Hopkins to be D1, because they have always been D1.  So if you apply this to Salisbury, the Gulls have long been DIII, and they are also a program of great history, pride and alumni dedication.  Why would anyone want to change that?  The push to be a D1 team sort of neglects all the greatness of the program's past.  We celebrate Hopkins for being what they are, so why can't we do the same for Salisbury?  Personally, I'm proud to have played DIII NCAA lacrosse, and knowing a team like SU was in our division only helped.
Then we get to Hobart.  Oh, Hobart.  The Statesmen were THE team in DIII lacrosse for about 20 years.  They won the first 12, yes the FIRST TWELVE DIII National Championships, and then also took home the title in year 14.  13 out of 14 ain't bad.  And the two NCs in DII in '76 and '77 don't hurt either.  Neither does the USILA title from back in the day.  They lost in the DIII finals in '94 to, you guessed it, Salisbury 15-9, went D1 and never got back to another NCAA Finals.  In fact, Hobart has only made the NCAAs 4 times since then, and they've never won a game.
But Hobart's move to D1 wasn't really precipitated by them being so much better than everyone else.  Yes, they won their 13 National Championships by an AVERAGE of over 4 goals per game, but the reason for their move was that they would no longer be able to play teams like Syracuse, Cornell, and other longtime rivals.  When the NCAA was still much smaller, there was more interdivisional play.  As the NCAA lacrosse scene grew, teams began to restrict themselves to their newly created divisions.  But Hobart's biggest games each year were against Cuse and other big programs, and they wanted to keep that.  So they moved to D1, probably knowing they would never reach the same heights of success or glory.
So why in the world would Salisbury follow this model?  Salisbury's biggest games each year are against teams like Stevenson, Gettysburg, Cortland, Tufts, or WAC.  Their rivalries are really with DIII teams only (well, including now D-1 Hobart in the 90s), and their history is firmly rooted in the NCAA's third division.
Overall, the school fits into the DIII model as well, and they even told the lacrosse team to push back the start of practice this year by 2 weeks.  Does that sound like the atmosphere for a D1 team, where lacrosse truly becomes a student's job?  I don't think so.  Not one bit!
MOST people who ask, "Why isn't Salisbury in D1 for Lacrosse?" are DIII players, coaches, and parents on teams not named Salisbury.  They ask the question because they don't see how SU can be SO darn good, while just "being DIII".  Often they think SU cheats somehow, or that they survive on D1 transfers and dropouts.  But this couldn't be further from the truth.  The truth is that SU has a GREAT coach, who recruits well from a LARGE base of players who simply want to play there.  Jim Berkman + talented recruits = Winning.
The lure is that you get to play top flight lacrosse at Salisbury.  You get a chance to work towards winning a National Championship each and every year.  You're surrounded by guys who LOVE lacrosse at a school where the sport is highly regarded.  It's really the perfect combination of taking lacrosse very seriously, but also remembering that you are a student-athlete, and not the other way around.
For the rest of DIII, Salisbury does a great service.  The Gulls consistently set an extremely high bar, and if teams want to compete, they REALLY need to step their game up.  Cortland has been able to do so from time to time, and that program has definitely benefitted from having a good state school rival in Maryland.  The NY – MD rivalry can never be overlooked!  And SU has also helped precipitate the rise of lax at Stevenson to prominence.  Once called Villa Julie, the Stevenson Mustangs are now for real, and playing in the CAC with Salisbury definitely helped this happen.
Simply put, teams KNOW they will have to great to beat the Gulls.  The pressure is on, and DIII keeps responding.
Yes, having a behemoth like SU in the division makes it much less likely for a team like Denison or Stevenson to win a title, but it also forces those schools to be better each and every year, and that's good for college lacrosse overall, as well as the growth of the game.  It's easy to hate on a dynasty, or say they need to move up a level, but it's hard to put in the work required to dethrone them.  The less time wasted on saying the Gulls should move up, the more time gained trying to knock them off.
In the end, Salisbury really can't go D1 in lacrosse, but for the good of the sport, that really shouldn't even be an option.
Are you convinced?  Or do you still think Salisbury needs to go D1 ASAP?