Corvallis! ARE YOU READY!  Xcelerate lacrosse camp is off and running in the great state of Oregon and the kids are ready to go. This four day camp should be action packed so stay tuned for some sweet footage of the happenings of camp throughout the week.
Counselors for the camp include several current and former Oregon State lacrosse players as well as MLL all-stars Brian Karalunas, Jay Card and Brendan Cannon. Other big names such as Malcolm Chase of the Boston Rockhoppers and Max Zarchin (Salisbury All American) will be in attendance as well. Prepare yourselves.
Morning session started off with some one handed stick work drills (Again, Fundamentals are key).This was followed by Jay Card and Malcolm chase explained what is needed for a successful one vs one dodge. Check out the video below:
**Insert video
Afternoon was a split session with the young guns taking the field first. After some more one v ones and an instructional session from Coach Card the youngins hit the Beaver swimming pool. Of course everyone flocked to the diving board and showed off there stuff. The goal of the day: A double front flip.
Following the pool, the kids went and had a little down time to relax and get some sleep (which to them meant go into one room and have a dance party). Following the afternoon session they were back out on the field for some games. Having been with the little guys most of the day it was nice to see some high school kids from the Rhino Camps out here getting better. I received a little guys team and after much debate we decided to call ourselves the Narwals (Mythical creature of the sea). After a tough first loss we came back firing on all cylinders and beat Coach Cards team (beating a MLL star….yeah its pretty cool). Brian Karalunas arrived in the Corvallis this evening and helped coach the little tikes up as well.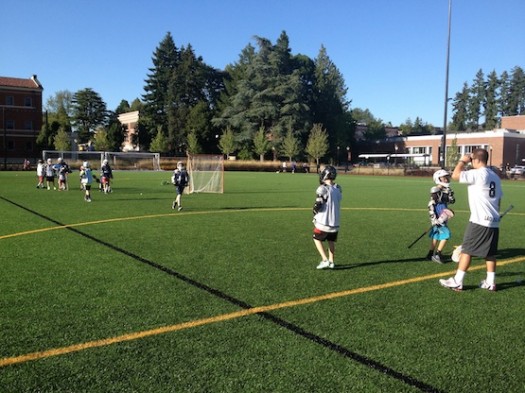 Up at the high school level, a tie ball game left the coaches no choice but to have…..a braveheart. Both contestant were ready for battle but it ended up being one of the goalies to score the game winner.
To top off an already fabulous day, the camp offers bowling for the kidsters each night as well as movies, pizza and a camp store. (Disneyland: Laxer Edition) Tune in tomorrow to see what other goodies we have in store. Since we have a lot of Oregon State laxers on the camp staff check out this little vid of there game against Idaho this past year.