There used to be a much more limited offering of youth, middle and JV lacrosse over the colder months, but that's far from the case today.  It's like a young gun lax tournament overload these days, but as long as the kids are being active, having fun and enjoying lacrosse, we're all for it.  The tournaments were held all over the country and we'll run through the ones we know about.  If you have a tourney recap, or a youth related piece of info, and a photo you want included in this post, or a future post, email it in to Info@Lacrosseallstars.com!
Middle School Helmet Wrap by ZimaGear
Outrageous accessory right here.  Outrageous.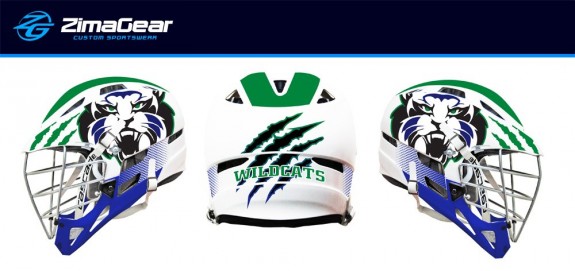 Chumash Shootout U15 3v3 Lax Tournament
The Brighton/Starz 1 team won this U15 3 on 3 tourney out in Salt Lake City, Utah and then lined up for a pretty funny team pic. Congrats fellas!
Plus most of them are wearing Syracuse Nike Volt cleats.  These guys are better dressed than some college teams.  But who cares about that when these kids can straight up ball?!?!?!  I used to do private lessons at the same place as one of the Turtles, and this kid was legit.  I was even more impressed when I learned he was only in 6th grade.  Young guns.
Tri-State Lacrosse Holiday Shoot-Out Tournament
This three day indoor tournament (7 v 7) is for elite freshman and sophomore teams, and it took place on December 26th through the 29th at the Peddie School in Hightstown, NJ. In the championship game, the No.2 seed Tri-State Lacrosse Red team (NJ) faced-off against the No. 1 seeded Dukes Lacrosse Club Green squad, defeating them 6-3, in a very closely contested match of two very strong teams. The Tri-State Red team's (3-1 in pool play) road to the championship was hard fought and also included a thrilling 8-5 win in the semifinals over the Dukes Blue team.
Growing the Game with Pick Up Lacrosse!
All of the above tourneys were obviously very organized, which can be good.  But it's not the end all, be all for off-season lacrosse!  Far from it!  Pick up lacrosse can be a huge difference maker and if you don't believe me, check out some of the players in the video below.  We've got some talent on our hands! Great stuff from Andreas Gaynor out in Irvine, CA!!!!!
Bonus Question: WHERE IS THIS?!?!?!?!??!
The description on the video says Charleston, and that's it.  South Carolina? Texas?  Some other state?  Where is this sweet box set up?!?!?!? It's clearly South Carolina, a reader pointed out that it was in the tags.  SC outdoor box.  I can get with that.
Jovan Miller is there, making other people look like they are standing still.